716 Exclusive Mix – Kenneth James Gibson : One drunken sailor's curse from deep psychosis introducing past levels of musical existence Mix

16.01.11 - Guillaume
Kenneth James Gibson aka 8 frozen modules aka [a]pendics.shuffle aka The DubLoner aka Bell Gardens aka many other things is a producer I like and respect a lot. A true L.A Talent.
1) 8 Frozen Modules
I discovered him 10 years ago with this special live he made on Los Angeles based internet radio dublab. This thing just blowed my mind. And still does today. At the time you had many producers abusing cut effects and crazy edits in a AFX vein but without any groove.
What I love with this one, it never loses the groove, it's a crazy mental boogie shit with ups and down like a live in a real party.
I remember describing it to friends as « an outdoor barbecue-rave taking place in a L.A backyard by a sunny afternoon. »
You can hear Frosty from dublab radio and Adventure Time project (with Dadedelus) making the annoucement in the beginning.

2) Bells Garden
Then I followed Kenneth under his other alias – and other sounds too, as dubLoner and [a]pendics.shuffle.
Today his new band is called Bell Gardens and I like it too ! It's Kenneth and his friend Brian McBride from Stars of the Lids;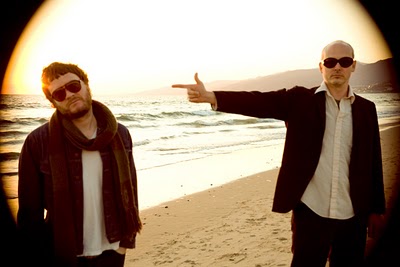 3) 716 Exclusive – Kenneth James Gibson : One drunken sailor's curse from deep psychosis introducing past levels of musical existence Mix
I finally managed to catch him last summer. I immediately talked to him about this dublab live I had recorded. As he hadn't heard it in years, he gave me his approbation to re-publish it.
Second cool news, he was totally up for an exclusive 716 mix. It took a bit of time as the man is busy. But it was worth waiting.
The title is so long souncloud couldn't take it all : « One drunken sailor's curse from deep psychosis introducing past levels of musical existence » Mix.
This is one stunning psychedelic mix – made with lots of weird tunes he's been collecting for ages. Here are some years of L.A digging put into one single exclusive odyssey.
Kind of mix you won't erase first from your hard drive when space will be needed.
1. Introdução – Monte – Persona – Som
2. Love without sound – White Noise – An Electric Storm
3. TFOM 2 – Zweistein – Trip Flip out Meditation
3. A Childs Guide to Good and Evil – The West Coast Pop Art Experimental Band – A Childs Guide to Good and Evil
4. Finale – Mort Garson & Jacques Wilson – The Wozard Of Iz
5. I have Known Love – Silver Apples – Contact
6. Ti Sei Mai Chiesto Quale Funzione Hai? – Franco Battiato – Pollution
7. Feitico – Os Brazoes – Os Brazoes
8. Fly – J.K. and Co. – Suddenly One Summer
9. …..
10. Jericho Jerk – Pierre Henry & Michel Colombier – Les Yper Sound
11. Love Piece – Brother Ah – Sound Awareness
12. Music From The 'Saturnus' Performance – Ludo Mich – Music From Films By Ludo Mich
13. Bat Macumba – Os Mutantes – Os Mutantes
14. Harvington Hall – Parameter – Galactic Ramble
15. Dont Take Roots – Faust – Seventy One Minutes Of Faust
16. The All Golden – Van Dyke Parks – Song Cycle
17. Energia – Franco Battiato – Fetus
18. Oh Lord – Brian & Dennis Wilson – The Cocaine Sessions
19. Hang On To A Dream – Gandalf – Gandalf
20. Ich mache Einen Spiegel – Dream Part 4 – Popol Vuh – Affenstunde
21. Beware Of Darkness – George Harrison – All Things Must Pass
22. Karlheinz Stockhausen – Struktur ix – Kontakte
23. Laughing – David Crosby – If Only I could Remember My Name
24. Il Gruppo – Springs Quartet – Private Sea OF Dreams
25. Vintage PSA
26. From The Side Of The Machine – Tony Conrad & Faust – Outside The Dream Syndicate
716 Mix – Kenneth James Gibson : One drunken sailor's curse from deep psychosis introducing past … by 716 La Vie on Mixcloud