Noodles Atelier – Paris (75002) en

12.03.14 - Guillaume - 716lavie
- Le résumé -
A szechuan restaurant proposing authentic cuisine, led by an energetic team, and highly recommended on chinese student forums (This is the 1st column)
- Lieu -
From the outside you see a flashy concept, and inside a little as well.  It felt like I was sliding the floor was so greasy, but maybe I dreamed it and it was just the soles of my Vans that had a little heat stroke…who knows. However, it's clean with lots and luminous. It was funny because the room upstairs was full of chinese people while downstairs it was more mixed.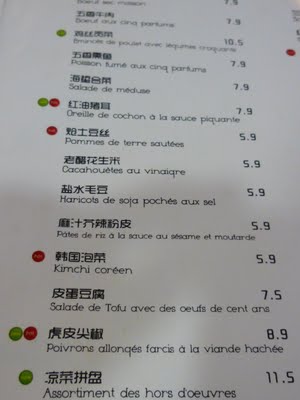 The little story
I was recommended a chinese restaurant in the 15th, Ji Bai He  on rue Olivier de Serres and I stumbled on a negative review by Eileen Deussé in the blog Le Goût de la Chine à Paris in which she explained her regret for the restaurant's evolution, even though she really liked it beforehand. So I left her a message to ask for her opinion and if by any chance she had one final chinese "coup de coeur" to share. There, immediate response: Noodles Atelier
- L'équipe -
There was one young man and one young woman serving, both very nice and knowledgeable in the menu.
- Le repas -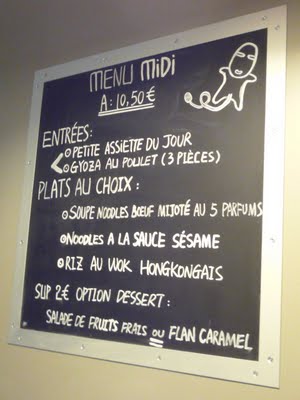 I wanted to try something new, since 2 Fois Plus de Piments, l'Orient d'Or et Iris I was becoming familiar with classic szechuan dishes. I ask for advice, and he answers "la marmite de poisson" ( fish stew) and adds that " the french prefer it with beef".
We did want to order the fish stew as a main, but we wanted to start with an apetizer. He directs me to lamb cooked in cumin, but I was already familiar with the dish since my visit at Yong's; which I recommend by the way. Finally he tells me that one of his favourite dishes were the pig ears, but that it was weird choice for a someone french that's not used to it. After some hesitation we decide to go for it. Needless to stay, don't start thinking about ears when digging in: it's gelatinous and crunchy but it's also fresh, spicy without being too hot. The person accompanying me also really enjoyed it.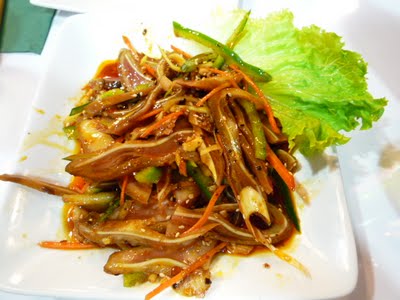 To follow, we ordered what 95% of customers choose: the spicy fish stew, 23 euros the large one, 19 the small one.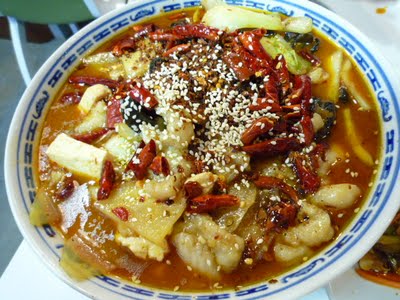 Alongside it, two large Tsing Taos to drink with it.
- Le bilan -
40 euros for two, totally worth it. This new breath of regional chinese cuisine in Paris continues to enchant us, especially if you have a curious palate, empty pockets, and a huge apetite!
Beside us that night, there was a table of three french people- of which 2 had lived in Peking- and a young lady of chinese origin. We exchanged a few good spots, notably a restaurant in the 13th where they offer " good  spicy lamb skewers ("yangrouchuan") just like we'd find in Peking", something that they haven't seen anywhere else in Paris. Needless to say that it's on my list to try out.
Since one of the young ladies with them worked at Ladurée, she took out a box of macaroons for dessert and offered us one. Not only was it a kind gesture, but to finish such a meal with a macaroon from Ladurée, what class! I left completely happy.