716 Exclusive Mix – Squish Kibosh : Falling Upright Mix

15.08.15 - Guillaume - 716lavie
Squish Kibosh is a DJ/producer from Glasgow who makes very progressive and melodic mixes, the kind of that don't let you go once you've started to listen. This mix, exclusively released for 716, is exactly in this vein and I already consider it as a classic of the series.
Richard Dalgleish got into the electronic music scene when he was 16, 17. He is Scottish and grew up in Stirling, a city exactly between Glasgow and Edinburgh. He moved to Glasgow when he was 18 and has played there for the past ten years at numerous clubs and after parties. He's also been resident at the club Void for three years. The after party scene of Glasgow really matters to him and it's common to see him playing in an illegal warehouse venue aka "The Unit" on a good weekend.
He is also a talented visual artist under the name LMNSCT.
Squish Kibosh with Casionova (wearing a 716 Tshirt)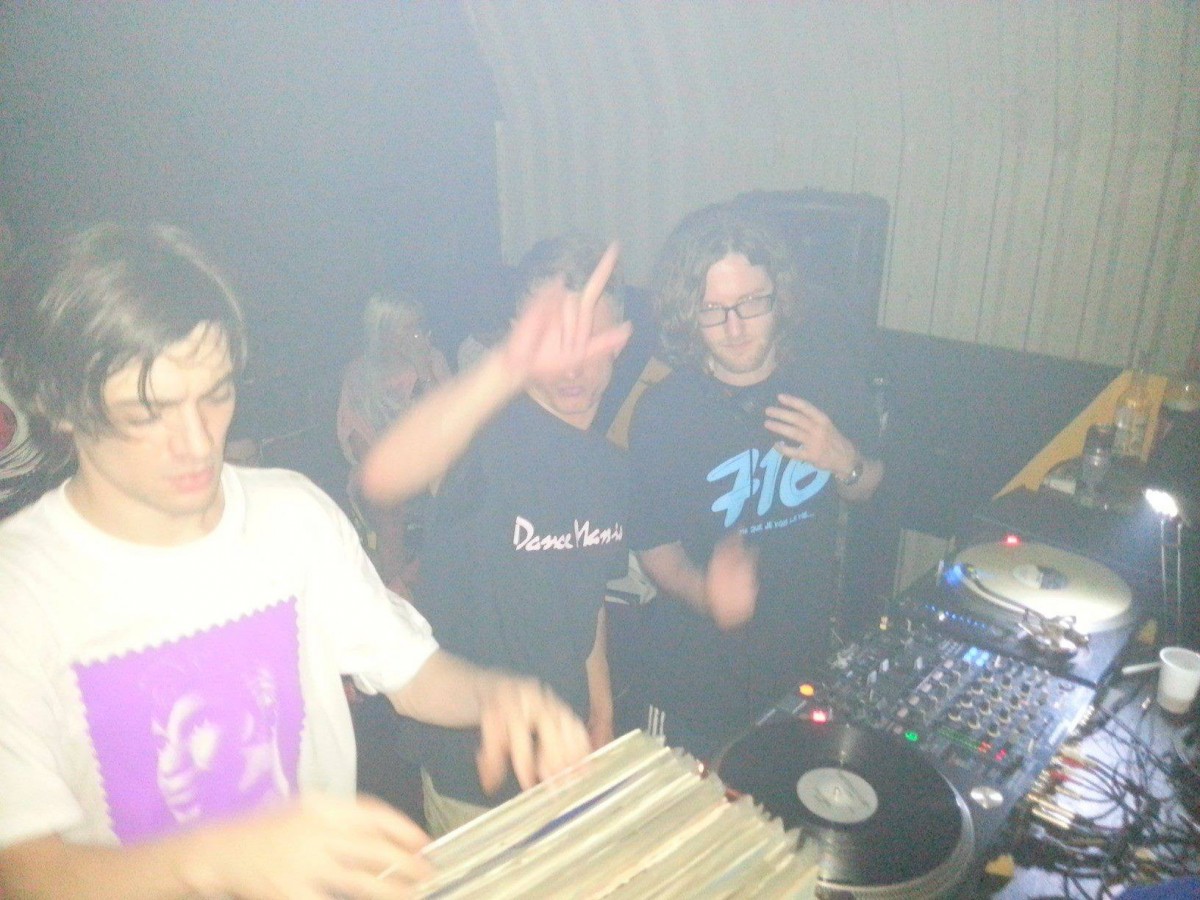 Squish Kibosh est un producteur de Glasgow, habitué de mix très progressifs et mélodieux, qui, une fois que vous vous êtes laissés embarquer, ne vous lâchent plus. Ce mix pour 716 ne faillit pas à la tâche, il est de toute beauté et je le considère d'ores et déjà comme un classique de la série.
Richard Dalgleish est rentré dans la scène électro quand il avait 16, 17 ans. A l'époque, il est un jeune Scottish de Stirling, ville située à quasi équidistance de Glasgow et d'Edinburgh. Il débarque à Glasgow à l'âge de 18 et joue, pendant les 10 années qui suivent, dans un nombre incalculable de clubs et d'after parties, il sera résident au club Void pendant 3 ans. La scène "after party de Glasgow" représente quelque chose de très fort pour lui et le week-end  il est courant de l'entendre jouer dans une soirée illégale dans un entrepôt nommée "The Unit". Il gère aussi son propre club à Glasgow pour encore quelques mois avant de déménager à Berlin en janvier.
Il est aussi un artiste visuel sous le nom de LMNSCT.
Bee Mask – Fried Niteshades [Spectrum Spools] 2012
Gunnar Haslam – Billowing Black Cloud [L.I.E.S.] 2013
Chris Carter – Domank [Conspiracy International] 1998
Delia Derbyshire & Barry Bermange – Falling [B.B.C.] 1964
Laurel Halo – Head [Hippos In Tanks] 2011
Abdulla Rashim – Asayita 1 [Abdulla Rashim Records] 2011
Container – Protrusion [Spectrum Spools] 2011
Sympathy Nervous – Polaroid [Vanity Records] 1980
Earth Leakage Trip – No Idea [Moving Shadow] 1991
Zomby – Tarantuala [Hyperdub] 2009
Muslimgauze – Dacoitsari [Staalplaat] 1999
Tzusing – 4 Floors of Whores [L.I.E.S.] 2015
Liaisons Dangereuses ‎– Los Niños Del Parque [Roadrunner Records] 1981
Demdike Stare – Haxan [DDS] 2009
Komet – untitled (track 02) [noton.archiv für ton und nichtton] 1999
Stefan Jos – 02 [Opal Tapes] 2014
Team Doyobi – Per Aspera Ad Astra [Skam] 2001
Actress – Our [Werk Discs/Ninja Tune] 2014
Phantom Love – Psychic June [Mannequin] 2013
Pan Sonic – Lähetys / Transmission [Blast First Petite] 2007
Yazoo – Midnight (Post Remix) [Skam] 1999
Autechre – Bronchusevenmx24 [Warp Records] 1995
Tevo Howard – Out The Projects [Beautiful Granville Records] 2007
Ron Morelli – Director Of… [Hospital Productions] 2013
Theo Parrish – Take A Ride [Sound Signature] 2008
Nami Shimada – Sunshower [Crème Organization] 2004
Omar S Featuring DJ B-len-D – Da Keys [FXHE Records] 2010
Kyle Hall – Ghosten [Third Ear Recordings] 2010
Muslimgauze – Red Snow [Staalplaat] 2001
Cloudface – Better Defeated [Nice Up International] 2012
Theo Parrish – Stomp Yo Feet (Pt 1) [Sound Signature] 2008
Tevo Howard – Frequent Digitals [Beautiful Granville Records] 2009
Seesaw – Flap [Icasea] 2011
101 – Rock To The Beat [Speed] 1988
The Human League – Interface [Black Melody] 2002
Oskarova Fobija – Beli Dekolte [PGP RTB] 1985
My Mine – Hypnotic Tango [Progress Record] 1983