Le Jean Bouin – Paris (75016) en

02.06.14 - Guillaume - 716lavie
Le Jean Bouin
55, rue Molitor
75016 Paris

01 46 51 06 89
Open Monday-Saturday from morning until 10pm ( last orders at 9pm I believe)
Metro : Michel-Ange Molitor
- Le résumé -
Brasseries such as these are the exception even though they should be the norm.
It's really too bad, but since 716 is only interested in the positive, we're happy to find places like these.  Food made in house, inexpensive, old fashion service, serious and pleasant, a regular clientele.
Far away from the trends and attachments to the past, welcome to the daily Paris, the one that needs to stay the way it is: simple.
- Lieu -
The bar area is pretty classic, without any particular charm; however the dining room is really nice. There are nice mosaics on the floor, large cotton table cloths on the tables, you can see  several older people from the neighbourhood- but from different social backgrounds- that are regulars.
The atmosphere is really pleasant.
When you go to the bathroom you stumble on this telephone booth and your heart skips a beat.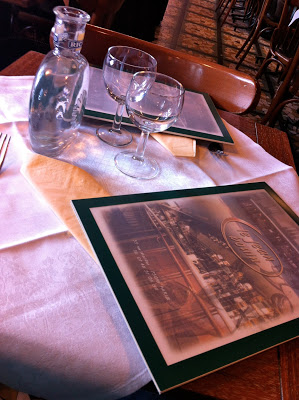 The little story
I didn't happily stumble on this one, I had to work for it.
First I went into the neighborhood to find my marks, exploring it at least twice. I had looked at all the coffee shops and brasseries in it. Then I came back a couple days ago.
I first stopped at another brasserie not far, that from the outside looked like the better pick than Jean Bouin. I walk by it and look at what's in the plates, and right away you could tell. There was a quiche that looked nice enough, but nothing crazy, but mostly there was a packaged salad on the side, which is a clear sign the chef isn't putting his all, which is not acceptable for me. It was a Routiers packaged salad, and I like those, but that's not the point:)
So I direct my attention to Jean Bouin instead, going through the same motions, I see the home fries. Hmm, that's a good sign.
I walk in and take a coffee, looking left and right, I casually stating  to the boss that they fries are made in house, and he responds that it's normal that they are. I'm surprised because all the chefs that I know explain to me how rare it is to make home fries ( the time that it takes, to have the right potatoes, etc…) After that, I say that actually very few restaurants make them in house, less and less are making them, and that honestly I'd have a hard time to point out 3,ok maybe 5.
He told me that he knew a lot of places did it, ok I gave up at this point, I didn't want to tell him how many restaurants I've tried anyways.
Despite the lack of openness, I could tell this restaurant had more to give.
Two days later, reservations were made.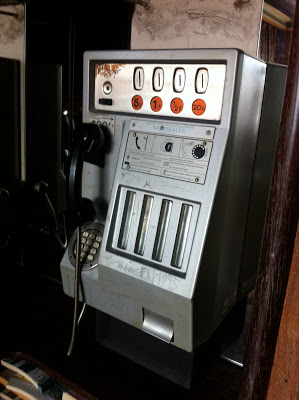 - L'équipe -
So you have the boss that I mentioned, and I think it's his mom that was there as well, greeting guests with benevolence.
The front of house staff is perfect. I walk in, one of the two ladies welcome me with smiles, I explain I have a reservation, the other lady takes over, looks in her big book , finds it right away and motions with a smile to follow her.
Seems silly to even mention this, but if only it could be like this everywhere… When I think back to the "fiasco" at Mamoka when they were 4 looking for one reservation that I had previously confirmed on the phone 10 minutes prior to my arrival, and that there were only 5 tables in the restaurant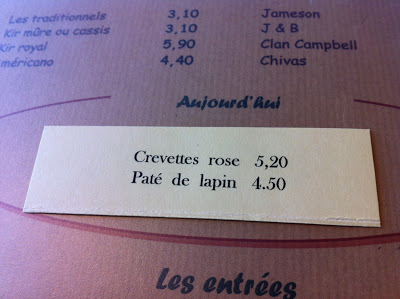 - Le repas -
Ok, let's go, we're hungry !
Pristine menu , you can tell the chef knows what he's doing, he knows how to cook.
For the appetizer of the day, pink shrimp and rabbit paté, not bad right?
Appetizer
Eggs with mayonnaise
And how much do you think it is ? What do you think? With the carrot salad in the middle and everything else?
2.80, you would never have guessed. If you find a better price somewhere else, Darty will give you your money back.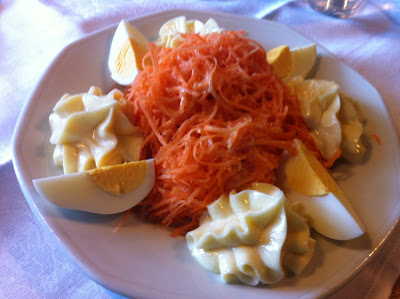 Mains
I took the dish of the day : "Sauté d'agneau", vegetables
It was very good for 10.80 euros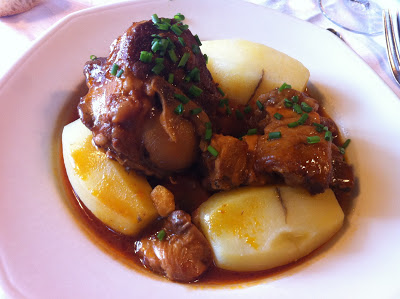 Rump steak, blue cheese sauce, home fries
Be careful, it's well done, but the person with me hadn't told them how they wanted it done, don't hesitate to ask if you want it rare.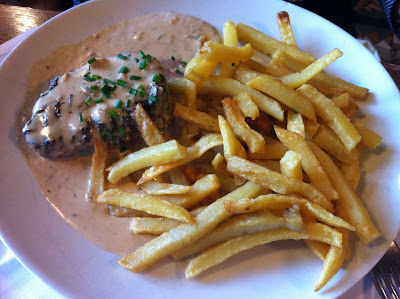 Dessert
Chocolate mousse
It was very good.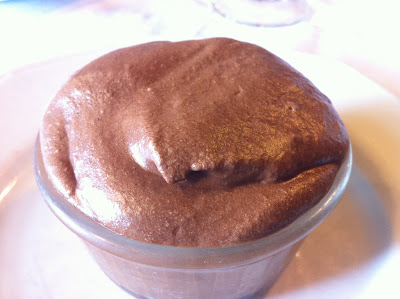 Mirabelle tarte
This was the disappointment; the dough wasn't good in my opinion, because it wasn't crunchy enough, it was too soft, and they had put it in the fridge which didn't help at all.
We talked about it with the waitress, that it wasn't up to par with the rest, she agreed, and told us that some like us and her didn't like it, while others did. She also sadly agreed that putting them in the fridge didn't help the lack of crunch.
Special mention for this waitress which was one of the best servers I've ever had: nice, smiling, professional which means efficient, quick, not easily thrown off, a delight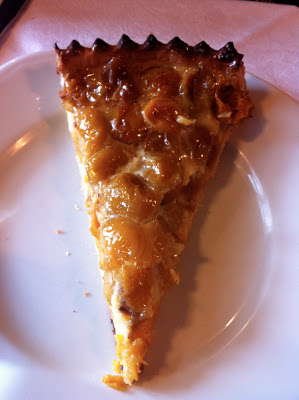 - Le bilan -
First, the most important thing : for the eggs and mayonnaise, the two mains, the two desserts and two coffees : 20 euros per person.
We're not going to make this bistro out to be more than it is, because it wouldn't be of any and help, and two, its qualities are big enough that we don't need to add anything to them.
Actually, I say it often, but where are the bistros and brasseries that are the  Italian trattorias and osterias' equivalents? While they should be the modest displays of our traditional cuisine, places in which we eat some good food from our country, executed with hear and "sans prentention", instead we find places that look nice from the outside, but have nothing of worth on the inside. The food has no soul and is expensive, the restaurant is more a cash machine than a taste machine.
I don't like general observations, but I've seen it too many times to not be sick of it.
Sick-of-it.
That's why Jean Bouin warms my heart, I'd go back, and I'd send people there.
PSG fans will like I; because it's the perfect place to go after a game ( when the games are at 5pm). My friends were very happy.
Jean Bouin was a "grand coureur de fond" one of the biggest French athletes during the two wars.  The stadium beside the bistro is named after him.