About us
Did you ever wonder who's behind all those fresh parisian troves?
Let's find out!
Guillaume Le Roux & the authentic moments scouting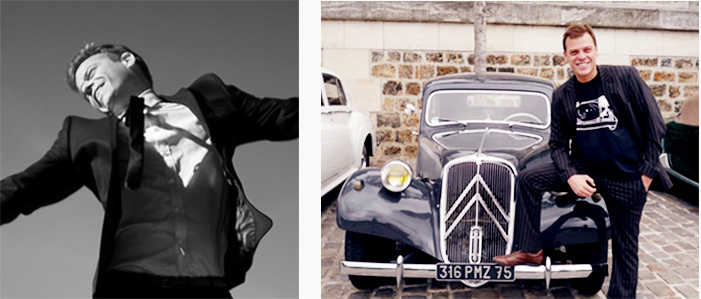 — A pinch of spontaneity, a touch of integrity and a massive cup of motivation:
that's what I am and try to be! My name is Guillaume Le Roux and I'm about to reveal the secret recipe of 716 trough my eventful life journey.
—
– EPISODE 1 : THE INITIATION –
– " Tell me what you eat and i will tell you what you are! "
And before getting the chance to feed the blogs, I needed my brain to be fed.
As a culture lover, I developed a keen interest in human life fields. That's why I innately found my way into clinic psychology studies (master 2) and ethnology (master 1). Afterwards, I wanted to learn how to run a business and thus passed an Entrepreneurship Master at EM Lyon.
– EPISODE 2 : THE PREMISSES –
"First step around the entertainment fields: Play on the music! "
Despite all the knowledges on human thinking and civilizations I gathered, I decide to give a try to my very first passion: Music.
Beginning as an intern in a retailer store, I get in touch with the professional music environment.
Step by step, I become a retailer my self (electro and reggae/ragga).
That gives me the will of hosting a radio program. A friend and I pluck up the courage to create "La Tambouille" an eclectic music radio.
The program is broadcasted weekly onto a radio from "Les Yvelines", near Paris.
We also organize some launching parties for new albums releases and lively events like Nuit Blanche in Paris, JO Carnaval for Mairie de Parie and so on.
– EPISODE 3 : THE ASSAULT COURSE ! –
"Unfortunately, La Tambouille wasn't economically viable, so my collaborator and I close it.
But wait! Something weird happened… I think I caught the radio virus."
For the next four years, I work my way up at Radio France.
First intern at France Inter, then substitute attaché of production in Musiquexpress, a radio program surprisingly similar to La Tambouille, then in almost the whole music programs and I finally became a radio director for Radio France plus an attaché of Production at le Mouv'. During that last job I was in charge with the programs as well as festivals such as Transmusicales in Rennes, Benicassim, Printemps de Bourges, Inrocks.
To conclude this music part, I move to Montreal working with Radio Canada on the emerging music
– EPISODE 4 : CONNECTING DOTS AND QUESTIONING TIME –
This is the story of a number 7…
My music name was DJ7. 7 is indeed my luck number. 7 is a natural number that rhythms life and environments: 7 weekdays, 7 rainbow colors, 7 solar system planets, 7 Wonders of the ancient world…
I can actually blog under this name can't I? Well not even… the domain is taken already! that made me think about something else and here comes the mascot.
As "7" in french sounds the same than "c'est" = "it is" I created the logical following numbers: 1 and 6 which are pronounced the same than "ainsi" meaning "this way". So the all thing numbers put together: 716 makes "c'est ainsi" = That's this way… That's this way I see the life. C'est ainsi que je vois la vie! I got it!
Those 3 numbers made it right: That's my fetish ones, my magic trilogy.
Ow… Those musical steps made me feel the urge of creating my own content and spread it out! But what will happen next?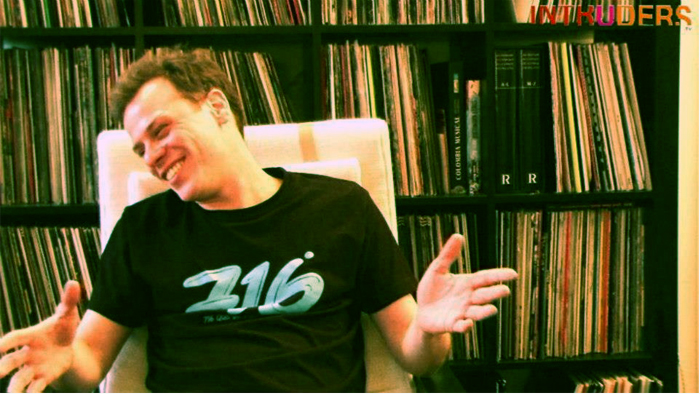 – EPISODE 5 : THE TRILOGY –
3 numbers, 3 colors, 3 activities
Music, Food and Bev, Parisian visits… what a sense awakening menu! Those 3 activities are no longer related through this website so you can combine them to coordinate your delightful trip depending on your tastes and mood.
My motivations…
When I was a boy, I developed a keen interest in gastronomy… I cut text extracts about restoration out of magazines to build up my own best addresses book.
Sharing meals with many different friends, I tasted various cuisine and learnt to appreciate any flavors from the little greasy spoon one up north at Porte de St Ouen to the classy restaurant in the middle of Paris.
I once had a disappointing experience in a restaurant and thus painted a pretty bleak picture of it on a blog post. I realized how harsh on the harmless owner it was and I end up deleting it. I become more conscious on what will interest the reader: powerful great content about amazing places. What about bad ones? I just choose letting them be.
In music area, i was so surprised that many talented artists don't get the chance to be in traditional medias that I felt the need to boost up high-quality cultural content away from the buzz and commercial standards.
Back in time I kept all the good mixes on audio cassettes, from that came "Exclusive Mixes": a part of my website where mixes specially realized for 716 are stored.
Another gift from artists I care about: Playlists. It's a simple way to l be advised on good songs, as I ask the music professionals to provide me a list of ten titles they love with a little notice that explain what they love in it.
To sum up, I intend to always find quirky songs, hidden places and brilliant cooking. To do so, I try combining a critical mind, kindness to newbies and the will to enhance talents…
Surprises…
I do looove surprises! How about you?
You'll definitely find plenty of them in 716. Some stunning, some sweet, some tasty… but I assure you they are always good ones!
– EPISODE 6 : HIGH QUALITY AND LOYAL SERVICES –
A parisian adventure: 716 Paris
Fancy some customizable and exciting visits in Paris? 716 Paris suggests many tours for newbies as well as paris lovers who wants to get surprised about it and discover new wonderful spots. The baseline of the visits is to guide: The guide's job is not to give you an exhaustive approach but to guide you on the route that will suit you the best.
Flavours and warmth: 716 Food
From cheap street food to high-class restaurants, only one credo: No matter how does the place looks as long as we feel and eat well in there. The restaurant recommendations must meet two strict requirements: the meals are the yummiest and the staff's is the most friendly.
I refuse to get invited so my picky selection stays out from influences.
Music Maestro: 716 Music
A real online record library to listen on and on good old tubes or discover great sounds.
So? Are you now inspired by 716? Would you like to be part of our picky epicurean community?
Let's share the spirit by wearing the 716 T-shirt!