716 Exclusive Mix – Hide Morimoto (Soul Bonanza) : What time is it in Barranquilla when it's 5 o'clock in Addis Ababa?

08.12.11 - Guillaume - 716lavie
Hide Morimoto runs Soul Bonanza which is an awesome website for tracks and mixes specialized in tropical music, in the large meaning of the word tropical.
I am very happy to publish a mix from Hide, it was first supposed to be a playlist, but Hide spent so much time and energy to do a continuous selection then it turned to be an excellent 716 Exclusive Mix. Recently, there was a message on Soul Bonanza :
"we're back! as you know, we are facing unprecedented difficulties after devastating earthquake and tsunami.
we received a lot of encouraging message from friends all over the world. we appreciate it. still good music gives us some energy to confront those difficulties and step forward.
so we need music.
please keep on diggin' amigos. please play it loud in your area.
and we play it loud!"
Let's share love and thoughts through music as we always do.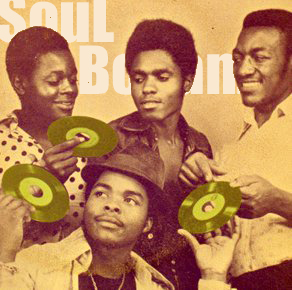 1) Joby Valente – A Un Apôtre Noir (Disque D'Or/Martinique)
2) Tamrat Mola – Ene Yewededquat (Amha/Ethiopia)
3) Orchesta Sonora Curro – Patuleco (Philips/Colombia)
4) Coca Y Sus Exploradores – El Disco Rayado (Maseda/New York)
5) Orchestre Les As Du Benin – Agbe Fe Avi (Philips/Togo)
6) Pierre Antoine – Say Min Sy Soh (Ahui/Ivory Coast)
7) Hirut Bekele – Atetfa Kefite (Kaifa/Ethiopia)
8) Djoshinha – Nhonton Escaderóde (Edição Da Casa Silva?/Cabo Verde)
9) Orchestre National Les Volcans Gendarmerie – Glenon Ho Akue (Les Volcans/Benin)
10) Dorindo Cardenas y su Conjunto Orgullo Santeño – Aunque sus Padres no Quieran" (Dorindo/panama)
11) Africa Show 73 – Inspiração De Nito (N'gola/Angola)