716 Playlists – Komarken Electronics Playlists

22.12.13 - Guillaume - 716lavie
Komarken Electronics est un duo suédois dont j'avais beaucoup aimé le Granular Material EP sur Solar One Music. Il y avait d'ailleurs un remix de The Exaltics qui a réalisé un 716 Mix.
Ils ont sorti pas mal de maxis auto-produits.Parmi leurs sorties futures il y a le Ep "Human-Technology Integration" sur Solar One Music qui sortira en vinyl et en digital. Signalons qu'ils ont aussi un podcast mensuel dans le show de DVS "Dark Science Electro" sur BASS Radio.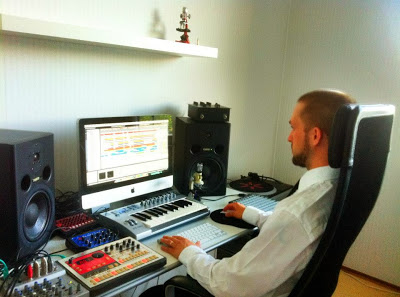 Komarken Electronics is a Swedish duo who first impressed me with their Granular Material EP on Solar One Music and that included a remix by The Exaltics who has also done a 716 Mix.
They have self-released quite a few EP also.

Among their future releases, there will be the Ep "Human-Technology Integration" on Solar One Music that will be released in vinyl and digital. They also have a monthly podcast that is broadcasted on DVS NME´s show Dark Science Electro on BASS Radio.
Pour cette 716 Playlist, ils on choisi de faire une sélection de morceaux électro qui les ont inspiré dans leur musique.
For this 716 Playlist, they have chosen to make a selection of post 90´s electro tracks that inspired them to do music.

1) Black Spider Clan – Broken Mirror
Dark & Mystic track with that special Kommando 6 trademark sound to it that we where really into when they where active.
2) Dopplereffekt – Plastiphilia
We are not so much influenced by Dopplereffekt as you might think, more to the artists that where inspired by them perhaps. But we do of course love their sound, both the older and their more recent music.
3) Porn. Darsteller – Mystify
A minimal synth pop kind of track with playful melodies and sweet vocals. Sad to hear when he passed away in 2011, RIP Jérôme!
4) Luke Eargoggle – Lightness of being
Minimal electro at it´s best. Eargoggle is one of the main influences why we started Komarken Electronics so it felt great when he made contact for us to do the Research Center CD for stilleben back in 2007
5) Squadra Blanco – Night Of The Illuminati
This track is insanely good, legowelt, here as squadra blanco, really has a sound of his own. Almost forgot about this when it popped up as a recommendation on youtube as we did our research for this list. That it belonged on this playlist was given!
6) Le Syndicat Electronique – No Emotions
We loved Invasion Planete when they where active. This is one of LSE´s most beautiful tracks. Got a melancholic feel to it that we often try to get in our own tracks as well.
7) Adeptus – Bury u in Kerman
We love this song & the video for it. Think this track was released on a mixtape that party effects did some years ago. The track is longer on the release but this is the best part of it anyway. It got a lovely vibe with lurking sub bass and some sweeping sounds that you wish would never stop.
8) Detroit In Effect – Shake A Lil Faster
No words is needed for this! Brilliant!
9) Legowelt vs Orgue Electronique – Wir leben in pussywelt
Legowelt again, this time together with Orgue Electronique. This really is a good example for the sounds that came around the millennium shift. Great days!!
10) Pamétex – Lucifer
We would really like to have the A side on the Bunker 3024 release here but we couldn´t find it on youtube. This is almost as good. We would not have started Komarken Electronics if it was not for that magic Bunker release that came in the beginning of the 2000´s. Minimal electro sound, no unnecessary elements, just a beat, bass and some melodies on top. Perfection!!
A question? A reaction? We'd love to hear your feedback!