Cyber Sandwich – Paris (75010) en

14.03.14 - Guillaume - 716lavie
Cyber Sandwich
6, rue des Petites Ecuries
75010 Paris

Monday-Friday noon until late afternoon
Métro : Château d'Eau
- Le résumé -
An atypical place just as we like them: it seems that it was a computer shop that decide to open beside it a turquish canteen; to be verified but in any case both connect which is pretty different.
It's good, inexpensive, home-cooking, serious. The service is a little rude at first contact, but not mean in spirit. It's excellent but they could heat up the dishes a bit longer in the microwave.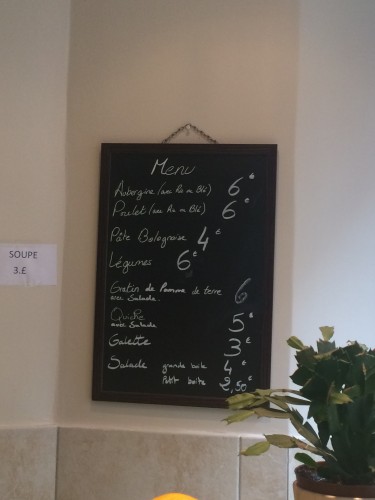 - Lieu -
I spotted it when I saw the long lines of people going there for lunch. When I took a peak inside there were two ladies with traditional turquish scarf behind the counter; you just knew there had to be some good home-cooking.
So I went for it. I haven't found any information on it, other than a facebook page that might not even be the work of the owners.
When you walk in, you immediately have a multitude of dishes that are waiting for you: meat stuffed eggplant, rice, pasta, and lots more, but also lots of different kinds of breads.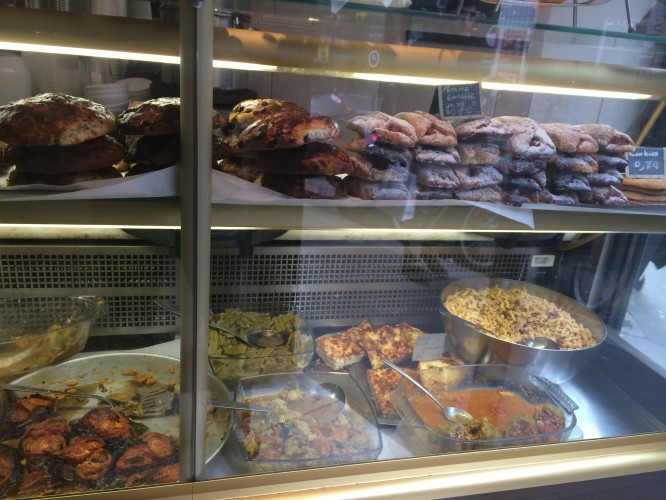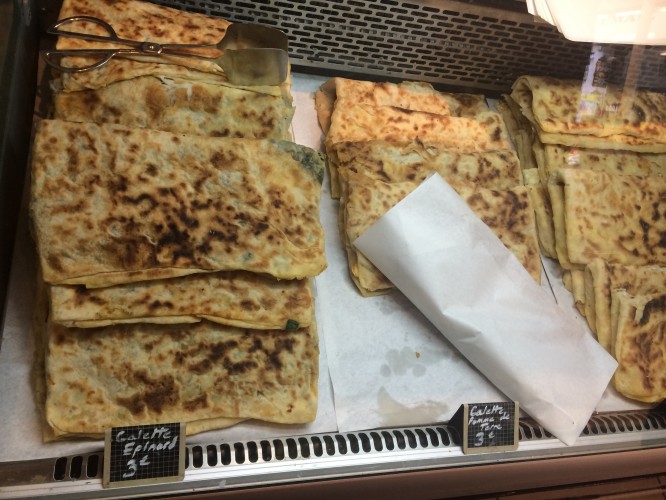 There's often a line-up at lunch. If you come during a lull there's a chance you'll find a stool at the back and eat in peace.
- L'équipe -
It's a couple that owns it, I spoke briefly with the man. They're originally from Ankara, and knowing the Turkish culture a little bit, they have that seriousness and pragmatism they're known for, at least in the restaurant industry that is.
- Le repas -
Meal 1
I asked the lady advice because I was lost in front of all the choices at hand.
She pointed me to the eggplant, I didn't regret my choice. I just had to ask the man to reheat it for me because she was not hot enough for me.
The eggplant was delicious, the zucchini as well but I think what I preferred the most was the rice whose taste remained in my mouth the entire afternoon, this typical home-cooked turkish rice. It cost me 6 euros.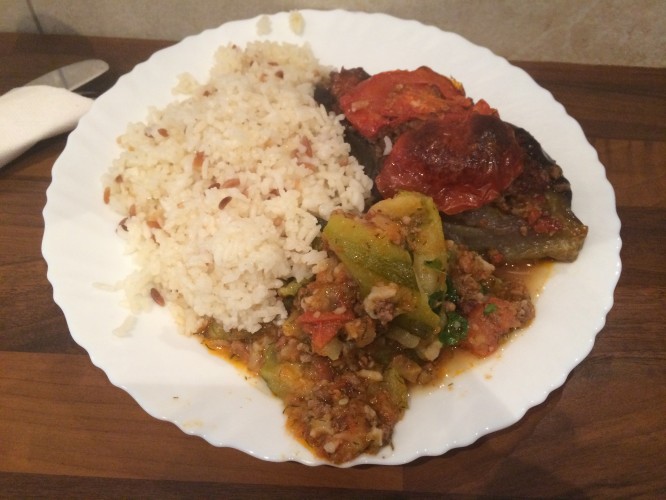 The other thing that I loved were the big water pitchers and basket of bread refilled as needed, no need to ask, there's nothing missing to enjoy the meal accordingly.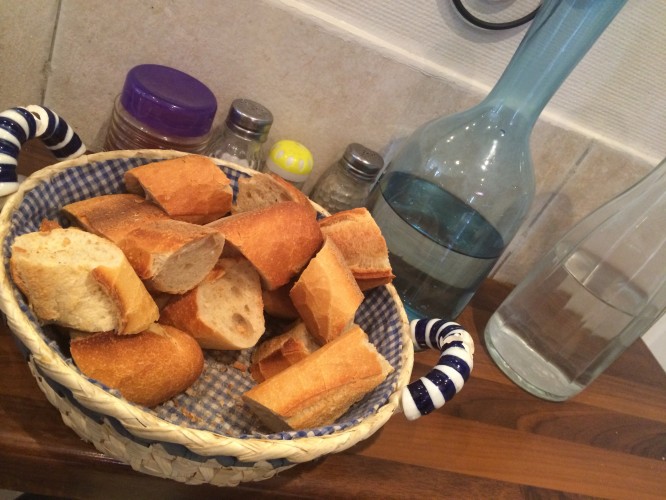 For 1 euro I finished with a tea.
Meal 2
Happy with my first experience, I went back. I actually wanted to try out Caluc that was in the same street on the other side. First I saw that their Caluc cost 9 euros, which in itself isn't that bad if the table d'hôte is priced accordingly except that 1) there was no drink with it, just appetizer and desert 2) the only drinks were water at 1.80 and then we jumped to juices or lemonades at 3 or 3.50 each, which was way too much. So we go from one sandwich a bit expensive to 12 euros for less than dish, doesn't work.
So instead, I brought the person with me to Cyber. There, for 6 euros the meal of the day, you're satisfied, you feel good, and you get bread and water with it.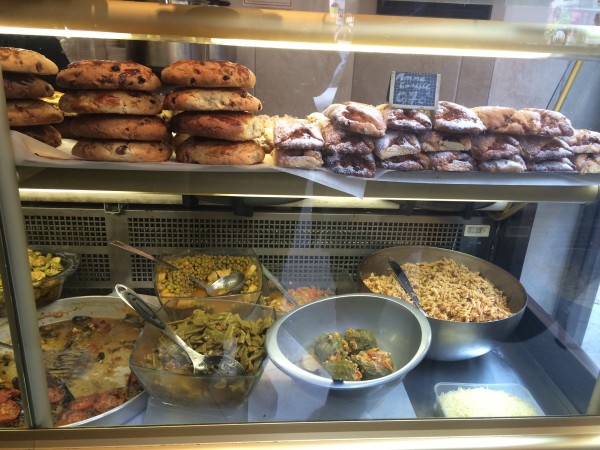 I wanted to try their soup, lentils or green peas for 3 euros. Lentils it was, served with lemon that goes well with it: delicious.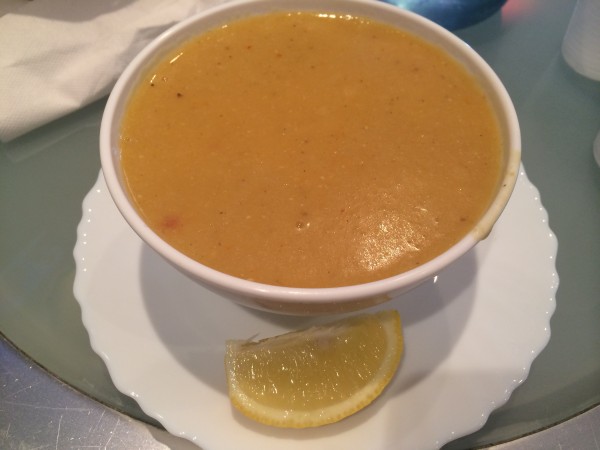 I followed with the meat stuffed eggplants for my main. The lady serving was a little rude, she told me that everything was written out on the menu on the wall but it's not very clear; they have a lot of people at lunch but still.
The other issue already mentioned is that they don't heat up their dishes enough, I had to ask to reheat mine both times. Other than that, it's delicious, not greasy, you leave satisfied, it's home-cooked meals, nourishing and invigorating.
3 euros for the soup+6 euros for the main= 9 euros for a good meal.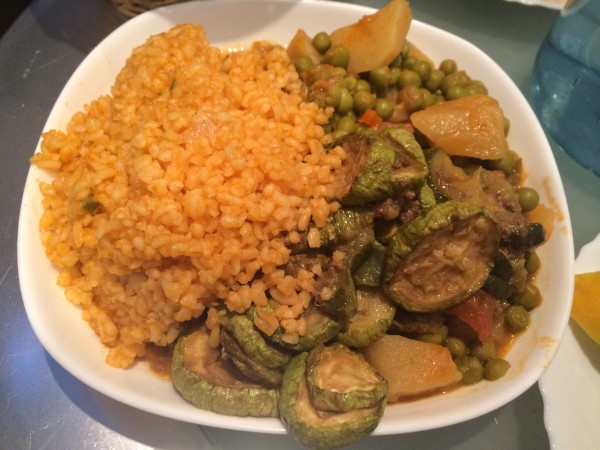 - Le bilan -
It's addresses like these that would make me want to stay in Paris 🙂
It's good, well done, they don't take their clients for morons, and the clientele is disparate between the employees from the area, people passing through , solo eaters, couples, etc…