Reuan Thaï – Paris (75011) en

02.06.14 - Guillaume - 716lavie
Reuan Thaï
36, rue de l'Orillon
75011 Paris

01 43 55 15 82
Open everyday
Metros : Belleville, Couronnes
- Le résumé -
A real discovery that I owe to Claire Pichon from La Plus Petite Cuisine du Monde that talked about it in her restaurant selection  for 716.
A Thai restaurant run by "Laotiens" for the last 20 years, at Belleville.
All you can eat buffet at lunch for 9 euros, that didn't amaze me, but when you start taking a look at the menu, there are some nice things! And the service that day was perfect, knowledgeable and caring, and it still was when I called after.
- Lieu -
I completely missed this one, both in my research and word to mouth, I'd never heard of it. And yet, the front door is covered by various touristic guide stickers. In any case, thanks Claire. A discovery that can come in really handy, Thai food in Belleville, it's possible! It's on a corner, just a block under the Belleville boulevard, and it's been there since 1991. It doesn't look like much from the outside, but that's the trend in the area, and who really cares anyways?
Inside however, it's nice and cozy which is great: large tables, nice wall seats.
However, if you come for the buffet and you're two, they'll usually put you at the tables of two rather than the more comfortable ones with the wall seats.
There's a real difference between those that come for the buffet and those coming for the à la carte. For example, they don't take reservations at lunch for the buffet ( at night yes), but they keep at least a table of 4 for those coming for à la carte.
Making myself clear?
Once you're seated, you're really comfortable, proof: we arrived at 1pm and we left abit after 3pm.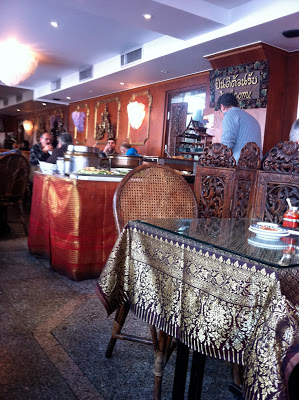 - L'équipe -
There's the boss, originally from Laos, nice and likes to laugh. That lunch, there was a waitress that looked like she was Thai, but maybe she's also from Laos, either way definitely from a neighboring country. Either way, she knew perfectly all the Thai dishes and the way to eat them. She was really nice with us, and recommended a lot of things she liked.
- Le repas -
The person with me chose the all you can eat buffet option : 9 euros (0r 9.90, I don't remember).
She was very happy. I tried her spring rolls, and I wasn't amazed, but her plate had a lot of variety and I trusted this person's judgement as well as Claire's and the clients that regularly went back for more to say that a buffet at this price is largely superior to what we can usually find in Paris.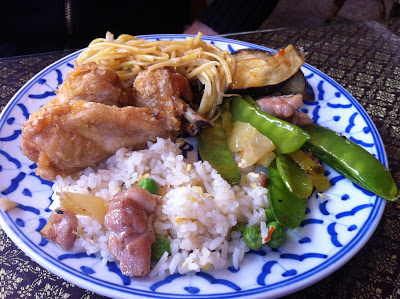 -Yam Pladuk Foo, a fried fish salad with green mango
It's what Claire recommended I try, and that's some crazy good stuff right there.
I asked the waitress what people drink in Thailand with this, "a coke" she told me. Indeed, it's delicious with a coke.
It's super fresh, a delight, I'll let you try and see for yourself.
What the boss told me at the end was that other restaurants in Paris had the tendency of making it sweeter, and that they were the only ones that made it like this. I don't know if that's the case, but this one is amazing, that's for sure, so much so that it doesn't make you want to try others.


The waitress also recommended:
-Tod Man Pla: Thai fried fish pâtés
-Kai Baiteuil: Chiken en papillotes with fried "bandanus"leaves
-Yam Pi Kwai : Banana flower salad with shrimp and chicken
-Som Tom Thai: Thai green papaya salad
-Tom Yam: Lemongrass soup
- Le bilan -
If you want something cheap at lunch, the buffet is an easy pick.
Personally, I didn't think it was amazing, however I'd totally come back to try more from the menu.
Thai people can often be pretty relaxed or a bit simple, so the food can often be the same, but here the mix of  the restaurant that's been there for 20 years and the serious and passionate "Laotiens" owners makes it a sure shot.
I called back when I was writing the article in order to ask for the spelling of the Yamp Pladuk Foo ( it's a phonetic writing that they chose themselves, and they told me they were copied by others), I ended up talking to a man that wasn't there the first time.
He was just as nice, took the time to answer, and knew everything about the dishes and their story.
I heard that the restaurant "avait baissé" these days, so we'll see what happens on the long term, if my enthusiastic opinion is still worth it. From what I saw that day, it was working swimmingly.