Quatre Amis – Paris (75011) en

12.03.14 - Guillaume - 716lavie
- Le résumé -
A good Szechuan restaurant, well kept: it's decorated with taste and you don't smell the kitchen odors because it's in the basement, the boss is very nice; it's two steps away from Bastille which is a smart move that some Chinese restaurants do  well: having the intelligence to sidestep rue de Charenton rather than pile up in rue de la Roquette.
- Lieu -
Long and narrow space. I don't know how I discovered it, but the opinions on which I stumbled upon hit it out of the park, it was unanimously positive, and completely overlooked.
The decoration is successful, pretty classy and comfortable, I noticed that night that even though the room was pretty full it was relatively quiet. Was it because of the clients? the acoustics? Not sure but it counts.
The other good point is that the kitchen is in the basement, it's better for the odors. It is nice to see the cooks at work at Noodles Atelier, I like it; but it's true that on the first floor we do get whiffs of spice that enter the lungs. For that matter, I do like Quatre amis but I prefer Noodles Atelier that has a little happy "je ne sais quoi" that I love.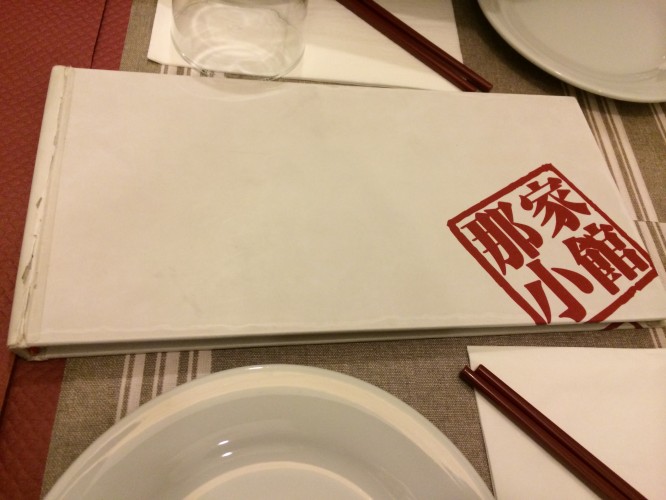 - L'équipe -
It's two couples that opened this together, hence the name Quatre Amis.
When I called at 8pm on a Friday the restaurant was full, I was told to come in an hour and a half. I appreciated the fact that I could make a reservation over the phone. We arrived early, not only had they taken into account the reservation, but they gave us a nice table of four even though we were only two. The boss is at the cash and it's a young lady that takes care of the service. The boss explained to me that the szechuan cuisine corresponds to the food eaten on a daily basis in China because it isn't expensive, easy to make, from inexpensive products. In comparison, Cantonese cuisine uses more fish and therefore is more costly. He's from the north of China, and he's currently thinking of the possibility of opening a restaurant dedicated to that cuisine.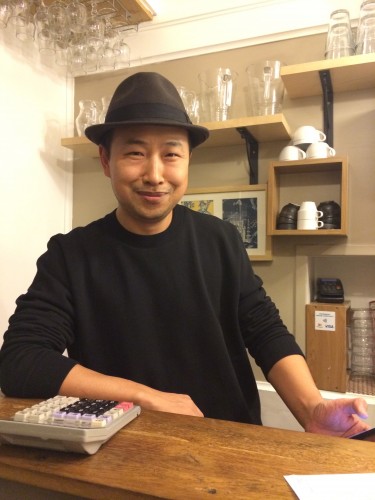 - Le repas -
Grapefruit tea.
The boss explained to me that they make it with lemon, it's very good, not too bitter, very refreshing.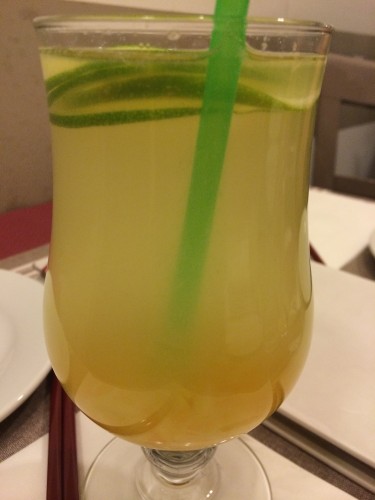 Porc with chilis
Very good, the meat is tender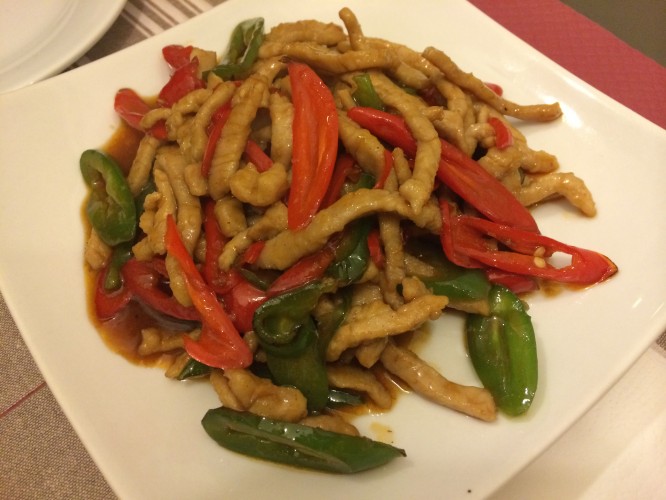 Cockerel
Server's recommendation, like szechuan chicken, it's cut, sliced in little pieces, bones in. It's good.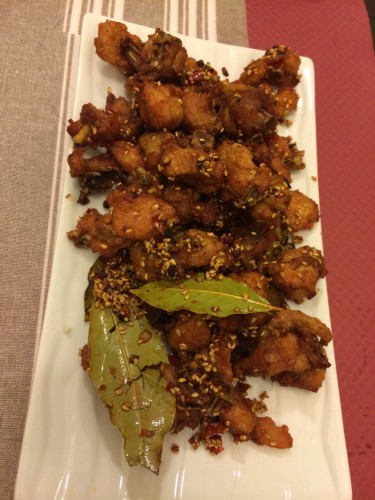 Garlic bindweed
Greens never hurt anyone, and contrarily to what you see in the picture, the taste of garlic wasn't strong.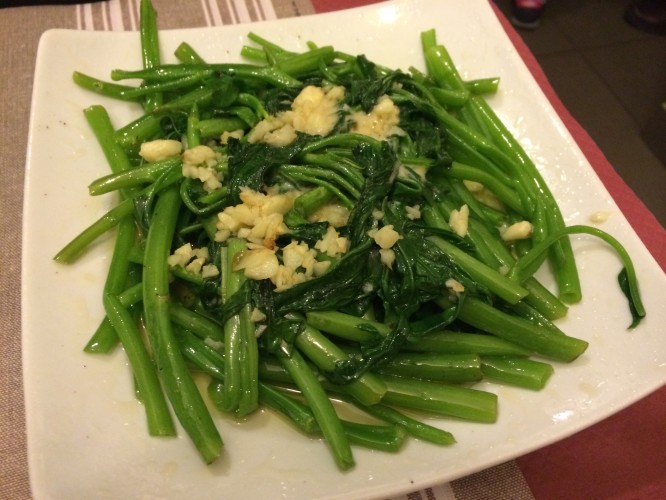 Cuttlefish
The hit, these cuttlefish cooked this way were as surprising as they were good.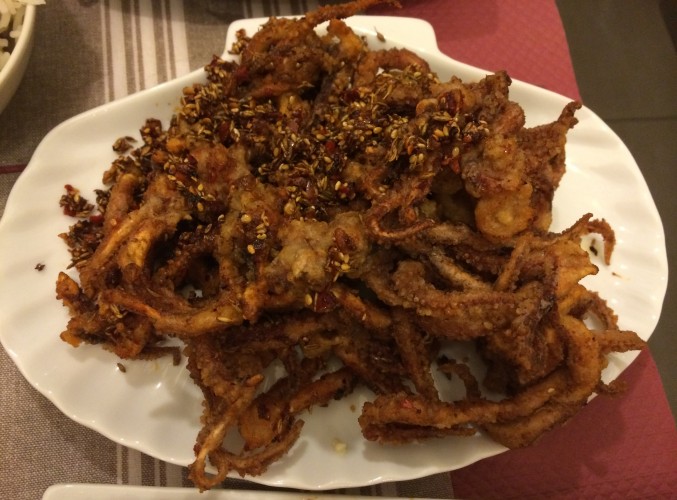 Here are the other dishes  on the menu that sparked my interest for next time.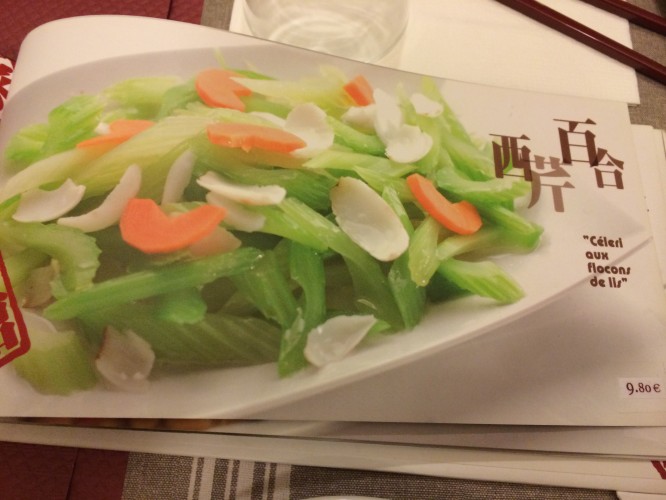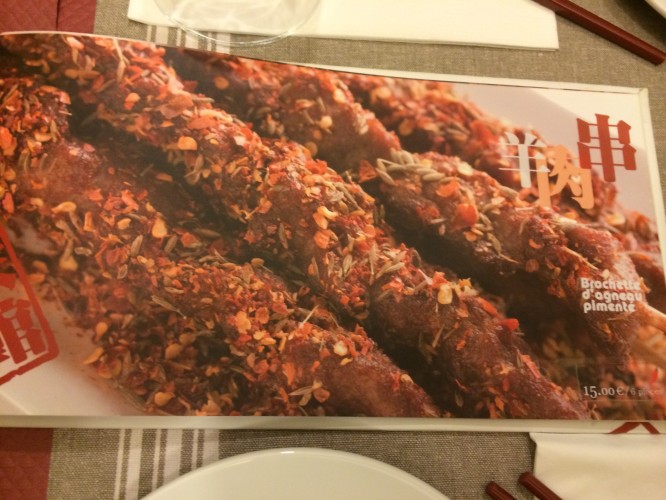 - Le bilan -
To sum up: nice interior design, possibility to reserve, well executed szechuan cuisine, not fatty, with dishes that we don't see anywhere else. Other things should be tasted, but I have to admit that I prefer the tastes of Noodles Atelier in its diversities; to simply place it in the comparative spectrum, but in the end I say excellent spot 100 meters away from Bastille, one of the shitiest area to find a good spot to eat  in Paris.