Thieng Heng – Paris (75013) en

13.08.14 - Guillaume - 716lavie
- Le résumé -
An authentic Bánh mì (vietnamese sandwich) restaurant, it's working like a charm, it's fresh, happening, I only saw happiness there.
Plus, the service was pretty friendly for such a busy place.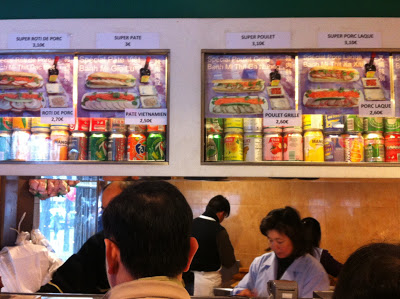 - L'équipe -
Three women are there making the sandwiches à la minute.
You give your order at the counter, it's sent behind, and in 2 mins, you have your sandwich.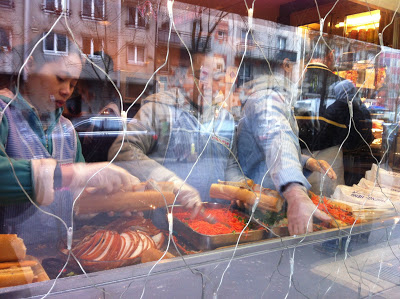 - Le repas -
Bánh mì is a Vietnamese sandwich
I'm not going to act like I'm a specialist in terms of this sandwich, but just like Pho is a Vietnamese reinterpretation of the French pot au feu imported during the colonialism years of Indochina, the same goes for Bánh mì.
It's a baguette sandwich in which raw vegetables are places: thinly grated carrots, cucumber, coriander, even some hot peppers sometimes,and meat ( pork and/or chicken in this case), but it can also be meatballs. For further information, go check out these further details.
Here, you can either choose from the classic sandwich or the "super" (bigger) for each type.
I got the special-  Bánh Mì Dặc Biệt -which combines different types of meat.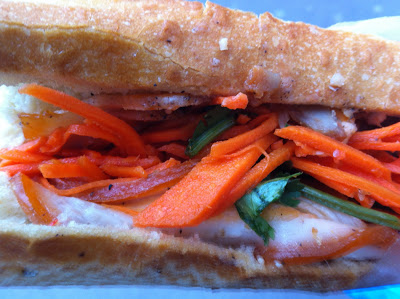 They also offer homemade soy milk which I thought was perfect.
The special sandwich+ homemade soy milk:4.50 euros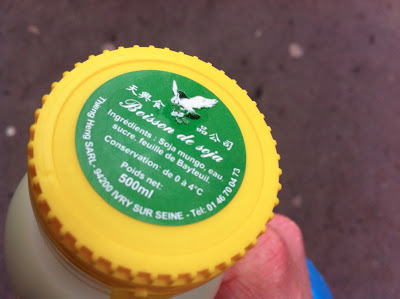 - Le bilan -
Afterwards, all you have to do is go sit at Choisy Park and pure joy ensues.