Tempero – Paris (75013) en

02.06.14 - Guillaume - 716lavie
- Le résumé -
An excellent find that I owe to Valérie Ramiand from Francesca aux Fourneaux , that had warmly recommended it to me.
The quality-price ratio, the  food, the warm welcome, the quality of service, the charming setting, the quiet neighborhood, good deal!
Reservations are mandatory.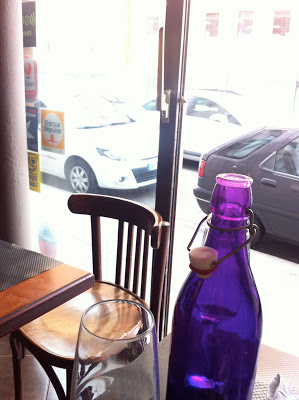 - Lieu -
It's super small, yet there's enough space for everyone. You only need a quick look around to see that they could have added tables, they had the good idea not to.
Enough of all these bistros that pile up as many wooden tables as possible, like dominos. Maybe the real recipe to have space  is to open a restaurant in the 13th street rather than in the 11th.
The difference in number tables between the 11th and the 13th  could be the reason for the difference in prices also. That or the owners are full of goodwill, who knows.
The street is very pleasant, at least on this super hot day, welcome:), we loved spending a good chunk of the day in this quiet space.
I recommend a combination of having drinks at Aux Monts d'Auvergne/lunch at Tempero.
After the meal, we went back to Aux Monts d'Auvergnes to enjoy the sunshine.
I want to point out that the bathroom is in the courtyard but are extremely well put together, which is rare and merits being mentioned.
- L'équipe -
The staff is very warmhearted, there's the couple in the kitchen, Alessandra is Brazilian and Olivier is French, of Vietnamese descent. I called them after the review was put up and Alessandra gave me some information I wanted to share: Tempero was their wildest dream, a complete 180, she was a secretary and he worked in documentation.
They started to cook for friends and as time went on they wanted to fulfill their dream.  Only one of them could afford studying, so Alessandra got a degree in cooking and baking, and at night Olivier would do the recipes himself at home. In the dining room, it's the young Italian baker that takes care of service, and she does a good job.
At the lunch rush, Alessandra came to help right away.
I told her that everything was perfect, that her prosecco was delicious, but that it would have been even better colder. She completely understood, especially since she loves that prosecco; it comes from a small winery that she knows personally, and that supplies her directly. Right away, she told us that we'd get two very cold flutes at the end of our meal. Nice of her! 
- Le repas -
The lunch menu is 14 euros for appetizer-main-dessert !
Our only regret was that for 3 out of the 4 mains to choose from an extra 2 euros applied. It's better to simply say the menu is 16 euros, it would be clearer, at least that day.
Appetizer-main-dessert for 19 euros!
It's so good, and we feel so good there, that we enjoy adding an extra few euros .
So we start with that excellent prosecco.
Appetizer
Miso marinated salmon
Delicious, beautiful, the salmon a delight, the vegetables are nice and fresh, it's perfect.
Main
Cod, white asparagus risotto.
Also delicious, the risotto is excellent, everything goes together perfectly. Very nice looking dish, simple in its composition, but extremely coherent, and therefore, good!
For me, the fish could have benefitted from being cooked a little longer, but that's my issue, I'm not going to bother you with that: there's a trend going around where the fish is half cooked, like pork that is cooked pink, while I prefer it cooked more. But it didn't keep me from appreciating it all the same.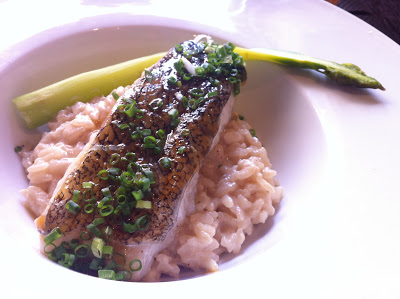 Dessert
Nutella tiramisu
I asked our waitress for advice and she admitted that she was the pastry chef.
She instantly answered that her favorite one was the tiramisu, and being herself Italian, we could trust her.
I told her I regretted it was made with Nutella because I thought it was too sweet, she agreed and that she preferred it'd be without, but when they took the dessert off the menu, people were always asking for it.
That being said, at the time of me writing this review, the dessert is no longer on the new menu.
Regardless of the Nutella, the tiramisu was a delight, executed with a high level of finesse.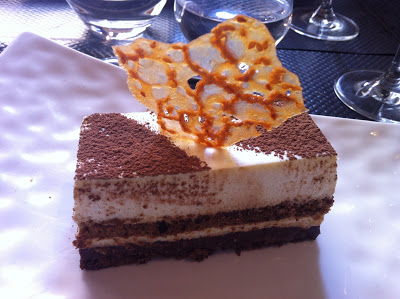 - Le bilan -
I like this restaurant and this type of restaurant.
They were smart to set up shop in an unknown street in Paris, but in a neighbourhood where a lot of people work in offices, which means a lot of clients at lunch.
They knew enough to open a small restaurant, but without "le surcharger", preserving a family vibe.
I think the future of commerce is in these little units, it's there that people work well, in an artisanal way.
The bigger the groups will be, with "delocalise" factories, the more we'll witness the development of "un commerce de proximité" with structures that are light and "alive".
As for Parisian gastronomy, Tempero shows another way to make refined food with fresh products: go to the cheaper neighbourhoods, privilege authenticity, keep reasonable prices, and guarantee space to your client. With all that, anything is possible.