Bibimbap – Paris (75005) en

19.07.14 - Guillaume - 716lavie
Bibimbap
32 Boulevard de l'hôpital
75005 Paris

01 43 31 27 42
Open everyday 12pm-2:30 pm and 7:30pm-10:30pm
Metro : Saint Marcel (L5)
Bus : Saint-Marcel - La Pitié (91 & 57)
http://www.bibimbap.fr/
- Le résumé -
A very good surprise, even more so because I was expecting a lazy Asian restaurant for boring palates, the bibimbap hysteria being in full throttle and a disappointment ( it then turned to the bo bun, then to the burger, all things with "b"s pretty much, next will be the blini?)
In any case, not the case here, the success of this place is well justified, it's a family-run operation, they work hard and it shows: the seats are nice, the staff is good, the dishes very good.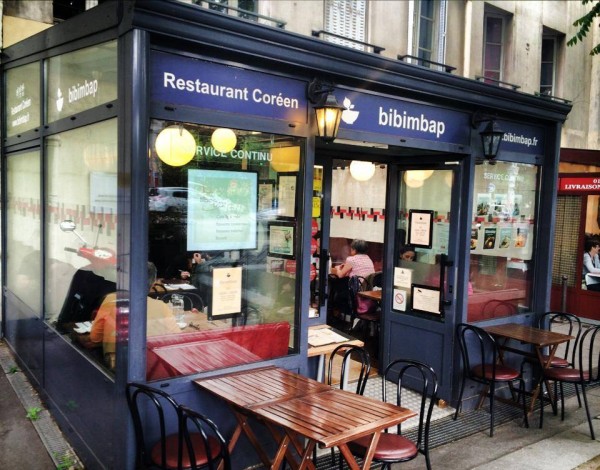 - La petite histoire -
A friend had recommended it to me, and I had put it on the list of places to try, but as early stated I was slightly worried it was just another boring Asian restaurant: probably because of the name and some of the comments on the web that were "too much" ( "oh yeah too good")
- Lieu -
We had reserved a table for lunch on a weekday, when we arrived, our reservation was found promptly, and the server escorted us to our table at the end of the room.
The room is a long rectangle, there's plenty of room, it's true we went there early afternoon after the rush, but still.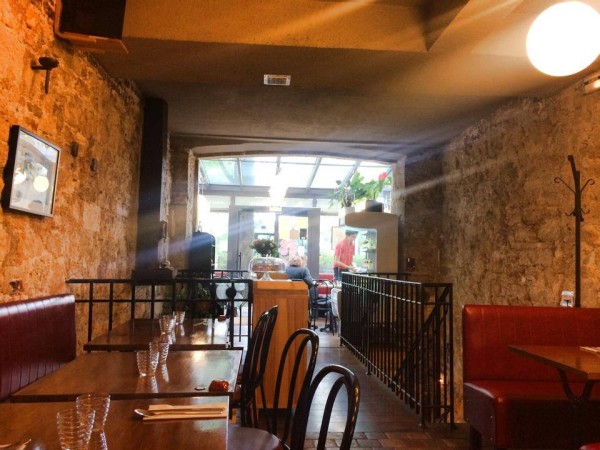 The table is strong, large, you feel secure putting your weight on it.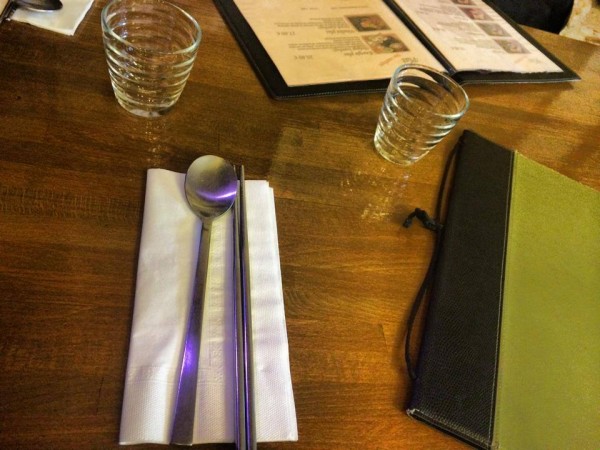 - L'équipe -
It was a big plus, that's for sure. The server we had explained everything to us calmly; at first we had a nice waitress, but she wasn't perfectly comfortable answering our many questions in French.
We also appreciated the fact that that there was a button that you could push to call the server, classy, that way you avoid getting an arm cramp trying to get the server's attention, like when you raise your hand in class and the teacher acts like she didn't see you.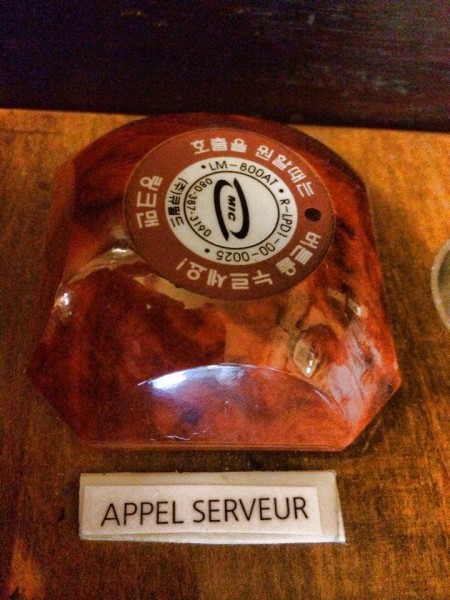 - Le repas -
The appetizers aren't particularly inexpensive, but the quality is worth the price.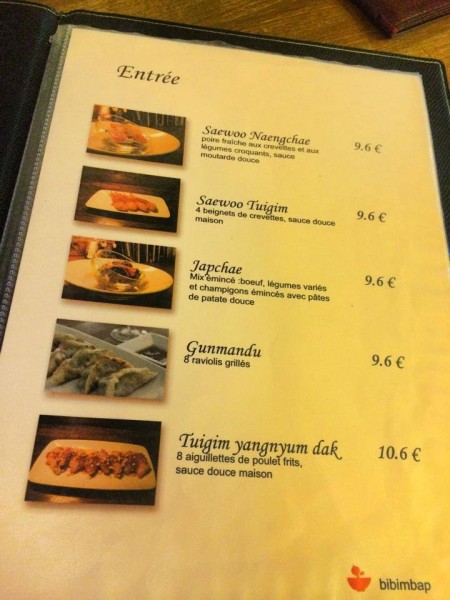 The dishes have some odd names like Energy Plus, Vitality, a bit scary at first.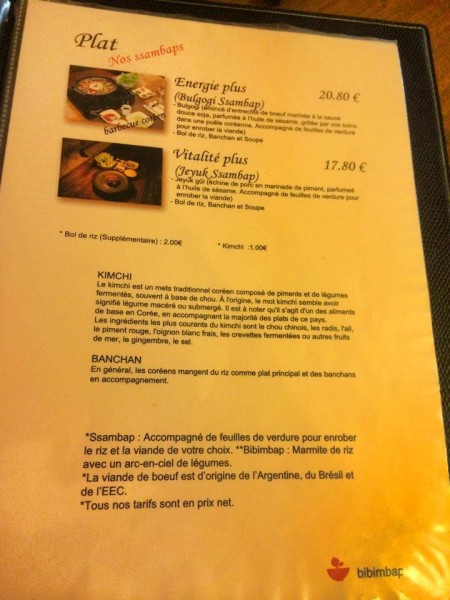 The bibimbaps come with a soup and a banchan ( an assortment of marinated vegetables), and the prices aren't high.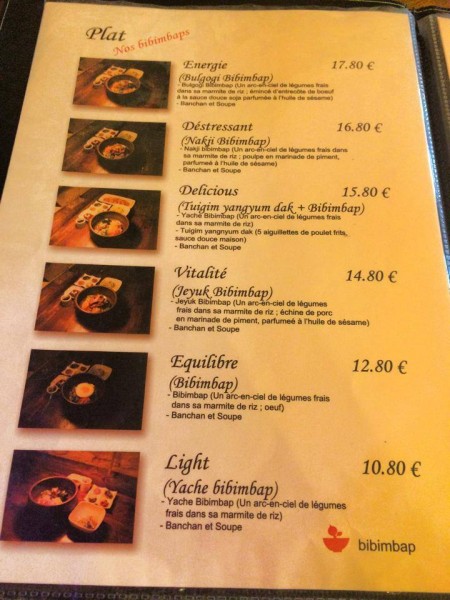 We start off with a Korean beer- Hite.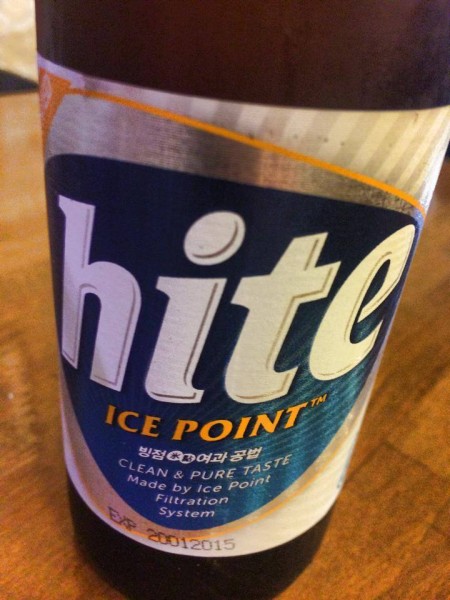 I took another drink, I don't remember much about it other than it was good. I think it was Yooja-cha, a Korean lemon drink, the server explained to me that they didn't have lemons that day so they had changed it a little bit.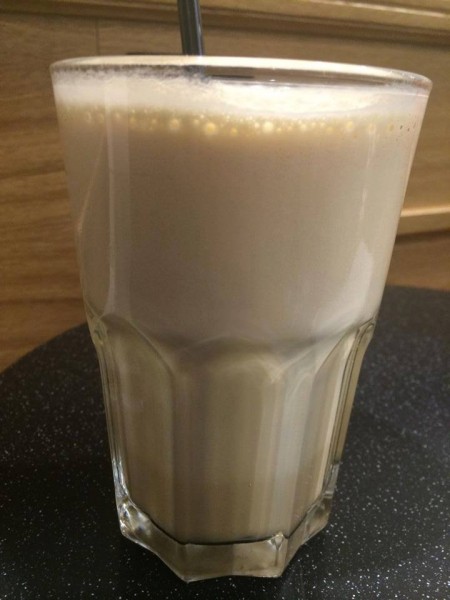 For once, the banchan was good, a nice change, fresh, not too acidic, not too cold. The cucumber soup is very refreshing.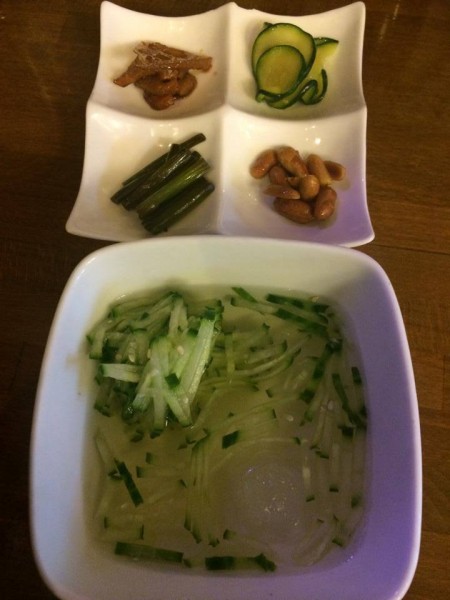 Fresh raviolis, nicely grilled.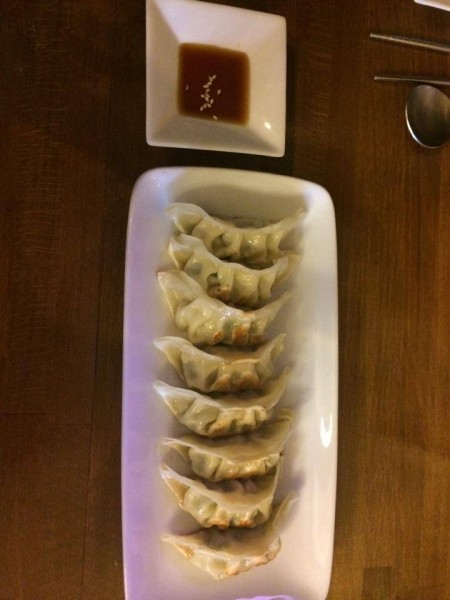 I got the Vitality bibimbap with a chili marinated pork shoulder.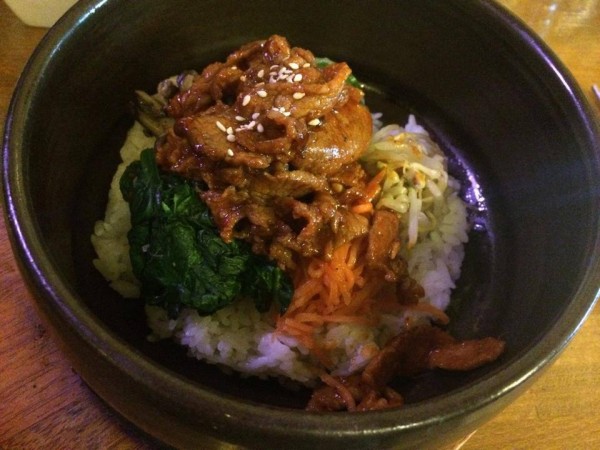 For dessert, we treated ourselves to a Hot-Duck, a wheat cake stuffed with brown sugar and scoop of ginger ice cream, nice, but a little heavy.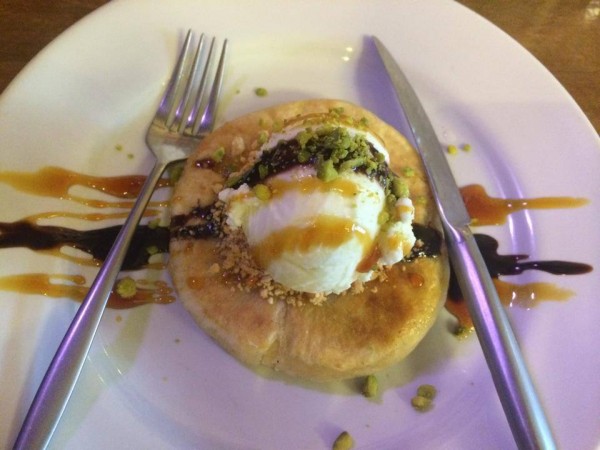 - Le bilan -
A really nice discovery, especially in the Pitié area near the Jardin des Plantes, because there isn't anything very exciting around there.
Secondly, Korean food in Paris isn't always well showcased, because there's always a didactic element missing, but here it isn't and overall, it is well executed.