Le Vauquelin – Paris (75005) en

02.06.14 - Guillaume - 716lavie
Le Vauquelin
23, rue Vauquelin
75005 Paris

01 43 36 89 38
Open at lunch Monday-Friday
Metro : Censier-Daubenton
- Le résumé -
A bistro with some honest food and with dynamic and serious service, not so ordinary after all, because a lot of them don't have  anything really substantial on the inside, that it be food or service wise, both are usually lacking.
Here, it's inexpensive, nice, full at lunch, and they do the job well.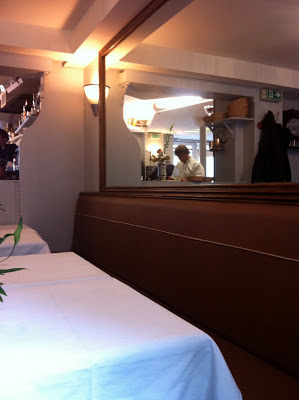 - Lieu -
I'd seen it before, because I often take rue Vauquelin. Already from the outside it looked good: something about the chairs and the blackboard felt good, a short menu that doesn't go into turkey/taglatelles right from the second line; as for the inside, there was a certain authenticity in the air.
So, it's open only at lunch during the week, and it's full: the clientele is diverse, very nice, lots of neighborhood workers.
There's a room at the back, on the left, which is quieter, particularly a little table of two that looks onto a little courtyard with plants.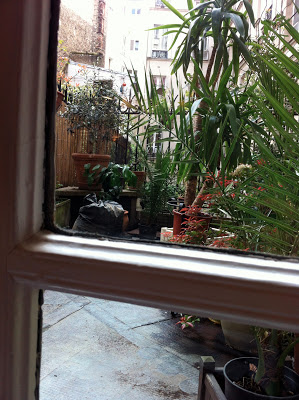 - L'équipe -
The restaurant was reopened two years ago, this being the second year. They had some hard times the first year, but now it's better, their work is paying off, it simply didn't stop when we were there for lunch.
Very good, we were greeted nicely. They had kept a table for us inside at the back, we wanted to have the table by the window instead and it wasn't a problem. Same thing afterwards when I asked if the meat was from France, they answered right away without lifting an eyebrow that some was from France and some from Germany, but both were of quality ( I've forgotten the name).
For the bone-in rib of beef, we'd asked for it rare, it was in some spots, but it could have been more on the other parts, for this as well, talking about it wasn't a problem, the boss was sorry, but it was really no big deal, it was just a note in passing.
Bread, water, nothing was missing; we didn't feel forgotten even with all the people there.
Anyways, great service, servers from the industry that are trying to do something of quality at reasonable prices, with no drama, and doing the work in a timely manner.
- Le repas -
There's a 13 euros menu with appetizer-main or main-dessert.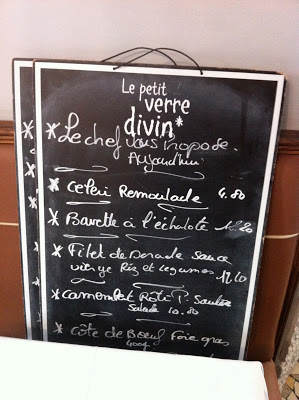 Appetizers
Fritons  from Auvergne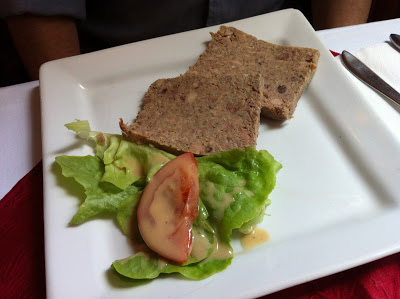 Celery rémoulade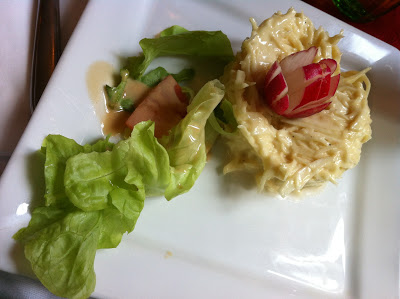 Main
Beef rib-eye on the bone
The rib-eye is 15.50 and the meat is good, there's nothing else to add.
It's well cooked, it could have been even more rare, but honestly, it was good.
The potatoes are done in house, cut the morning of.
The sauce is also made in house, with a fois gras that is likewise made in house.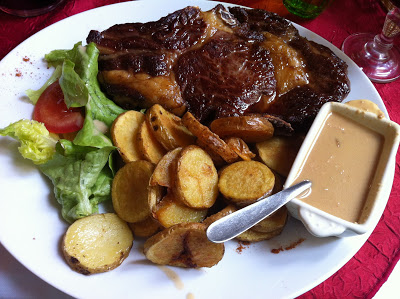 House baba au rhum
Like me, the person that was with me is a huge fan of babas, so much so, that we jumped for joy when we found out i twas on the dessert list, and that it was homemade.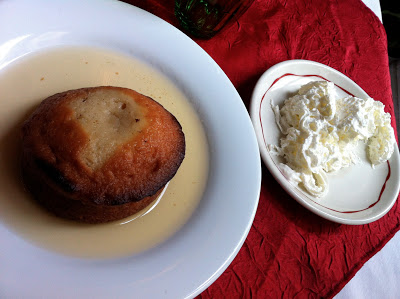 - Le bilan -
So we had two appetizers, two rib-eyes, two babas, a 50 cl wine pitcher, 3 coffees and wine glass of wine= 67 euros.
Try looking for mistakes, there aren't any. Definitely a place to know in the neighborhood.
A real bistro that does things simply, and doesn't take its clients for idiots.
Result: it's full.
Ah, for those who were wondering, it's in the  Vauquelin's bathroom that you  can find this marvellous picture.