KKC (Kaņepes Kultūras centrs) – Riga (Latvia) en

15.05.14 - Guillaume - 716lavie
KKC (Kaņepes Kultūras centrs)
Skolas iela 15
Riga
the site
Open from 2pm- 5am
The summary
A cultural center combining photography exhibitions, concerts, etc…Undoubtedly one of the most interesting places in Riga for independent culture. Located close to the center.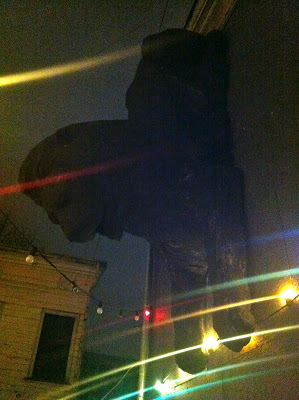 The Center
The Cultural Canabis Center is a complete building. There is a lawn at the front so you can spend time both inside and outside. You feel like you're in a house when you're inside. By reading their information page  on their Facebook page you'll probably find a lot more about them, I used Google Translate for the translation and I only got a partial understanding of the place.  The crowd was eclectic: about 50 intellectuals, young classy couples coming to mix it up, young indie culture lovers, and more.  The bouncers at the front door look sinister, almost, but it's easy to get in. The staff at the bar were very nice that day.
The little story
For the little story, I was in contact with Kristaps Puķītis that takes care of the musician group Dirty Deal Audio, they used to have a room beforehand, but it was closed. Kristaps recommended I come by to the KKC that night. I get there and find this painting on the front wall. Seeing "Sig", I wondered if it was the French artist Sig that I know.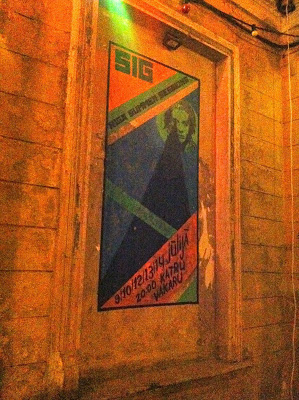 I go inside and go upstairs where the photography exhibition is. Seeing them, I had a déjà vu feeling, some portraits reminded me of faces in the movie Sig Kinogamma.
Some young women that work at KKC arrive, and I ask them who the photographer was, they answer that it's Sig, that he's downstairs and is going to start his concert in 45 mins. Wow. I go downstairs, and actually see Sig.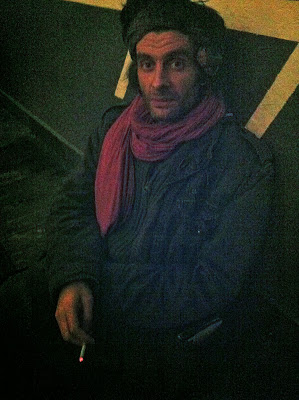 He plays as part of a trio with a Latvian drummer ( which I've forgotten the name of) and the Tunisian singer Mounir Troudi.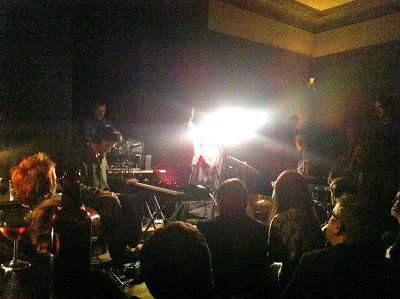 He plays regularly at KKC, as you can tell from the video from this summer.
Vous pouvez effectuer un don pour me permettre de continuer à effectuer mon travail en toute indépendance et à vous fournir des plans correctement sourcés.
A question? A reaction? We'd love to hear your feedback!