Le Bougnat – Paris (75003) en

18.04.14 - Guillaume - 716lavie
Le Bougnat
28, rue de Saintonge
75003 Paris

01 42 78 47 67
Closed Sunday
Métro : Filles du Calvaire
- Le résumé -
A true bistrot in an area that's become considerably more bourgeois, but in which the quality of food choices haven't followed suite ( often very expensive and not good, the first ones to complain were often the locals themselves).                                                                         Le Bougnat is an excellent place to go to for a good deal, and for homemade french cuisine, of which we wished there was more of.
- Lieu -
It's a good bistrot, a few meters away from the very busy Bretagne St, and because it's such a discreet place, you have to know it to get to it.                                                                                                                                                                                                                                                               With me that day, I had a group of 12 people responsible working for travel agencies in England, they had an organized trip in Paris, in which they got to see famous places, so I was asked to organize a lunch somewhere authentic. It's them in the picture, they were delighted!
- L'équipe -
It's a couple that take care of it. I've mostly seen Mrs. at lunch when I've been. Mr. was also there during my last visit. There was a young waitress being trained, which was great, too bad she's only staying there a few months.
- Le repas -
Appetizers 
Eggs and mayo
Mixed raw vegetable salad
Herring and apples with oil
Mains                                                                                                                                                                                                                                                         Cold whiting, house mayonnaise, raw vegetables                                                                                                                                                           Fridays are fish days, done old school and here they serve you cold whiting, I love it.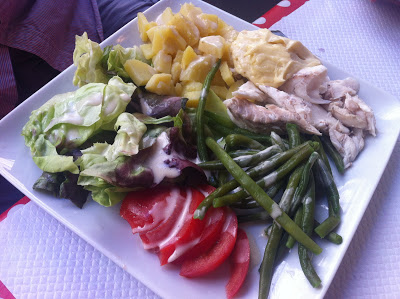 I now realize that I didn't take a picture of my steak and my potatoes ( not fatty, golden, perfect, a side often failed by many bistrots).
Dessert
Crème caramel
- Le bilan -
No need for comments, right?