Tapassoto – Vérone (Italie)

06.08.14 - Guillaume - 716lavie
- Le résumé -
A tapas restaurant in Italy, now there's a novel idea. Tapassoto opened in 2014, so it still has to iron out a few things, not everything is figured out yet. However, the staff is friendly for such a trendy place, the wine list is interesting in some parts, and there are some tapas that are really very good. Despite my reservations, it's a nice spot, and a popular place to come for an evening to take a break from Italian food.
- La petite histoire -
It's Simone, the server at the Room de Bassano del Grappa restaurant that told me about it. I told him I was going to Verona afterwards and he strongly advised I try going to Tapasotto and to ask for Federico Zonta.
So I introduced myself to the team and the Federico in question came to say hi. 25 years old, having already worked under Gordon Ramsay, opened a pasta restaurant at the NYC Farmers Market, and now running a tapas restaurant, the young man isn't losing any time.
- Lieu -
It's a modern and flashy restaurant with high ceilings, so it's a pretty pleasant place, and it's comfortable. There's also a nice patio outside.
But there are design flaws which are a bit startling: how is it possible to only have one bathroom stall for a place of this size? Not only that, but it's badly thought out on the inside, I thought it was weird, after talking with Federico, the chef, I was reassured about the overall project.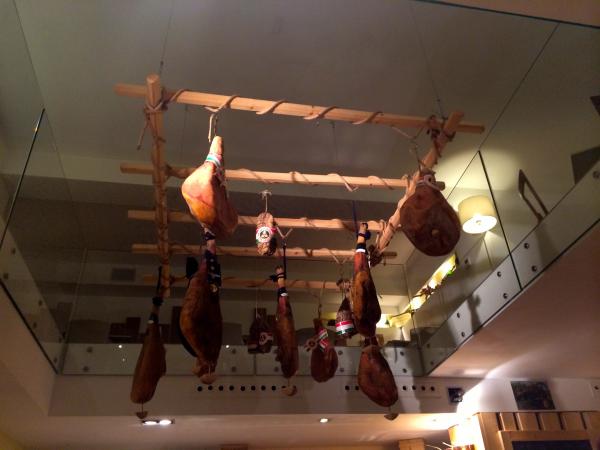 - L'équipe -
There are young men and young women in the room, each have their specific outfits, the service is friendly, but could be more knowledgeable on the wine.
- Le repas -
The specialties here are the tapas and the charcuterie boards (Salumeria).
We avoided the charcuterie and we focused on the tapas. I asked the chef directly which ones he recommended, here's the verdict:
– focaccina con stracchino melanzane e origano : focaccina with cheese (stracchino), eggplant and oregano
– uovo in vetro pomodoro e parmigiano : egg in a glass with tomato and parmesan ( it's THE house specialty)
– carne di manzo "cunsa" e crostini : Beef
– crema di fave pecorino e finocchietto : cream of beans with pecorino and finocchieto means "little fennel" in Italian, but it actually has a licorice taste.
– passata di carote e cavolfiore all noce moscata : carrot and cauliflower velouté with nutmeg.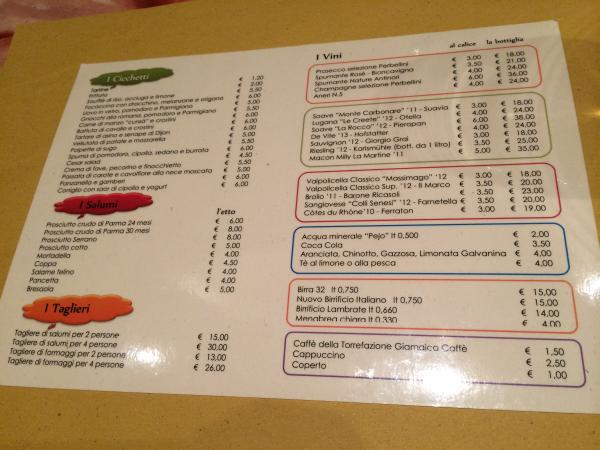 We started off with white wine, I started it off with something dry, I enjoyed it quite a bit.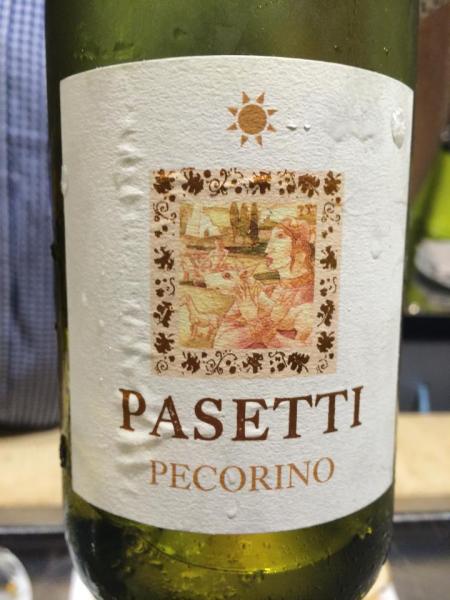 The rest of the party opted for this one, smoother.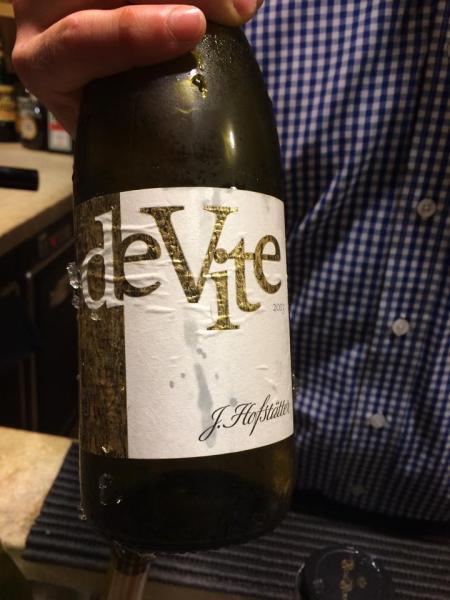 – Ok clearly, the best tapa, was the house specialty: the egg with tomato and parmesan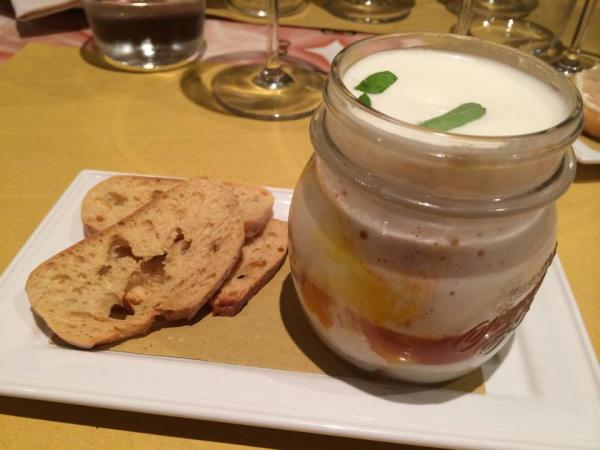 –  focaccina con stracchino melanzane e origano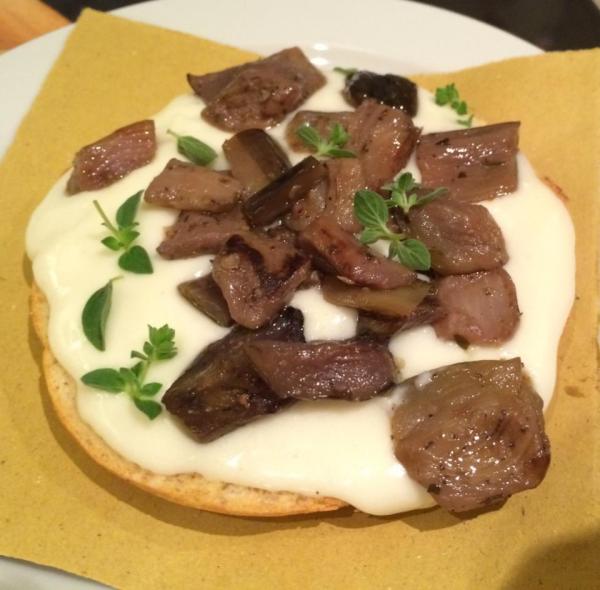 – Panzanella e gamberi : Shrimps and vegetables, good, but not incredible either.
"Panzanella" is actually a typical recipe from Tuscany made with old bread, which you dip in water and tomatoes…a kind of bread pudding (you can't really tell on the picture). There aren't usually any shrimp in the recipe, my Italian friend thought it was the chef's idea.  She loves panzanella and according to her the shrimps aren't necessary.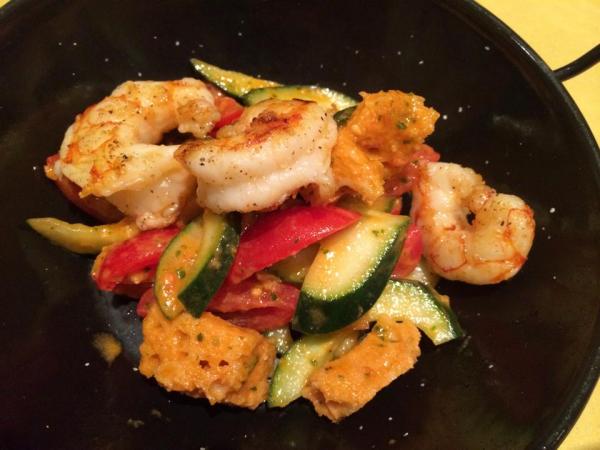 – Carrot and cauliflower velouté with nutmeg, good too, but easily done at home.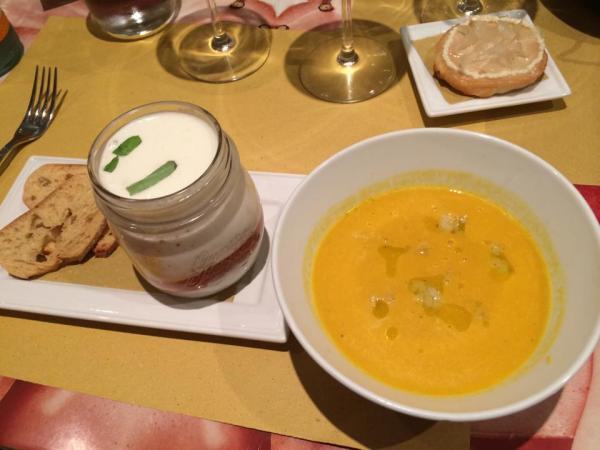 – This was offered to us by the chef, but I couldn't find it again on the menu, maybe it was a special tapa for the day, or a new one, it was a gaspaccho with buffala and soy sauce.
Everybody loved it, I thought it was a bit too acid for me, but I'm sensitive on that front.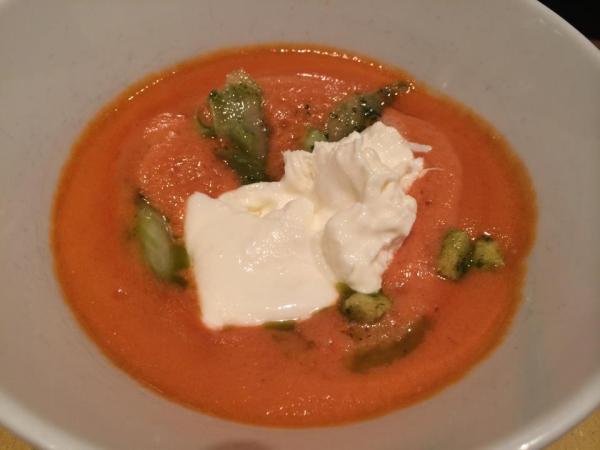 - Le bilan -
I had a long discussion with the chef, I told him about my reservations about some of the tapas, but also how I liked the others. He's modest, and passionate about this adventure, putting together a tapas menu is something totally new for him, and it's an exciting challenge.
My friends are all Veronese by birth, they know the city really well, and they thanked me for sharing this address with them, because they thought it was really interesting.
Of course, for tourists like us, I wouldn't recommended going there first thing, there's lots to do on this street, and it's nice just grabbing some drinks here and grabbing some tapas on the go: this also lets you eat lighter than the Veneto cuisine which is usually pretty hearty, since it can get cold here and the Dolomites aren't far.
Vous pouvez effectuer un don pour me permettre de continuer à effectuer mon travail en toute indépendance et à vous fournir des plans correctement sourcés.
A question? A reaction? We'd love to hear your feedback!