Tsubame – Paris (75009) en

09.04.14 - Guillaume - 716lavie
- Le résumé -
A japanese restaurant, which opened in mid-december that has the quality of being both welcoming and good. A little less posh in the 9th arrondissement, we can finally breathe a little. The food is fresh, cheap, and pretty good.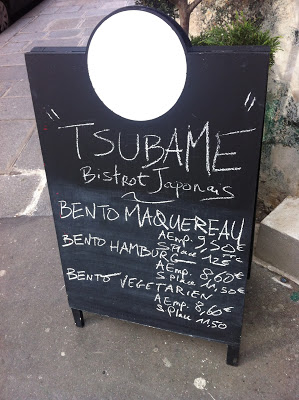 - Lieu -
The restaurant facade is in style- rough wall and polished metal. The inside has a lot of charm, a couple of tables were made out of old Singer sewing machine tables, a real success.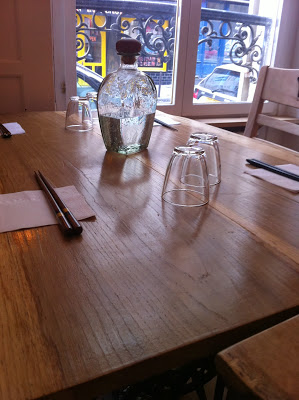 - L'équipe -
He's Vietnamese, at the front, while his wife is Japanese and in the kitchen. He's very nice and takes the time to explain the menu options and dishes. They had opened just a week before, so they still need some time to get their bearings. It's important to pay attention to details though, there was a table that needed to be cleaned up, and it stayed a long time like that, which is unfortunate in itself, but even more so when there was a limited amount of tables for two to begin with. In fact, I would also put tables of two where some of the tables of four were, because these had all the good spots.                                                                                                                           Other than these small details, it's authentic and simple, without pretense, exactly what we like.
- Le repas -
Lunch is bento box style, and at night it's izakaya ( japanese tapas bar).
Appetizer
The soup is delicious.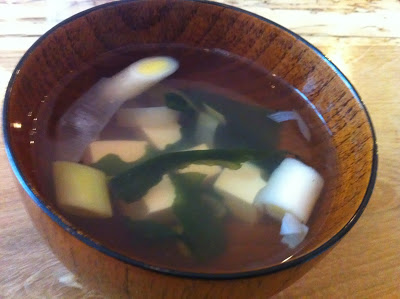 Mains
Hamburger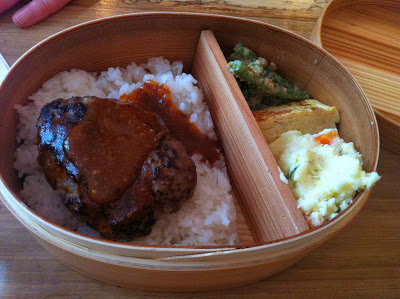 Mackerel                                                                                                                                                                                                                                                        It was my choice, I thought it was good, without being mind blowing. In these cases it's the entire experience that counts- the meal, the place, the quality of service, and the price. Everything else was perfect that Saturday for lunch ( so it was quiet), that's why I'm recommending it with pleasure on 716.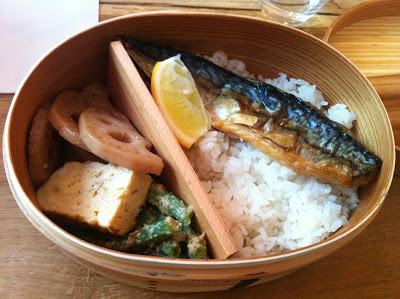 - Le bilan -
33,50 for 2 meals, + a Kirin ( or Asahi) beer at 3,50 euros, it's a good deal! Plus, in this part of the 9th arrondissement, to open up a modern, authentic, and simple japanese restaurant, is no small feat.  Whatever, and whoever you are, no matter how you dress, you are all welcome here.