Sejong – Paris (75009) en

02.06.14 - Guillaume - 716lavie
Sejong
32, rue Godot de Mauroy
75009 Paris

01 42 68 06 54
Open Monday-Saturday lunch and dinner, closed Sunday
Metros : Madeleine, Opéra, Havre Caumartin RER : Auber
- Le résumé -
A Korean restaurant that was recommended to me by a friend whose Korean friend worked there.
It's full at lunch, because a lot of people work in the area, and there are also a lot of Koreans there.
For 11.90 euros at lunch, nothing bad to say. I'll go back at night to get better acquainted with the dinner menu.
- Lieu -
It doesn't look like much, on rue Godot de Mauroy, and open since 2006.
There's less space upstairs than downstairs, and downstairs it's nice, it doesn't smell like grease, so there's no reason not to go.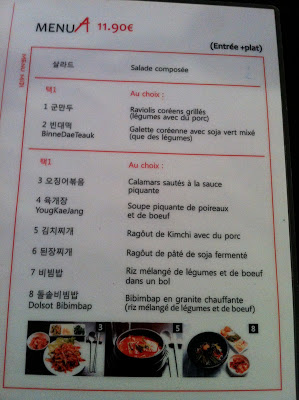 - L'équipe -
The majority of the staff is Korean. They don't take reservations , but once you're there you're not waiting very long.
I had read reviews on the service at night. From what I saw, there were no problems.
I chatted with a Japanese client that comes eat here twice a week, who told me they're very nice. If you're ever disappointed, don't hesitate to tell me.
- Le repas -
At lunch there are different table d'hotes, one at 9.90 euros, and another at 11.50 euros.
We start with a green salad "de bon aloi".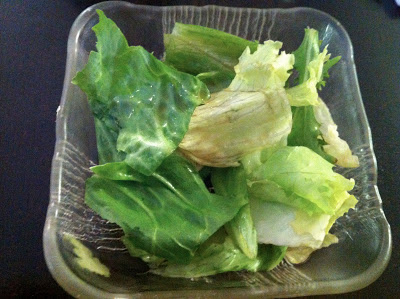 Pork ravioli
They're very good, very fresh.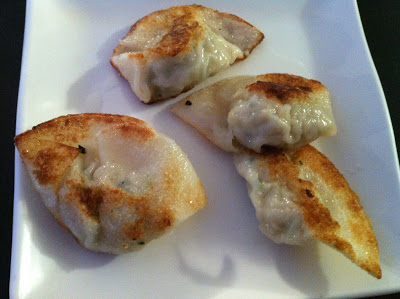 Kimchi
A little dissappointed by the marinated vegetables, but that day I wasn't feeling very well, and it could have altered my taste buds.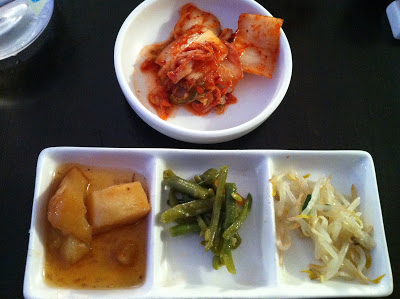 Calamari with spicy sauce
They were good, not incredible, but still good.
The dish was spicy, tasty, you could tell it was done à la minute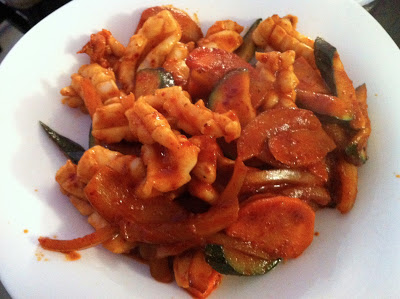 Rice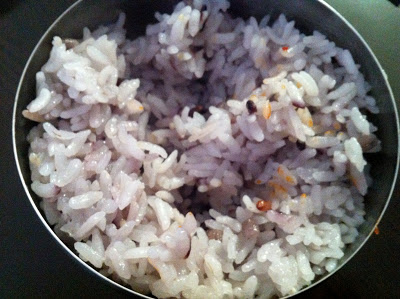 - Le bilan -
I think this place is worth knowing, because who would have thought there'd be a Korean place in the area. Secondly, in my opinion it's also looks possibly more promising at dinner, so it's worth going there for dinner to try something else than the table d'hôte at lunch.