L'Atelier Rodier – Paris (75009) en

16.08.14 - Guillaume - 716lavie
L'Atelier Rodier
17, rue Rodier
75009 Paris

01 53 20 94 90
Closed Sunday
Metro : Anvers, Notre Dame de Lorette, Bus : 85
- Le résumé -
Real good news for the last restaurants to be checked out in the capital.
I went there for lunch one time and it was quiet, so it might not be the same on a busy day.
The dishes certainly have a lot to say, the international team is friendly and authentic!
- Lieu -
It replaced Rap, the store that was there before.
When I saw the pictures of the place, I was worried about the table setup: two rows of tables in front of one another. But since we were alone in our row, it was good.
Other than that, the decor is cool, spacious, "épurée", with a touch of 70's vibe to it, well thought out.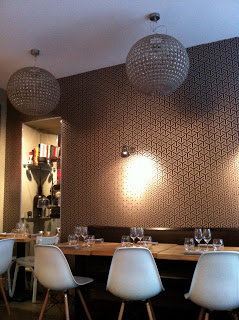 - L'équipe -
I'm not going to lie to you, being so passionate about Columbia, I was attracted to the fact that one of the chefs there is Columbian, and my interest was reinforced when I learned that his partner was Congolese(?). Those are two cultures that for many reasons really speak to me, one of them being the importance of their music heritage. On 716 Music, I wrote many articles on Columbian music and I recently put up a mix exclusively dedicated to Congolese music.
As for the waiter, he's young and chill.
It's the opposite of snobby and it's got that freshness to it.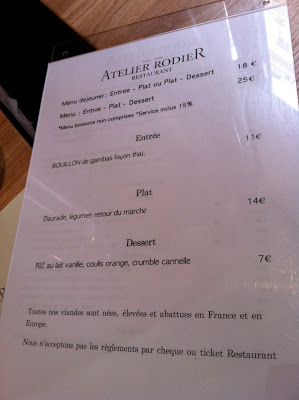 - Le repas -
There's an 18 euros table d'hote with appetizer-main or main-dessert ( 26 euros for all three I believe).
The dinner table d'hote is 37 euros for appetizer-main-dessert-coffee or tea, or there's a  five course tasting menu for 55 euros.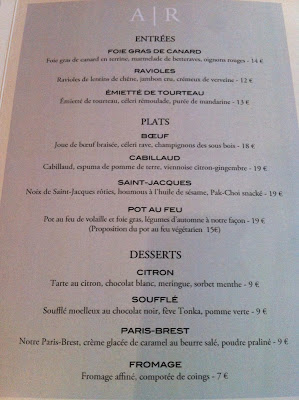 "En guise d'attention de la maison" we were offered some chorizo and a blood pudding mousse, I believe. Perfect.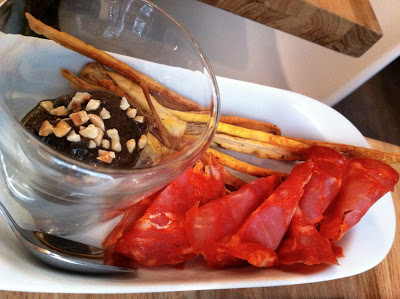 Afterwards, a chestnut  emulsion with torrified almonds which I didn't take a picture of, I still don't know why.
Appetizers
– Thai gambas broth
This is not a simple replication, it's delicious, of exemplary freshness, but most of all, all the taste components are there.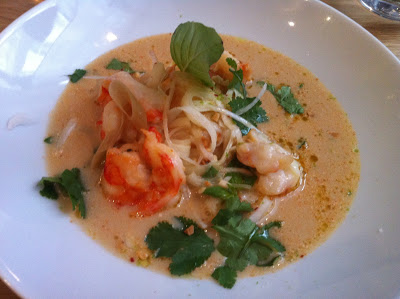 – Crab "Emietté"
100% success story.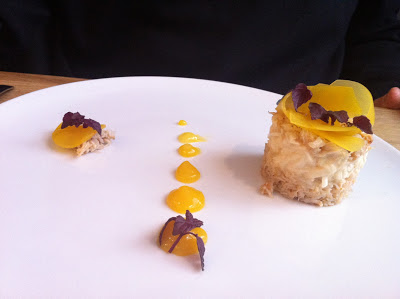 Main
Since I could have taken any one of the dishes, I asked the chef to pick the dish he wanted to cook. He decided to do something that wasn't on the menu-a mix of scallops and snapper, it was delicious. The snapper filet was perfectly done, a balance of flavors and textures, a beautiful dish, complete, complex, nourishing, colorful.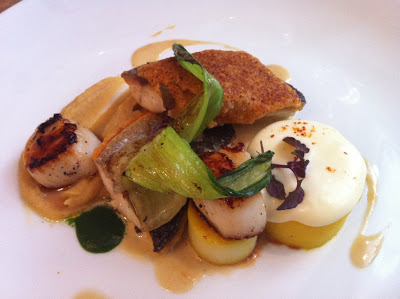 Dessert
Lemon tart, white chocolate,meringue, mint sorbet.
The tart was perfect, the ice cream could be slightly less frozen, or maybe creamier ( more like gelato), in this case the ice cream is a bit too much with the tart. ( Elle tranche up peu trop..?)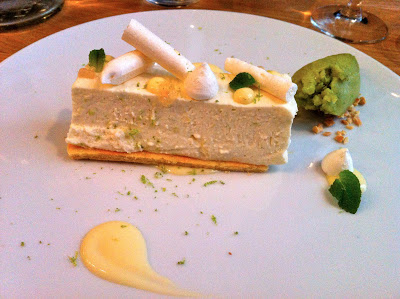 I ordered two glasses of wine: a Sancerre and a Chardonnay if I remember correctly.
Chef Santiago Torrijos didn't hesitate to open a bottle of wine so that I could taste it. Since I didn't wish to continue with the Sancerre, he brought me three different bottles of white wine so that I could choose from them.
- Le bilan -
91,50 euros for two people: two appetizers-main-dessert, two glasses of wine, 2 coffees.
I want to come back . It's (very) good, you can tell there is a "maitrise" of several different cuisines ( Asian, French, "tropicale"), you feel at home, "il n'y a pas d'esbrouffe". More and more I analyze how I feel after a meal, right after the meal until the end of the night I had this fruity and "ce petit gout maritime" left in my mouth: just like when you have an excellent Japanese meal, I was full without feeling heavy. They're all smiles, they want to please, and they're open minded. We feel lucky that they chose to share their positive attitude with us by setting up shop on rue Rodier; a street that is often harsh in its restaurant choices (Rip Rap).
Let's hope it lasts.