716 Exclusive Mix – Dunkeltier : Beyond The Iron Curtain

30.08.17 - Guillaume - 716lavie
Dunkeltier, aka Sneaker, aka Gino Galan, aka Lupo in Bionda e Lupo (check their 716 Playlist and their upcoming EP "Die Kinder Aus Dem Park"), aka Dérive with June, aka Serial Error with Jacob Korn & Credit 00, aka another name to be found for his two projects coming with Scannoir in 2018, aka many other names you might ignore…  has been here for a long time now in the underground "electro" music scene in the super wide meaning of the word. He released for numerous labels but has been particularly close of Uncanny Valley Records, including its sublabel Rat Life Records, and Frigio Records run by our friend Juanpablo (check his 716 Mix).
Speaking about edits and possibly podcasts, when Sneaker is digging Chicago house and Detroit techno since the mid 90's, Dunkeltier has been the name for edits more focused on obscure Italo, EBM and wave stuff. For this special Soviet mix called on purpose "Beyond the Iron Curtain", we are dealing with Dunkeltier and I'm glad to have finally him as a guest in the 716 series. When it comes to "soviet" culture we can easily say it rings a bell on our ears. 716lavie has integrated the official program of the France – Russia Cultural Year in 2010 with a Soviet Funk playlist by Victor Kiswell. I published myself some short mixes called Mini Baltic that include both soviet and Baltic sons from the soviet era. Speaking about non soviet times, I am a big fan of what is happening now in the underground electro scene in Russia and 716lavie has published a bunch of talents : YancityGurl, Camin', Nocow, Buzz Compass, LVRIN, Dubfusion, Yung Acid, Discotopia coming. Of course Soviet Times are just a tiny part of the Russian culture, but more than all we are interested by what is coming out from there, as from the rest of the world.
Sneakers contribution is the reenactment of his long prepared mix of Russian (Italo) Disco and Post Punk for the Friday afternoon slot at the Camp Cosmic festival 2017. For those who don't know it yet – CC is THE event for disco diggers in Europe since 2011 – invented by Albion in Sweden and now co-hosted by Spacelex and a bunch of underground supporters from Dresden and Berlin. Since last year the festival takes place close to Leipzig, Germany. The festival has grown steadily and now hosts a 2nd stage for electronic live acts and rather obscure DJ adventures.
Dunkeltier is precise with music, but also with words so it's a pleasure to let him introduce his mix to your ears : "When I was in Moscow in spring, I was driving around the city's record shops by recommendation of my hosts. It was ridiculously adventurous to follow the Moskwa down to Gorki park to head over to the Leninsky Prospekt where I lost my way in between grey Socialist 10 floors residential buildings.
Below is the Sound Barrier shop.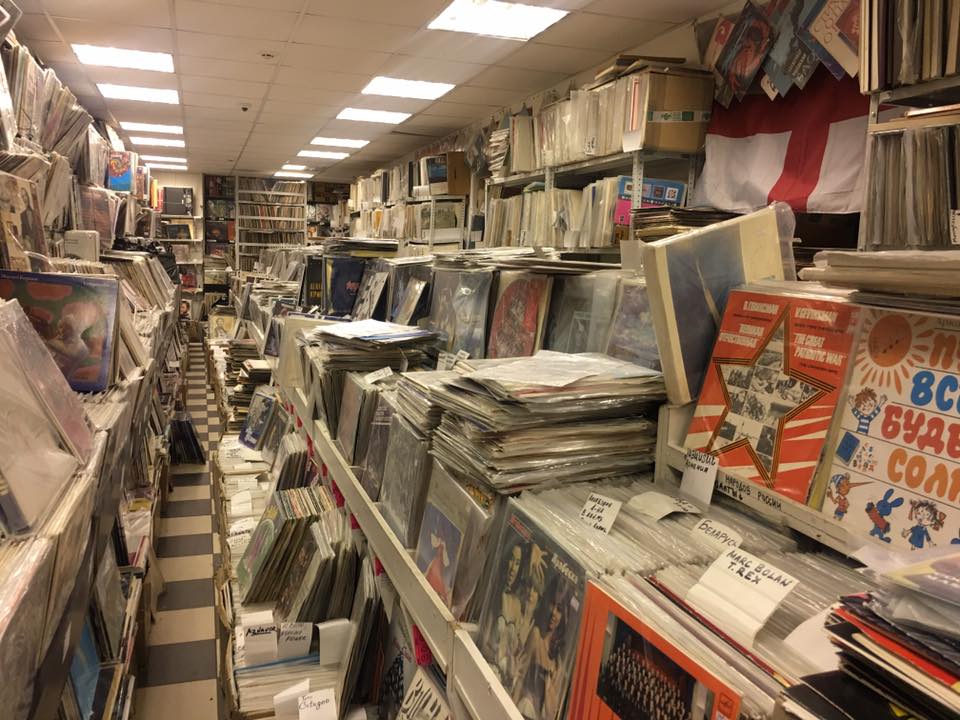 In the evening I translated cyrillic letters forth and back. Letters that I was rather drawing than writing during the day. I looked up possible finds on discogs to eventually return to the shops the day after.
I even met up with a collector and discogs seller at a subway station and had dinner in a Georgian "fast food" resto – Victor trades everything from Classical to Ethno music from the East.
I also don't wanna miss to mention the recent 7″ I played from the reissue label of a young Ukrainian friend: Baran records. Maxim is at the forefront of a trend yet to be discovered and releases LPs and singles covering the same territory as our Soviet Shock Waves – Italo (the term feels so weird in this context) and post punk from the former Socialist republics.
At the Camp I finally have chosen my favorites because as everywhere you have to dig through shit loads of crap before being rewarded. The actual recording of the session – though enjoyable for the few geeks – completely failed due to faulty needles and my missing skills.While I was changing to a more pop style compared to last years Soviet Shock Waves podcast hosted on Discus Throwers it must be still apparent to everybody how enthralling the Soviet feeling for harmonics and melodies is.
By time I got used to it and for the selection I also have chosen the more catchy and pleasant ones for our Western pair of ears. Until today rock never faded away in the former Soviet states, so there is also a steady, and unbearable, fetish for guitars audible in many synth pop projects. Another funny observation was that different projects used the same Roland TR-909 patterns as they probably had the slot after each other in the state run studios. So instead of reprogramming they just did it organ style – hopping through the rhythms and choosing what's there! After a chat with a friend on the topic I actually noticed that the Soviet synths (Polivoks, etc.) were mostly used by underground projects whereas the movie and pop producers (working in government studios) indeed had Western hardware, even if rare, such as Roland, Simmons and Linn drum machines, Yamaha DX-7 and the EMS Synthi 100. If you are looking at how much domestic hardware was produced in the Soviet Union there must be still plenty of unexplored underground music on underground tapes.
Also I found digital rips of whole albums from reel-2-reel that were produced for the state run Melodiya label however never made it on vinyl. In the chaotic post-Soviet times however they found their way to bootleg-CDs and MP3-discs on the informal open air markets. Nowadays it all landed right at your hand or should I say P2P client?!It's an endless terrain like all digging and – as always – I am just starting out! Enjoy listening, get inspired and probably you find your own "treasures revealed"!
Dunkeltier
Vous pouvez effectuer un don pour me permettre de continuer à effectuer mon travail en toute indépendance et à vous fournir des plans correctement sourcés.
A question? A reaction? We'd love to hear your feedback!