716 Playlists – Magic Waves Playlist

05.05.11 - Guillaume - 716lavie
Magic Waves is 5 years old this month so let's give a shout to the crew (Casionova, Ali Renault, & Spruxxx) who also runs the Cyber Dance label.
Don't miss their weekly show on Intergalactic FM.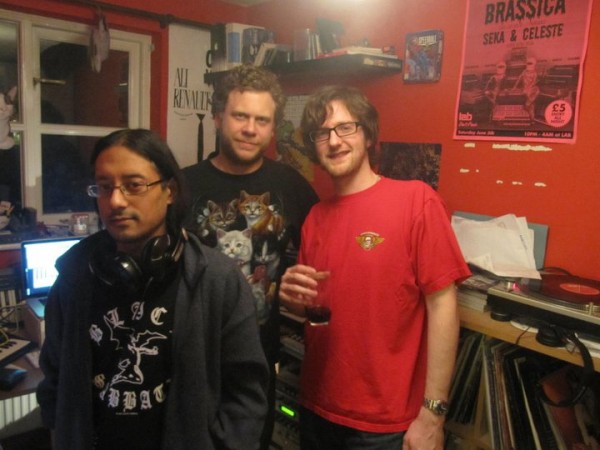 "We have too many favourites! So it's not exactly a Top Ten, but ten of our most favourite in no particular order are…
1) Casco – Cybernetic Love
One of the greatest italo-electro records ever made, amazing vocoder-work and a bassline so instantly classic it's unforgettable. Produced by the legendary Salvatore Cusato in 1983 and still ahead of its time today.

2) B.W.H. – Stop
The repeating chord-progression on the piano in this is one of the most mesmerising pieces of music we've ever heard. This beautiful gem of a track was produced by Paolo Del Prete and Carlo Favilli and has a hauntingly exquisite vocal from the lovely Helene.


3) Mr Flagio – Take A Chance
This really might as well be the "national anthem" of Italo Disco, and it would be well-deserved. The ultimate Italo "vocoder rocker", you can never hear it too many times!


4) Pleasure Discipline – For Hours Now (Remix)
Originally only about a minute or so of this stunning Rago & Farina track was ever released, so it was an amazing moment for Italo Disco fans when the full version finally got an official release last year. A laser-powered psychedelic rollercoaster ride of Italo synth-insanity.

5) Cyber People – Void Vision (Slow Version)
We love Cyber People so much that we named our label, Cyber Dance Records, after them. Both versions of this track are great but the slow one has a particular magic that's all its own. Emotional, futuristic and epic Italo Disco from the wonderful Memory Records team.

6) Camaro's Gang – Fuerza Major (12″ Mix)
Alex Novaga in full-on classic production mode. Amazing lyrics, emotional melodies, powerful chorus and a driving bassline combine to make it one of the most classic Italo tracks of them all.

7) Tension – My Dream
Hard-rocking digital Italo production from 1986 with blasting synths, clunking bass and pounding drums that build to a climactic synth-guitar solo that defies belief. "Massive" is not enough of a word to describe it with!

8) Nemesy – We Play The Music
Nemesy's album is in our opinion definitely a candidate for the greatest Italo Disco LP of all time, and all of the tracks on it are very special in their own right, even spiritual. 'We Play The Music' is particularly important to Magic Waves for its simple but effective lyrical content which we try our best to live by!

9) Klapto – Mister Game
A true classic in every sense of the word; catchy but not annoying and endlessly re-listenable, Klapto drop one of the slickest vocoder-lines possible on top of an astounding synth-riff that never fails to set the dancefloor on fire. Masterpiece!

10) The Voyagers – Distant Planet
Maybe for us the most beautiful and classic of all the wonderful Nicolosi Family productions. 'Distant Planet' is slow, dream-like, hypnotic and also cathartically climactic, and its futuristic sound is tinged with bittersweet melancholy that could melt the hardest heart. Impossible not to love.

Vous pouvez effectuer un don pour me permettre de continuer à effectuer mon travail en toute indépendance et à vous fournir des plans correctement sourcés.
A question? A reaction? We'd love to hear your feedback!