Le Daraton – Paris (75014) en

23.05.14 - Guillaume - 716lavie
Le Daraton
22 Edouard Jacques St.
75014 Paris

01 40 47 69 77
Open Monday, Thursday, Friday 7:30pm-10:30pm- Saturday and Sunday 12:30pm-3pm and 7:30-10:30
Métro : Pernety
- Le résumé -
A coup de coeur: finally a Greek restaurant ( Cretan) in Paris, flavorful and authentic, with some good prices. So, it can been a bit of a wait because the boss and the chef is alone doing it all, but for sure it's flavorful and and the interior design adds to the charm of the place. The opening hours themselves are also very unique.
Note: someone sent me a complaint because of how slow service was during a weekend night. Since the lady is alone in the dining room and in the kitchen, it's better to avoid Saturday nights before going to the movies. But don't let that deter you from going:)
- Lieu -
I'd seen it when passing by on my scooter, looked at what was said about it online, and I don't know why, but it didn't hit me right away that this might be a good spot. It's thanks to a 716 reader that my attention was brought back to Daraton, I thank him here.
The restaurant opened 10 years ago, the boss didn't want a name that conjured up the Greek islands or the Antiquity. Finally she settled on the name Daraton which was actually a bread from the Antiquity era, with no leaven , flattened like a pancake.
The room is truly cute, however, I wonder what it's like when it's full, how intimate and fast service is. That night there were only two tables and it was perfect.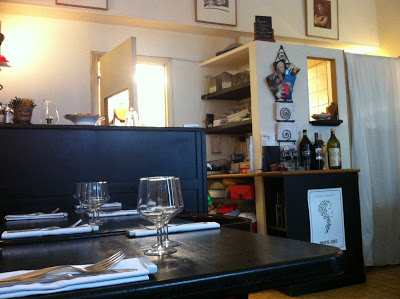 - L'équipe -
I called ahead, and just from the call I had a good feeling.
When we arrived, she wanted to sit us far from the window and it always annoys me a bit when they want to put me somewhere else, in case hypothetical clients show up; especially since it was hot that day, and we wanted to be close to the open window. We agreed that we would move if this mysterious table of four sunddenly ended up showing up. As I suspected, they never came and we ate peacefully. This detail was soon forgotten when we started talking food. The chef was adorable, she took the time to talk to us, to make recommendations.
We felt at ease.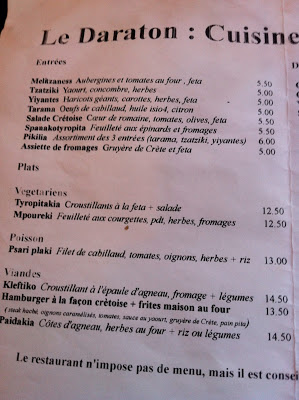 - Le repas -
It was pointed out on the menu that the food served here came from organic agriculture, that the olive oil came from a family production ( I'm not sure I remember 100%, but this is the general idea). The oregano also came from the chef's estate. So, everything is fresh here.
As you can see, the prices are adequate.
Appetizers
We chose an assortment of 3 appetizers, the chef told us that she put more on our plates to go with the ouzos at the same time.
Pikilia: tarama, tzatziki, yiyantes ( giant beans)
A delight, everything is tasty.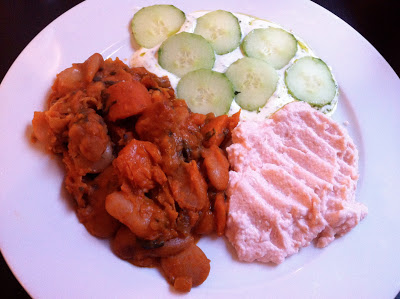 Main
Mpoureki : Zucchini puff, potatoes, herbs, cheese
It's delicious and it's even more so if you're ready to wait for a good time.
She served it to us and explained that she preferred a bit more toasted, but that we would have to wait 15 more minutes, I told her to go for it, it was put back in the oven.
I wish I could find more food like this in Paris: the taste of "home made".
I brought a piece of it back home, and it was still just as good.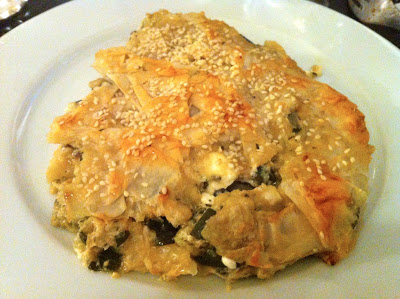 - Le bilan -
40 euros for two ouzos, an assortment of appetizers and two mpoureki.
We were the last clients, and so we had the chance to talk at length with the lady.
I'm a fan of the place; I'd have to come back to check on 2-3 things like the wait time and the intimacy level when it gets busy or the other dishes.
But what can't be denied is that Crete is in the air here.