Les Coupoles – Paris (75008) en

23.05.14 - Guillaume - 716lavie
Les Coupoles
55 Mathurins St.
75008 Paris

01 42 65 31 58
Closed Saturday and Sunday- brasserie at lunch weekdays, reservations necessary because it's always full
Métro : Saint-Augustin
- Le résumé -
There's nothing harder than finding a good brasserie in Paris: good meaning fresh products, putting HEART into the preparation of dishes everyone knows and treating customers like gourmets that ought to be respected and not the opposite.
Some aren't going to be happy with my next statement, but in my opinion only 5% Paris' brasseries have a culinary interest worthy of those in restaurants.
Here, you can find everything, it's a find that I praise myself for, because I know how many few there really are.
- Lieu -
Open since 1973, so 40 years. I walked by many times, but never realized I was missing out. You have to admit that from the outside, brasseries pretty much all look alike, and so you have to go out and test it out before finding the one that is just right. I was going by on my bike that day, and at that moment the chef was in her outfit and was talking with the boss after service, it was a positive image that told me that there was more than previously thought.
I went online and there were only positive comments, even though there have never been any real articles on them except this one.
The inside has character, notably the big mirror that lounges an entire wall, and therefore widens not only the room, but the ceiling and the big circular lamp.
The boss explained that they used to be open every day and that it was always full on weekends. Then the "concierges" disappeared one at a time, and with them a way of life, business buildings replaced apartments, and the 35 hour work weeks finished to empty out the place on weekends since now time off could be taken out other times ( this is the explanation the boss gave me). That being said, she doesn't regret it because she now has the possibility of relaxing on weekends, working everyday is good when you're young she said.
I want to point out that I came a week night, and that the boss was there with the cook and an experienced server. When we left around 10:30 pm, they were starting to eat. They were always present during service!
Constant quality has no price.
- L'équipe -
So there was the boss that opened up the place with her husband in 1973, on their business card you can read under the name Les Coupoles "Jeanette et Pierre".  She was helped by a server that isn't there every day and that is very nice, and finally I saw the chef walking by. The waitress and boss were very nice, inquiring if we were satisfied.
I was with someone who wanted to try the crème brûlée and so I had called beforehand to know if 1) they were open 2) if they had crème brûlée, I got two affirmative answers, and the boss added "and the crème brûlée is made in house". Ok! Sounds good!
What's more, customer service was done with real care, " I'll bring you water and bread right away" and so on.
- Le repas -

Among the house specialties that was Cantal tart and the Pounti.
Appetizers
Eggs with mayonnaise
The egg yolk was bright yellow, as if the egg was just cooked. Perfect.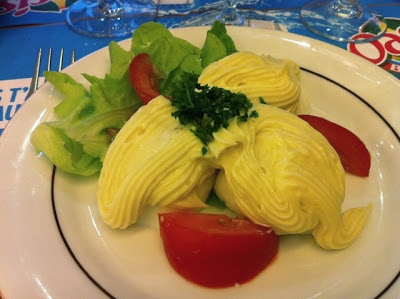 Mains
Tuesdays there's aligot with sausages, don't mind me if I do. Housemade aligot, nothing else needs to be said.
Perfect, the sausage could have been a tad less dry at places and I told the boss who listened, and didn't get offended. Rightly so she said, since they don't put that much fat in them, it can become a little dry at times.
It remains excellent nonetheless.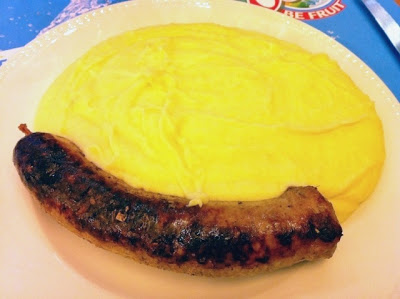 Dessert
Homemade crème brûlée
I'm not a crème brûlée fanatic, it was the person with me that wanted to have one, but I have to say that it was a pure splendour in the homemade style.
I'll add that in the dessert cabinet which is generally as sad to look at as a buffet in a train station, there was life in this one.
Like it was pointed out to me: " we don't have a freezer, just a fridge, and everything is ordered the day before, for the next day. We only use fresh products, even the green beans. For example, we're almost done with the apricot tarts, so tomorrow the chef will do something completely new. "
The other day in a brasserie I was told that except the green beans and fries, everything was fresh. It's very rare to have fresh green beans.
In any case , that day in the dessert cabinet, there were strawberries and cherries, a cherry clafoutis, and some  îles flottantes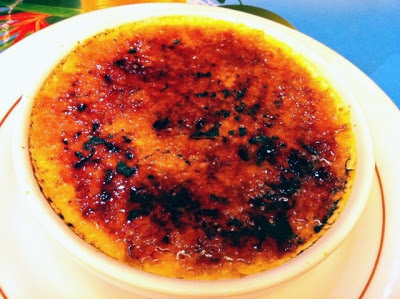 - Le bilan -
We followed the boss' advice for the wine and took a 50 cl pitcher of red wine for 16 something, which was superb.
To summarize: eggs with mayo, two aligots with sausages, one crème brûlée, one 50 cl pitcher of red wine= 39 euros, so less than 20 euros per person.
I don't know how to say it, I've already said a lot: but if you're looking for a good and real brasserie, you know as well as I do that it's very rare, and they tend to disappear.