716 Playlists – Cosmic Sound (Stephen Farris) Playlist

14.11.10 - Guillaume - 716lavie
I discovered Stephen Farris aka Cosmic Sound last summer and immediately liked his stuff. On his myspace page his style is described as a mix of Visual/Hip hop/IDM and this is exactly what it's all about : some psyche beats with crazy dope VHS edits. So he did a video playlist for 716 Music.
You can download the more recent "Alphabet Soup" Ep here and his "VHS Vision" Ep there.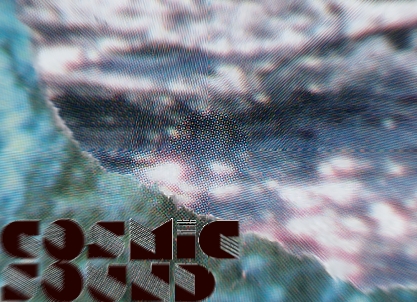 These are the 2 videos of him which made me discover his work.
And this is the new one called X=Y
The Stephen Farris Video Playlist :
1) Black Moth Super Rainbow – Twin of Myself
I'm a sucker for Analogue electronics and also most visuals that were/are authentically made with this type of gear. Thinking about how they produced this video is a key point to enjoying it for me. The guy behind the music knows what he's doing, and it's really fun to listen to it and figure out how it was made.
2) Broadcast and The Focus Group – #1 : Witch Cults
I've been a fan of Broadcast for quite sometime, they've inspired me in a lot of ways. They never fail to bring back the BBC Radiophonic Workshop feel to the music and the visuals.
3) Fish Sticks
Panda Bear is actually a pretty good actor. Something about the way he talks and his mannerism in this short college film strikes a chord with me, in regards to authenticity in real life scenarios.
4) Boards of Canada – Dayvan Cowboy
First official video for Boards of Canada. I feel like the visuals of the guy reaching the edge of space and jumping out and landing into the sea is a pretty precise metaphor to how BoC's music can/will make you feel.
5) テルミンを演奏するネコ
The wonderment of this cat trying to figure out why a noise is being made based upon how close he/she is, i find cats to be inspiring because of how curious they are.
6) Beethoven's Tempest Sonata mvt. 3 – Wilhelm Kempff
Brilliant piece of music of course. The faces this guy makes are priceless too.
7) Giorgio Moroder – Promo Video
Pioneer, through and through.
8) Computer Music (Synthesizers, Synclavier) 1986 Pt. 1/3
→ watch the video here.
A lot of people that use software, don't realize that it was people like Max Mathews that made it possible.
9) Sesame Street – Bald Eagle
Charming video that all around has a great vibe.
10) Frédéric Chopin – Prelude in E-Minor (op.28 no. 4)
I feel that his music has more personality and connects emotionally than any other composer of the time, or for all time for that matter.
Vous pouvez effectuer un don pour me permettre de continuer à effectuer mon travail en toute indépendance et à vous fournir des plans correctement sourcés.
A question? A reaction? We'd love to hear your feedback!