716 Playlists – Remi from La Puerta Playlist

09.05.11 - Guillaume - 716lavie
Rémi est le propriétaire et animateur du bar La Puerta à Santa Marta sur la côte caraïbe colombienne. L'endroit est notamment connu pour sa programmation musicale éclectique de qualité là où, en Colombie, la majorité des bars ont souvent tendance à passer essentiellement de la musique locale (vallenato, reggaeton, salsa, cf. l'interview du groupe Diva Gash).
Remi is the owner of the bar La Puerta in Santa Marta on the caribbean coast of Colombia.
The place is famous for its eclectic & quality music.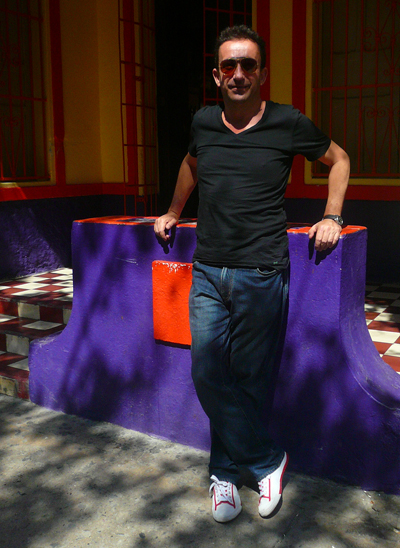 1) Ms Dynamite – Brother
Frisson garanti même si je n'ai eu jamais de frère.
A guaranteed thrill even if I never had a brother.2) Systema Solar – Mi Kolombia
Nouvelle génération de la musique colombienne, revendiquant haut et fort ses racines…puissant…
The new generation of colombian music, proclaiming its colombian roots and culture, powerful.
3) Hector Lavoe – Isla Del Encanto
La plus grande voix passée, présente et future de la musique afro-cubaine…
The greatest voice from the past, present & future of the afro-cuban music.
4) Art Blakey – Moanin'
Un classique dont on ne se lasse jamais.
A classic which will never be forgotten.5) Arthur Alexander – You Better Move On
Chanson sublime reprise par les Stones, Willy Deville, ici l'originale jamais égalée…
Incredible song covered by The Stones, Willy Deville but the original version will never be surpassed.6) Johnny Thunders – So Alone
Idole intemporelle…la vrai rock'n'roll attitude…
Eternal idol, the real rock'n'roll attitude.7) Robert Wyatt – Sea Song
Rock bottom, le seul disque que j'emmènerais sur une île déserte…
Rock Bottom is the only record I would take with me on a desert island.8) Damian Marley – Welcome To Jamrock
Le meilleur reggae de la fin du vingtième siecle…
The best reggae from the end of the XXth century.9) The Rolling Stones – Sweet Black Angel
Quand le meilleur groupe du monde s'inspire d'Angela Davis.
When the best band of the world gets inspired by Angela Davis.10) Marvin Gaye – Let's Get It On
Mr Soul.
A question? A reaction? We'd love to hear your feedback!