716 Playlists – Takuya Matsumoto Playlist

01.04.13 - Guillaume - 716lavie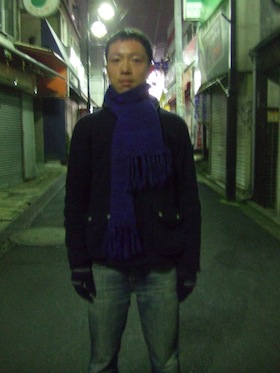 J'aime beaucoup la finesse des productions électros de Takuya Matsumoto, il a fait l'effort de faire une playlist en anglais et en japonais!
Voilà une sélection de compétition, sayonara Takuya!
I appreciate a lot the productions of Takuya Matsumoto, they're "delicate", sweet, deep. He made an effort to write his playlist in English and in Japanese.
Here is a top selection, sayonara Takuya!
1) DJ Sprinkles – Midtown 120 Intro
クラブミュージックの世界でもっともユニークなアーティストの一人。この曲はとても短いが、テムリッツのこのマニフェスト、無駄のないアレンジ、独特のミックス、彼の哲学が完璧な形であらわれている。
I think that he is one of the most unique artist in the club music scene. this track is very short, but its manifesto, arrangement and mixing represents his philosophy.
2) Johnny Osbourne – We Need Love
夏の夕暮れの海辺を思い浮かべるようなサウンド。
Whenever I hear this song,I feel that I'm looking at sunset on the beach.I've wanted to make tha feeling like this in my track.
3) Floating Points – Truly
初めて聴いたとき、打ちのめされた。
これがおれがやりたかったことだったとおもった。
そしてさらにそのはるか上をいっていた。
良すぎて、未だにあまり聴かない。
The first time I've heard this track, I was beaten completely and I realize that this is what I'd really wanted to do. I can't listen this track before making track,
because it is too good to me!
4) Augustus Pablo – King Tubby Meets Rockers Uptown
キングタビのミックスはすばらしくて参考にしている。
とくにこれは飛び切りすばらしくて、
ダブ以上のものになっている。
I sometimes refer to King Tubby's mixing.
I can't believe that this dope music existed mid 70's.
5) Milton Nascimento – Ponta de Areia 
田舎出身なので
ブラジルのミナスのサウンドはとてもしっくり来る。
都会でなく、田舎のサウンド。でもとても精錬されている。
I like Brazilian music,especially sounds of musician from Minas Gerais such as Milton Nascimento, Toninho Horta and Lo Borges.
Although their music reminds me countryside, they are highly sophisticated and eclectic. It's very interesting.
6) Risco Connection – I'm Caught Up 
パトリック・アダムスは一番好きなディスコプロデューサーで、さらに一番大好きな曲をそれもすばらしいサウンドのレゲエディスコでカバーしてて大好き。
Patrick Adams is my most favorite disco producer and 'I'm Caught Up' is his best work, I think.
Original version is awsome,but this version has another fascination.
I love its laid-back and nostalgic feeling.
7) Ryuichi Sakamoto – Paradise Lost 
坂本龍一の独特の和声とスケールが大好き。
とくにレゲエをやっているこの曲は
奇跡的に美しい。
I like his individual chord progressions.
This is my most favorite his 80's works.
8) Pal Joey – Mothers Day
完璧な真夜中のための音楽。
マザーズデイというハウスミュージックには
似つかわしくない名前も大好き。
Absolute music for midnight.
9) Bobbi Humphrey – New York Times
ラリーマイゼルの、ローズ、ピアノ、ストリングシンセ、
シンセのアンサンブルがすばらしい。そしてハービーメイソンのドラムフィル!
I can't get enough of drumming in this track.
10) Can – Oh Yeah 
カンにはなによりもユーモアがあるから大好き。
ホルガーチューカイのテープエディトも
予想外の展開を生み出し、参考になる。
Above all, I think humor makes their music more special than any other progressive rock group.
Besides it, Holger Czukay's tape edit which add unexpected development makes it better.
A question? A reaction? We'd love to hear your feedback!