716 Playlists – Violet Playlist

09.10.12 - Guillaume - 716lavie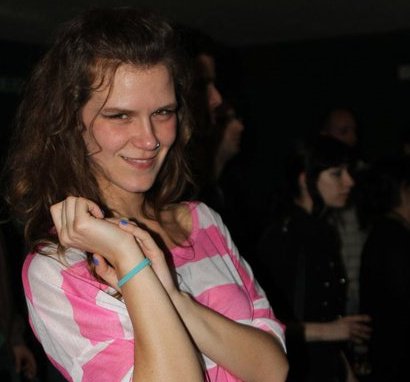 Violet est une artiste portugaise prometteuse qui se définit autant comme une rappeuse que comme une productrice.Elle sort à la fin octobre un excellent remix d'Erotic City et c'était l'occasion de lui proposer une Playlist sur 716."J'ai un remix de l'artiste anglais Erotic City qui sortira le 22 octobre sur Immersed Audio records. J'ai d'autres projet en cours dont des morceaux à venir sur One Eyed Jacks, l'incroyable label de Photonz". (Photonz est un duo électro lisboète composé de Miguel Evaristo et Marco Rodrigues, Marco a déjà livré une 716 Playlist).
Violet is a promising Portuguese artists who defines herself as much as a producer as a rapper. She will release an excellent remix of Erotic City so that was the opportunity to ask her a 716 Playlist."I'll have a remix for UK artist Erotic City, which will be out on october 22nd on Immersed Audio records. I have a few other things lined up including music for One Eyed Jacks, the incredible label run by Photonz. (Photonz is a Lisboan electronic music duo formed by Miguel Evaristo and Marco Rodrigues, you can check the 716 Playlist by Marco).

1) Art of Noise – Moments in Love (Beaten mix)
I honestly think Art of Noise's Moments in Love could be every producer's "track-i-wish-i-made". Everything about it gives me shivers and it made me see Trevor Horn as a half-god. This mix is great for playing on sets, with a big romantic intro and the amazing main hook blossoming at the right time. It's been a huge inspiration for my music. To me, it is perfect
.
2) Christopher Cross – Sailing
This record makes me feel so in touch with myself it's crazy. It's a pop song with a mad amount of substance: amazingly touching lyrics, a distinctive vocal and wonderful production. I somehow look for this track whenever i feel sad cause it gives me all the poetry i could ask for.
3) Joan Baez – Diamonds and Rust
When i was little my beautiful mother would play this track a lot around the house: she had a big hi-fi and our home would be flooded in this song. I didn't understand the lyrics at the time and would try to sing my own portuguenglish take on them. When i grew up to understand them i kind of realized i already knew what they were about, because the emotion in the vocals and instrumental channels the idea behind this song perfectly, in such a 70s beautiful "summer of love" way. The half frustration, the despair and the lost love are so well pictured. The line "We both know what memories can bring, they bring diamonds and rust" will always get me. I also love the fact it's a love song about Joan Baez and Bob Dylan, cause they're both mindblowing artists.
4) Beyoncé – Countdown
This song is just one of the many Beyoncé songs i could pick, because i'm a real Bey soldier and love a huge amount of the music she puts out. It's a recent one, as a message of hope for good r&b growing stronger.
5) Ciara – 1, 2 step feat. Missy Elliott
First of all, i LOVE ciara. She's so cool and smooth and stunning. It's almost ridiculous the amount of times i've played this track out in gigs, mixes, etc but the truth is i don't really get tired of it, and embodies my love for dancefloor-oriented r&b/hip hop and luckily the queen Missy Elliott is in it, which makes it all shine even brighter for me.
6) Maurice – This is Acid (A New Dance Craze)
This is an undisputable classic Chicago acid house track that makes people dance immediately – i tend to play it a lot. It makes me dream a lot about what it was like in the days when it all started, and i imagine lots of sweaty young people going off to a new sound that meant liberation and love in a whole new, innovative way. I also love the fact that it was a huge success and made it to #1 in the dance charts at the time – it's poetic justice.
7) Underground Resistance – Transition
The spirit of underground resistance is such a beautiful way of representing the Detroit sound we all love. To me, this is a beautiful, dark dance track with amazing lyrics that make me feel and look forward to lots of great things – and that is pretty much the best i can ask for in club music.
8) Pharrell Feat. Jay-Z – Frontin
I picked this song because besides being so sleek and amazingly produced, it includes two of my all-time fav artists: The Neptunes (via Pharrell) and Jigga. These guys have been probably my biggest influence along the years – their flawless, stunning music and their overall sharp outlook is deeply inspirational to me.
9) MJ Cole – Crazy Love
This sweet, dreamy track by MJ Cole kind of represents my love for all forms of UK dance music that have flourished over the years and have inspired me hugely in my music production. There is something about the british club underground that has always spoken to me, be it garage, 2 step, drum and bass or dubstep and this MJ Cole song makes me play back all that amazing music in my mind.
10) Elis Regina – Como Nossos Pais
Again, childhood memories – i listened to lots of brazilian music via my dad, including Elis Regina, and i've always pictured her as a total heroin, a very wise and beautiful woman that has lived a full life and had a lot to share with the world. This song is so emotional, the delivery is so complete and the lyrics are just so overwhelmingly meaningful that i'll always love this because it tells me something new every time.
Vous pouvez effectuer un don pour me permettre de continuer à effectuer mon travail en toute indépendance et à vous fournir des plans correctement sourcés.
A question? A reaction? We'd love to hear your feedback!