716 Playlists – Neon Neutron Playlist

23.12.11 - Guillaume - 716lavie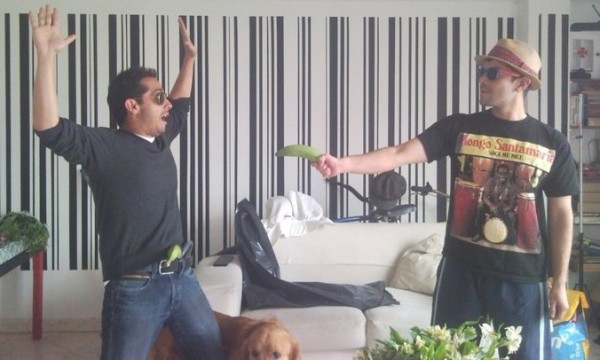 This is a funny story.
I have totally mixed up names and it gave a super result.
I thought I was talking to Neon Indian when I had in fact contacted Neon Neutron, nothing to do really.
So imagine the story : I think I'm asking to the Texas chill-wave rising artist Neon Indian to do a playlist for 716.
Then I receive this playlist and discover it only contains Colombian music. I am very surprised cause :
1) I am passionate with Colombia and couldn't expect a selection 100% Colombian
2) he explains me that he lives in Bogota and I am surprised that Neon Indian would have left the US in the midst of a promising artistic career to live in Colombia.
Well the key was that it was not Neon Indian at all!!!
It was Neon Neutron who is a Colombian friend from Colombian friends of mine. He has never recorded anything, but has a band called Patacon System. He also has a video channel.
Most of all his playlist is dope! 🙂
1) Petrona Martínez con Totó la Momposina – Tierra Santa
Two of the finest Colombian "Cantadoras" sing a bullerengue, music of the Atlantic coast.
2) Peregoyo & su Combo Vacana – Caravana
The First Orchestra of the Colombian Pacific Coast that recorded in the 60'S with Discos fuentes. my dad's favorite.
3) Willie Rosario – Light & Sweet
The Boricuan Timbalero Willie Rosario Aka Mister Afinque, with a 60's fine Boogalo
4) Socavon – Una Purisima en Guapi
Afro Colombian december music, from Timbiqui, a town in the Cauca, so rich in music and Folklore../
5) Cortijo and his Time Machine – La Tercera Guerra
The legendary Rafael Cortijo, who represents the Bomba and The Plena Boricua here in his Fusion…
6) El Mecanico – Orquesta De Edmundo Arias
The composer Edmundo Arias who took part of The Big Tropical Orchestras of the 50's,
my mom's favorite.
7) The Lebrón Brothers – Fe
The Temperature rise up with The Lebron Brothers From Latin Soul To Urban Salsa.
8) Garzon y Collazos – El Sanjuanero
Music of Huila region of the San Agustin Archaeological Park, a favorite of my girlfriend…
9) Bahía Trío – Rumba Chonta (Hugo Candelario)
The Wonderfull "Grupo Bahia" From Guapi who lives in Cali and Represents with dignity the flavor of Pacific colombian Music…
10) Donde Estabas Típica Leal '79
Boricua Salsa From Chicago, Part Of The 70'S Boom…
11) Los Van Van – Mi Ritmo Caliente
The Cuban band Los Van Van in the 70s Songo
12) Joe Arroyo – El Centurion de la Noche
The recently dead, Colombian Caribbean legend, Joe Arroyo
13) Leonor González Mina (La Negra grande de Colombia) – A la mina
"La negra grande de Colombia" in a theme based on The Joricamba is an issue of the tradition of the Choco region..
14) Maestro Gualajo – Tranquilito
El Maestro Gualajo From Guapi, plays his ancestral "marimba de chonta".
15) Piper Pimienta – A la Memoria del Muerto
Piper Pimienta, legendary singer and dancer in "Fruco y sus Tesos" and "The Latin Brothers", pure fire of Corinto …
16) Grupo Niche – Mi Mama Me Ha Dicho (1981)
The beginning of "Grupo Niche "
17) Irakere – Irakere
Cuban band Irakere's masterful in Yoruba language means Vegetation
18) Afrosound – Dog, Cat
A pioneer in experimentation with psychedelic sounds in the 70's in Colombia backed by "Discos Fuentes" …
19) Eddie Palmieri – Mi Cumbia
Mozambique Cumbia … Colombia and Cuba with Palmieri
20) Hector Lavoe – Mr. Brownie
Vous pouvez effectuer un don pour me permettre de continuer à effectuer mon travail en toute indépendance et à vous fournir des plans correctement sourcés.
A question? A reaction? We'd love to hear your feedback!