Asian Fast Food – Ljubljana (Slovenia) en

20.05.14 - Guillaume - 716lavie
Asian Fast Food
Kolodvorska ulica 20
Ljubljana

01 231 2168
Open every day
- Le résumé -
What's this?, 716 is giving you an Asian restaurant in Ljubljana! Not even that crazy a restaurant, so why? Because what I took was good, they were very nice, I thought it was "surréaliste et bon enfant" at the same time, and because it's super useful when you're waiting at the bus stop for the ride to the airport since it's located right in front of the train and bus station.
- Lieu -
The restaurant is mentioned in the Cartoguide, and it was the first one in the book. I ate on the large patio outside under the tent, and I think it added to the charm.
Otherwise, it's a rather small restaurant with an open kitchen, so don't come here hoping for luxury, but for a nice comfortable space, especially at the back of the dining room.
It filled up all at once as I was leaving, the outside as well as the inside: the Slovenians that were coming here for their lunch break, good vibe, and this confirmed the feeling I had about the open mind people here had it terms of food.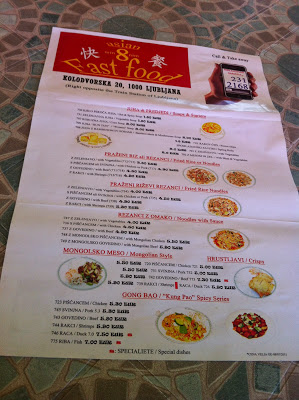 - L'équipe -
It looks like it's a family-run operation. I didn't know what to expect in terms of authenticity, but when I was talking with the very nice boss, I was reassured.
They're from the south of China, beside Canton.
- Le repas -
By quickly looking around the room at the dishes, I was worried the food would be fatty, and rich in "glutamate".
Since I wasn't hungry I chose a ravioli soup, 1.50 euros.
It was very good, I asked if the raviolis were made in house, not really thinking they would be: they told me they were and I believe them.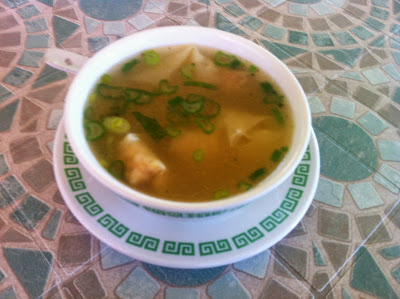 Un thé chinois en plus : 3,50 euros le tout. A chinese tea with it: 3.50 euros for everything.
It was so amazing, I'm showing you the bill 🙂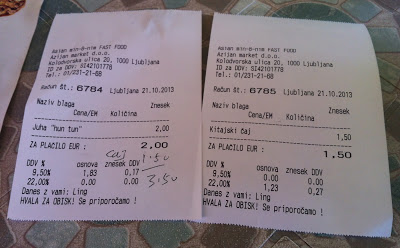 - Le bilan -
We probably wont come back here for a romantic dinner for the culinary experience of a life time, but why deprive ourselves of a cheap and honest Chinese restaurant, open every day?
A question? A reaction? We'd love to hear your feedback!