La Marietto – Sibiu (Romania) en

07.05.14 - Guillaume - 716lavie
- Le résumé -
According to the locals, the best sandwiches of the city with Turkish Kebab : it's fresh, good, cheap, and the guy is really nice.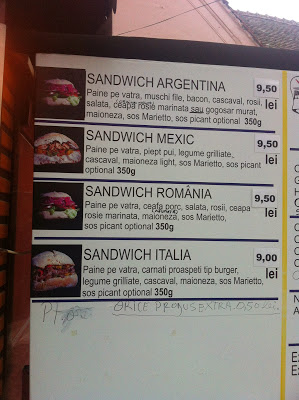 - Lieu -
It's kind of cabin, a bit off the street. The good new is that there is a room at the back in a separate building where you can sit down, go to the bathroom, and there's even a bar where you can get a coffee. In the cabin, you give your order and you wait for your sandwich by watching the guy and his assistant make it for you.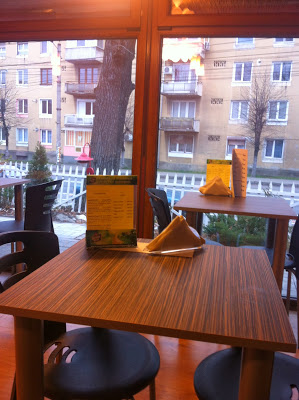 - L'équipe -
I had solicited locals and asked them which restaurants were their favorite in Sibiu. One foodie answered me with three addresses, one of them was Marietto for the quality of the sandwiches but also for the energy the boss had when it came to his food, and talking about it to his clients. When I showed this list to the Romanians that were putting me up, they agreed right away, and had organized to bring me to all three.  They were also fans of Marietto and liked the guy there. I confirm all of this: I was able to make my video without any issue, and they were touched by it, by the time I left, we were friends 🙂
The young woman that was with him was also very nice.
- Le repas -
The boss insisted that I mention that the menu was going to change in early 2014. The same principles will apply to it: 5-6 sandwiches with different "nationalities". I asked for advice for my choice, but the wouldn't pick one. I went for an "Argentinian" that was delicious, but when I saw the "Italian" getting prepared for a taxi driver I thought I should have taken that one instead.
The funny little story is that in the video you hear the lady asking me if I like it spicy, to which I respond yes, so she goes at it with excitement…except that she was actually working on the Italian sandwich that wasn't for me 🙂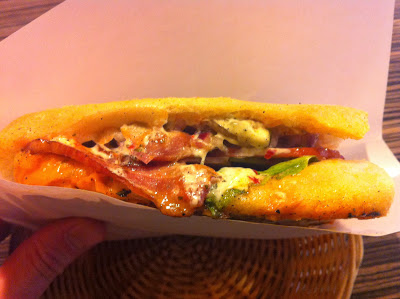 - Le bilan -
After a day of partying: a sandwich, a coke, that's happiness for you.
When going to Sibiu a mandatory stop is at Marietto or to the Turkish Kebab, the Romanian street food.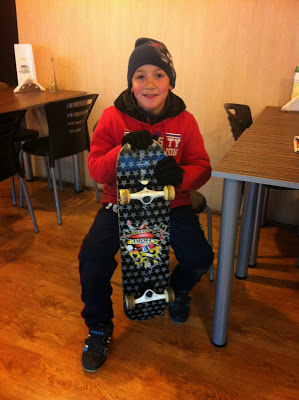 A question? A reaction? We'd love to hear your feedback!