Sushi Gourmet – Paris (75016) en

02.06.14 - Guillaume - 716lavie
Sushi Gourmet
1, rue de l'Assomption
75016 Paris

01 45 27 09 02
Closed Sunday, Monday, and holidays
Metros : Ranelagh, RER : Boulainvilliers, Avenue du President Kennedy
- Le résumé -
This restaurant exists since 2000, and it's a sure bang for your buck when talking about sushi and sashimi in Paris. I say in Paris, because it's far from being a neighborhood restaurant even if I was worried it might be in this corner of the 16th district, but instead it's serious and is worth the detour: the staff, the food, the setting, the prices that don't kill you. Attractive.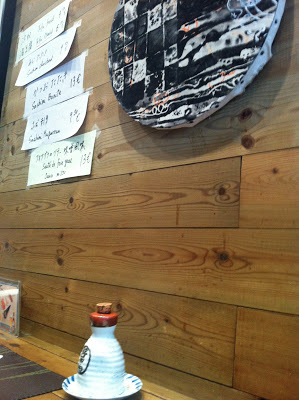 - Lieu -
It's a small cheap restaurant, but renovated into something cozy : wooden walls, nice place mats, nice authentic interior design.
You're seated on stools in front of tables shaped like counters. There are two, each are on the side of the lateral walls  and there's one in the middle of the room.  There's an open kitchen and you can see the staff working.
The space being small, if you want to wash your hands, you can squeeze into the middle of the kitchen to use their sink.
The bathrooms are at the back of the courtyard.
That being said, charming or not, it's not these little details that are going to stop us.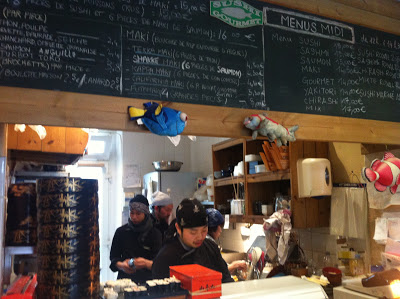 - L'équipe -
It's their big plus.
I called at 1 :30pm to ask if it was still possible to come and eat, they calmly explained that they served until 2pm, they offered to keep a table for me, asked for my name, everything I like, it's starting off well.
Once there, I was greeted nicely, I explain that I was the one who made a reservation, the server brings me to the table right away and I sit down.
The server was perfect throughout the entire meal, he explained he was one of only two French servers on staff, he speaks Japanese to everyone in the kitchen.
He took the time to explain the dishes, the way to eat them, if there were things he didn't know, he went to go ask the Japanese people.
Perfect. I arrived after the lunch rush, but there was still a really good spirit.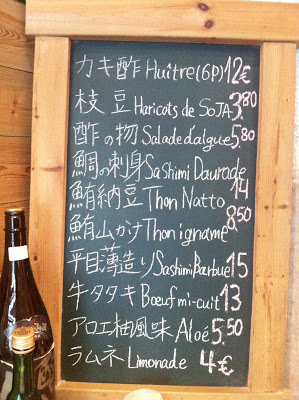 - Le repas -
The royal sashimi menu  is 22.50 euros at lunch, 28 at dinner.
The sashimi by itself stays at the same price.
I treated myself, there are other sushi and sashimi menus at lunch for 15 euros.
Appetizer
Miso soup
The salad wasn't unforgettable, but still enjoyable, I asked the server if this king of salad was served in Japan.  He answered it wasn't, but after asking the kitchen, he confirmed that the vinaigrette was homemade with mustard, but also products that were more Japanese like soy sauce.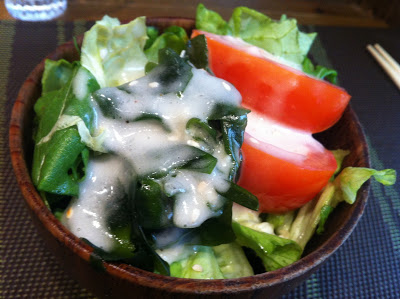 Sashimi
I originally came to get a sushi board, but when the server admitted that his favorite was the sashimi, I decided to go for it.
He tells you what each of the fishes of the day are in order to help you with your choice.
Oyster, grouper, turbot, mackerel, royal sea bream, salmon, "vernille", clams, scallops, shrimp, atlantic horse mackerel.
Dessert
Aloe vera with orange jam
They receive it in big bags, but they cook it again, and make their own sauce with it, giving it more taste.
The jam is a lovely addition.
I think it's a much nicer end to a meal, than a green tea cake, that are often very heavy.
After sashimi, this dessert it's light on the stomach, delicate.Very pleasant.
- Le bilan -
26.50 for  all this, and at dinner the prices aren't super high.
It's working so well that the boss, Japanese, also opened Sushi Marché on rue Mirabeau, also in the 16th district.
All the reviews on the internet are positive.
What I saw convinced me. Finally some honest and affordable sushi for those that don't necessarily have 60 euros to get 1st class sushi. And the staff looks like they're enjoying themselves, unlike other sushi restaurants where the cooks aren't smiling at all.
Sushi Gourmet is good!