Venice (Italy) en

05.08.14 - Guillaume - 716lavie
- Infos Pratiques -
Getting there by plane
Thanks to the fabulous website bravofly you can find cheap flights if you reserve in advance; this 80 euro round trip attests to this: one way with Air France for 50 euros, and returning with Ryanair for 30 euros, found 2 months in advance.
If you have a connection to make from the airport to the train station, the bus brings you directly to the Mestre train station for 6 euros.
There
– The Vaporetto, a boat used for public transportation, is expensive: 7 euros each time. It get's too expensive, very fast. Check out the options for 3 day passes or other, I didn't have time to find out.
- Le résumé -
Venice, is Venice…except that like Florence or Prague it's a city that I had abstained from going to because I was worried I'd end up in a tourist circus.
But since then I've had friends who went there for a more adventure oriented weekend, rather than the typical classic romantic getaway, and came back with only good things to say; afterwards I also met Giovanni from the Parisian wine bar  Naturellement who used to live there for a long time and worked there as a sommelier. The bartender at Sparks is also from Venice and gave me some good addresses.
Finally, there was this offer for my friends from the Veneto region to invite their close friends to spend a couple days there. Therefore, I offer you Venice, off the beaten tracks, with of course, a couple of classic spots. The goal isn't to tell you about everything there is to do there, especially since I only spent three days there, but more to share with you places that will give you an authentic experience of Venice.
- Hôtels -
– B & B
748 Corte Dem Magazen
Tel :  (+39) 0418123037, (+39) 3356979643
Venice
the website

We got an awesome B&B deal in an area that I loved, "Giardini", the gardens in which the Venice Biennale occurs. It's run by Domenica, which is pretty special.  She's a friend of a friend so we got a special price, but the regular prices aren't excessive, except maybe during the Biennale.
It's a great area, because it's not too touristy and close to the B&B, the atmosphere is simple and very Venetian, like for example at the Al Tosi Grande restaurant run by Domenica's friend: ok, so the opinions on Trip Advisor are clearly divided, but I had a good time there: it's authentic, but other than that I'm not sure if service is always good, and the overall cleanliness of the place could be better. Be that as it may, I loved this area, because the people were friendly and not the touristic stereotype.
- Guide -
– Raoul and his boat El Vagabonde
Tel: 0039-3342100541n  0039-3272339705
ragir8@yahoo.it
the website
Raoul is a Venetian pirate, a total local persona "qui peut faire passer votre séjour dans la 4eme dimension." It's a whole story to get in touch with him, we spent several days with him and I told him I wanted to recommend him on 716, so he gave me his facebook page which I never found, I insisted that he give me valid contact information, so he gave me his email, but I never received a response.
In any case, his boat is really someting else: a little old, but full of charm, you can put the sound to full volume. We were around 20 people and it cost 40 euros per person for a 17 hour trip, until 2 in the morning, it was probable the price for friends, but I'm sure you could work it out with him. I don't know how it works if you're just two or by yourself, but try it!
Raoul is one crazy guy! Pure Venician right there!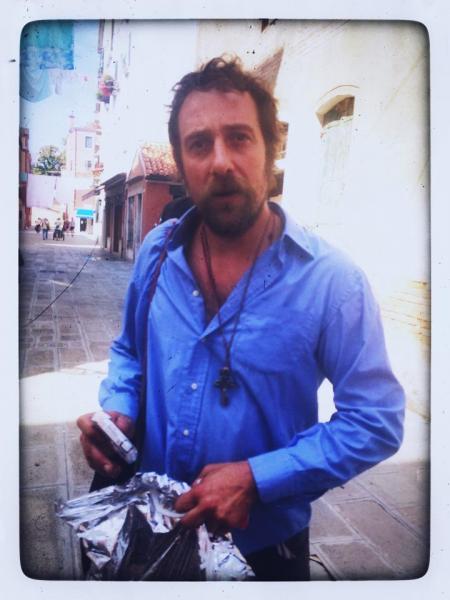 - Evènements -
– Art or Sound
June 7th- November 3rd 2014
the website
An exhibition organized by the Prada foundation, it was recommended to me by an Italian art journalist.
– The Biennale
June 30th – July 8th 2014
the website
It's of course the art event to not be missed, but the prices swell up at this period, and it's crowded.
– More Festival
5-8 June 2014
The website
Some locals recommended this festival that recently started: the lineup is interesting, it's a mix of art and soirées, and it's June, before tourist season ( even if Venice gets tourists all year round)
I checked out this year's lineup, the legendary Italian DJ Daniele Baldelli is playing, as well as a young artist, produced by our friends from Cracki.
- Restaurants -
– Al Bottegon
Dorsoduro 992 30123
Venice
+39 041 523 0034
"One of Venice's specialties are Chicchete, they're a kinf of tapas on bread to be brief."
Read the rest of the 716 review
The restaurants that were recommended to me by the locals, but that I didn't get to try
I clearly didn't try a lot of restaurants, and definitely not many great ones, my trip wasn't focused on that, however I did compile a solid list from what locals recommended, and many of these addresses were given thumbs up by people that did not know each other.
The bartender at Al Bottegon checked my list of recommendations and added his while explaining that a lot of these places were right by one another, so he drew me a very useful little map on a napkin.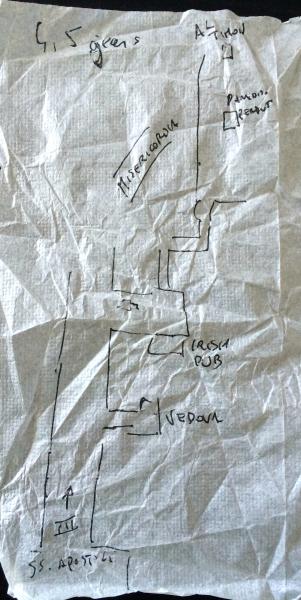 Al Timon
Fondamenta degli Ormesini 2754
30121 Venice Italy
Tel : +39 393 463209978
I have a good feeling about this one, it's the bartender at Al Bottegon that told me about it! I wanted to put a link of an article from the Gardian that focuses on the area where Al Timon is: "The Venice that most tourists miss".
Il Paradiso Perduto
Fondamenta della Misericordia, 2540
30121 Venice
Tel : +39 041 720581
This one was recommended by both locals and travelers alike. It's a restaurant that also does concerts/ parties, and it seems like it's more worth it to go there for the events than for the food.
Lineadombra
Dorsoduro 19, Ponte de l'umiltà
30100 Venice
Tel : +39 041 241 1881
the website
Located in a superb setting, looking at to the water, it's a classy restaurant, the ultimate reference.
Locanda Cipriani
Piazza Santa Fosca 29
30142 Torcello, Venice
Tel. : +39) 041 730150
An incredibly luxurious restaurant on Torcello Island, some find it too expensive however.
Osteria Antica Adelaide
Cannaregio 3728
Venice
Tel. 041 523 2629
Not sure this one is such a good deal from the reviews I read on Trip Advisor, but it was recommended to me by a Venetian girl.
Osteria Ca' D'Oro (La Vedova)
Calle del Pistor, lungo strada nuova
Venice
Tel : 041-528-5324
A traditional osteria where you specifically go for the "poplettes" ( meat balls). From the reviews on Trip Advisor, it looks like they don't really take care of the tourists, but there is positive feedback from Italians on Google+.
Trattoria Da Forni
Calle degli Specchieri, S. Marco 457
30122 Venice
Tel : +39 041 523 2148
This one was recommended to me by a Venetian, yet it's getting destroyed on Trip Advisor.
Vini da Giggio
Sestiere Cannaregio, 3628,
30121 Venice
Tel : +39 041 528 5140
the website
Everyone agrees this one is great, but be ready to easily spend 100 euros per person.
- Cafés -
– El Refolo
Via Garibaldi, Castello 1580
Venice
"In Venice, people eat paninis and one of the best places according to a friend of mine is El Refolo, and it's perfect because it's right by the B&B I recommended."
- Bars -
You have to be aware that Venice doesn't have a crazy nightlife, not many clubs where you can finish the night in, so I had to trust the locals' advice for bars to go out to.
– El Refolo
Via Garibaldi, Castello 1580
Venice
I put it as a coffee shop above, but it's also a bar
– The Irish Pub
Cannaregio 3847
30121 Venice
Tel : +39 041 099 0196
the website
I'm not sure what to think of it because honestly, I never set foot in Irish pubs when I travel, but since it's the bartender at Al Bottegon that told me about it, saying that it was the only decent pub in Venice, I'm including it.
- Alimentation -
– Gelateria Nico
Fondamenta Zattere al Ponte Longo, 922
30121 Venice
Tel : +39 041 522 5293
the website
It's a girlfriend that told me that I had to try it, I walked by it, but wasn't in the mood for ice cream at that moment.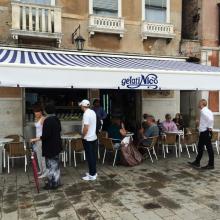 A question? A reaction? We'd love to hear your feedback!