Napoli (Italy) en

02.04.15 - Guillaume - 716lavie
- Infos Pratiques -
In two words:
– Before you leave, everyone will tell you that it's complete chaos, the city of anarchy, other than the fact that the bus system in the city is very efficient (the next stop is announced on a screen, you can send a text using the bus stop panel, and it well tell you how long your wait time is), the subway is clean, etc…
–  Try to avoid staying near the Garibaldi train station, it's sketchy
– the historical center, Spaccanaploi, is a great area to stay in, or go near via Chiaia and Piazza Victoria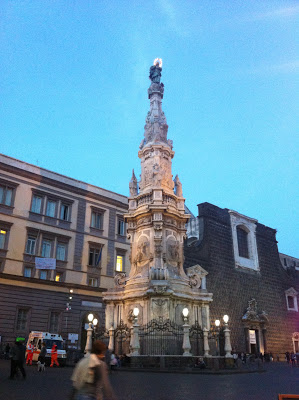 - Un peu d'histoire -
OK, so for Naples, there are tons of things to say about it. This is the first time I do a general article on a city, I want to extend on what's already on 716 and bring it closer to the Vrai Paris approach: helping you discover a city through its culture and way of life.
Naples Summary
In 5 days, the only shitty people I encountered were a server and a taxi driver (as soon as I get in a taxi, wherever it may be in the world,…), goes to show that as soon as you get into too much of a touristy spot, it just doesn't work.
Other than that, it was pure happiness, people are welcoming, they're often like the French, a lot were very cultured, and they all loved the south.
Naples is awesome.
- Hôtels -
La Pedamentina
Via Pedamentina S. Martino, 33
80126 Napoli
the website
A friend of mine went there with this wife because all the hotels were fully booked in the centre. They found a room in this cute apartment that overlooks the whole city and told me it was a very good tip.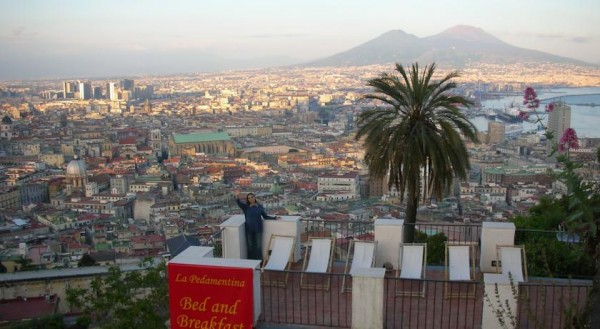 - Guide -
I highly recommend you take a look at  Un Grand Week-End à Naples (2012 edition) which blew me away with its mix of well written and serious historical information, its pertinent and useful tips (the detachable map was great, with the added bonus of being well done), its restaurant and bar recommendations which are good finds. Finally a guide book that's worth it, and where you don't feel like you're a retired history prof.
- Lieux -
MADRE (Museo d'Arte Contemporanea Donnaregina)
Via Luigi Settembrini, 79
le site
modern art museum currently hosting thrilling exhibition about relation between Pompeii and modern art. You can buy different types of ArteCard that allow entrances to museums, archaeological sites and provide transport.
Museo Cappella Sansevero
Via de Sanctis Francesco, 19/21
le site

Baroque style mausoleum displaying the marble masterpiece The Veiled Christ (Cristo Velato) by Giuseppe Sanmartino, finished in 1753.
Monastero di San Gregorio Armeno
Via S. Gregorio Armeno, 14-58,
Hidden monastery with beautiful inner garden
Certosa e Museo di San Martino
Largo S. Martino, 5
le site
Museum in the monastery, with objects such as fence decorated with skulls in the inner yard, room size Christmas cribs and real size galleys (fr. galères) as well as beautiful panorama.
Castel Sant'Elmo
Via Tito Angelini, 22, 80129 Napoli NA, Italy
le site
It has been serving as a prison for centuries. It is worth to visit only for 360 degrees panorama to Naples.
- Restaurants -
Di Matteo
Via dei Tribunali, 94
80138 Naples
Tel : 081 455 262
"A pizza place on Via dei Tribunali, one of the pedestrian streets of the historical center, where you can also find Gino Sorbillo, or Pizzaiolo del Presidente, two of the most well known pizza places. We stopped there, because some locals were eating there on the go outside. The pizza was so good, and we were so hungry that we ate it all before I even thought of taking pictures"
Trattoria San Ferdinando
Via Nardones, 17
Tel : 081 421 964
Closed Sunday
"An authentic trattoria with a little classic in it. Among the clients: locals, Italian tourists from Milan, and a French couple; this place isn't a tourist trap though, the food is fantastic, the setting is cozy, and you can tell the server Marco liked his job- and actually, he learned French on his own, by talking to customers mostly."
Anhelo Caffé
Via Bisignano, 3
80122 Naples
Tel :39081402432
the website
"Back at Anhelo Caffe, it's a bit less tasty ( less spice, he told us that his female clientele liked food with less of  a kick, OK) that last time, but it's still a great spot to eat lighter traditional Neapolitan cuisine."
Palazzo Petrucci
Piazza San Domenico Maggiore, 4
Naples
Tel : 081 552 4068
Closed Sunday and Monday at lunch
the website
"One of the best restaurants in Naples with Chef Lino Scarallo in the kitchen. Located two steps away from Via San Domenico Maggiore, which is particularly lively and often vert busy, this peaceful stop is a delight: delightful, because you quickly feel comfortable here away from the crowd, but also because the service is professional and all smiles, and the food very good. No pretense here, just happiness."
Cibi Cotti
Via Ferdinando Galiani, 30
Mercatino Rionale Torretta
Naples
Tel : 081 682 844
Metro : Mergellina or bus 140
 The craziest meal I've had in a long time. An ultimate experience for anyone crazy about food. For those that like music, it's like stumbling on a vinyl you've been looking for years, or finding the treasure of all treasures.
Osteria della Mattonella
Via G. Nicotera, 13|
Naples, Napoli
(Presso la Chiesa di Santa Maria Degli Angeli)
Tel : 081 416541
Closed Sunday night
"An old family style osteria that was recommended to me by a friend, and in the Routard, but be careful, it doesn't mean it has lost all meaning either.
A very warm atmosphere, in a neighborhood I really like. A really good place to eat traditional Neapolitan food, while feeling at home."
Antica Trattoria da Ettore
Via Gennaro Serra 39
Naples, Napoli
Tel : 081 764 3578
Closed Sunday and Monday night
"One of my coups de coeur of this trip and by far.
A family atmosphere, and amazing homemade cooking, a place that didn't make it on the list of a few main guide books, it was sidelined even though it's definitely worth it for a good meal!
It's ideal if you want to treat yourself after a long day of walking."

Read the entire 716 review 
Via Santa Maria di Costantinopoli, 100
80138 Naples, Napoli
Tel : 081 401578
"What's La Stanza del Gusto? A restaurant that would have loved "chroniquer le fooding": the Company Italian food is revisited with a hint of modernism ( birramisu= beer tiramisu) and relevance I have to say. You have to look really hard to find something to complain about, but you're sure to have a great time for the duration of your meal."
Vero GastroBar
Piazzetta Teodoro Monticelli, 4/5
le site
With late serving, very good option for vegetarians or vegans
At the airport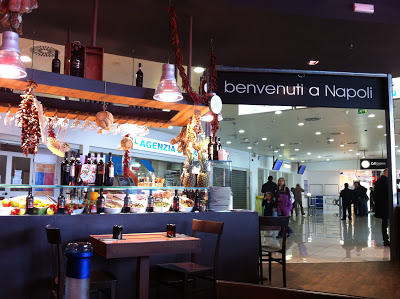 When checking in our luggage, I explained that we liked eating good food to the person taking care of our check in, and that we'd like to eat in the airport's best cafeteria. Without hesitating, he sent us to Fratelli La Bufala. It has a lot of character for an airport restaurant. It's actually a chain restaurant, they have about 60 around the world, and 5 of 6 of them are in Naples.
For airport food, and for me who really wanted some greens, the plate underneath was perfect.
The pizza was good as well.
For one big and small water bottle, a plate of mozzarella, a fried pizza, and two coffees, it came to 27.50 euros, expensive for Italy, but perfect right before getting on the plane.
The only hiccup was the server that tried to keep a 5 euros tip for himself when giving us our money back. I told him that he had added one too many zeros, and so we left him a whopping 50 cents.
- Cafés -
Best Western Hotel Paradiso
Via Catullo, 11
le site
It's a hotel that has panoramic terrace with view to Naples, Vesuvius and the port. Definitely worth going for a cup of morning coffee
Arx Café
Via Tito Angelini 20/c
80129 Naples, Napoli
" Why am I telling you about Arx Café? Because it's beside Castel Sant'Elmo, which I recommend you visit, as well as Certosa di San Martino which is just beside it. However, because we're up high, it can be cold- or warm depending on the period- and there's nothing else beside it other than Arx Café, where you can find locals during the Christmas season."
- Bars -
Ex Salumeria
Via Candelora, 1
le site
Small contemporary bar serving only spiced rum with only locals
Jazzy Bar
Via Bisgnano, 61
Naples
Tél : 081 425115
"This one is on via Bisignano, practically facing  Anhelo Caffé.
The best part are the tables outside, good atmosphere.
The menu is clear, drinks are 5-7 euros and the waitress was awesome, super friendly!"
"Unfortunately, since I was in the street, and my Iphone's camera isn't as good as Samsung's in the light, the pictures weren't that great."
Fonoteca
Via Morghen, 31
80127 Naples, Napoli
Tel : 081 556 0338
Funicular railway : Morghen, Metro : Vanvitelli
Open from 10 am-1 am from Monday-Saturday ( until 2 am on Fridays and Saturdays) and from 6 pm-1:30 am on Sunday
"It's a bar-music store focused more on jazz, electric music, soundtracks, and so on.
The bar was super nice at night. The music store is cool too, the two salespersons are both very friendly, not at all snobby.
The place is located in Vomero, the chic neighborhood in Naples, a nice place to live, so therefore: it's a clientele of regulars at night, but it works I swear."
Superfly
Via Cisterna Dell' Olio, 12
Naples 80134
le site
"A very nice cocktail bar, especially since we can actually listen to awesome music.
We're far from the bars with too much bling-bling like those on Via Bisignano, but we're not in the total student bar either, the perfect mix of the two is a success, and that's why when we got there, there was a young guy at the counter, as well as three older gentleman that were relaxing at the bar, sipping on cocktails. Good mix."
- Magasins -
Luca Talarico
Via Sant'Anna de Lombardi, 17
80134 Napoli
Tel : 3484120644
the website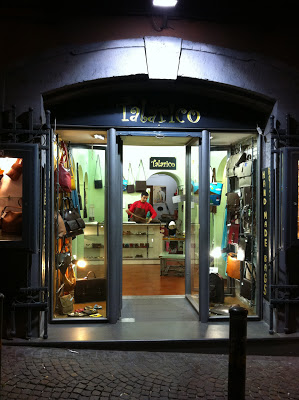 Naples is known for it's leather work.
Here is a craftsman in Old Naples, one of the oldest Neapolitan families to work leather.
Luca works in his little workshop, and sells at very average prices by choice.
The bag underneath, made entirely by hand, with an awesome leather smell, how much you say? How  much? 29 euros. Bam.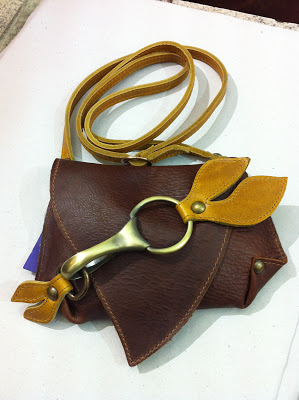 - Alimentation -