716 Recettes – Gamberi in Saor Recette

31.07.14 - Guillaume - 716lavie
J'ai découvert cette recette à Venise car c'est un plat vénitien typique.
C'est en allant au restaurant Ai Tosi Grandi que j'ai vu le plat réalisé pour la 1ère fois.
I have heard about this recipe in Venice for the first time cause it is a typical Venetian dish.
Plus tard à Vérone, j'ai vu les sardines in saor, en effet la recette in saor peut s'appliquer à différents produits.
Later on in Verona, I have seen the Sarde in Saorn the "in saor" recipe can be applied to various sea food.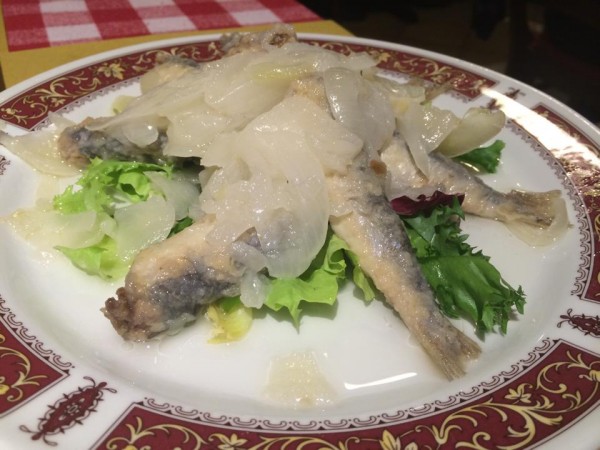 Je m'étais dit que je referais cette recette avec des langoustines qu'on trouve près de chez moi.
J'ai trouvé la recette italienne et je l'ai passée dans Google Translate. Le seul truc c'est que selon moi les oignons doivent être cuits à l'eau et non à l'huile, en tout cas c'est ce que m'a expliqué la chef du resto Ai Tosi Grandi quand je lui ai demandé comment elle arrivait à avoir des oignons aussi tendres et absolument pas huileux.
Ingrédients:
un demi-kilo de crevettes ou langoustines
2-3 oignons blancs
q.b. d'huile d'olive extra vierge
un demi-verre de vin blanc
sel
poivre
une pincée de sucre
4-5 cuillères à soupe de vinaigre blanc
une cuillère à soupe de raisins secs trempés dans l'eau chaude pendant environ une heure
une cuillère à soupe de noix de pin grillées
Recette:
Cuire les crevettes dans une poêle huilée juste pour quelques minutes et les placer dans un plat allant au four en une seule couche. Assaisonner avec le sel et assaisonner avec un peu de poivre.
Trancher finement les oignons et cuire à feu doux, avec le couvercle, en arrosant avec un peu de vin blanc, tant qu'ils ont tendance à se flétrir.
Ajouter le sel, le poivre et le sucre (très peu).
Saupoudrer avec du vinaigre, laisser évaporer et poursuivre la cuisson pendant quelques minutes.
Après la cuisson, compléter avec des raisins secs et les noix de pin.
Verser l'oignon sur les crevettes encore chaud, laisser refroidir, conserver au réfrigérateur et laisser reposer quelques jours avant de les apprécier à l'apéritif ou en plat principal.
I thought I would do this recipe again with some langoustine that can be found near my house.
I have found the Italian recipe and put it in Google translate. It works well, the only thing is that the chef of Ai Tosi Grandi told me that the onions should be cooked in the water, not in the oil : it gives them a sweet but non-oily taste super good and fresh and it matches well with the sugared grapes.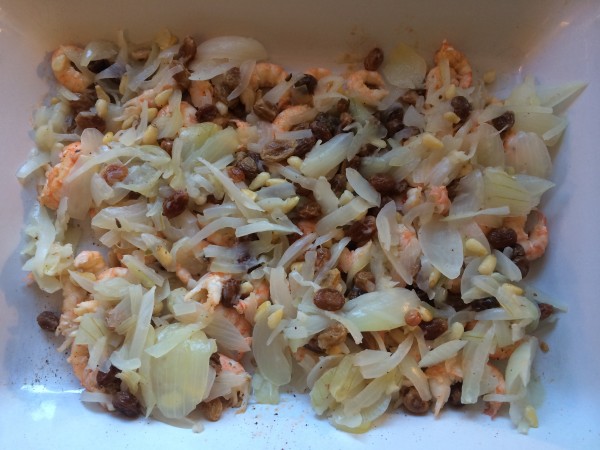 A servir avec une polenta, comme en Italie!
To be served with a polenta, like in Italy!