716 Playlists – Dj Bronco Playlist

31.07.11 - Guillaume
Bon je resterai fidèle à mes présentations succinctes : Bronco est l'un des parrains funk français mais pas seulement, disons une forte tête chercheuse du groove dans tous les sens. Sélection. Il se trouve aussi que c'est une fine gueule adepte des restos roots de caractère comme ceux que je peux défendre sur 716 Food et il y a donc une liste d'échoppes chaudes comme du funk en préparation dans la cuisine, ça arrive.
I keep on doing my short presentations : Bronco is one of the funk french godfathers but not only, let's say he is an unstoppable groove digger. This is his Top 10, enjoy. He is also a food specialist, fan of groovy cheap food like the one I can promote on 716 Food, so be ready for his short list of funky parisian restaurants, soon on 716, where else?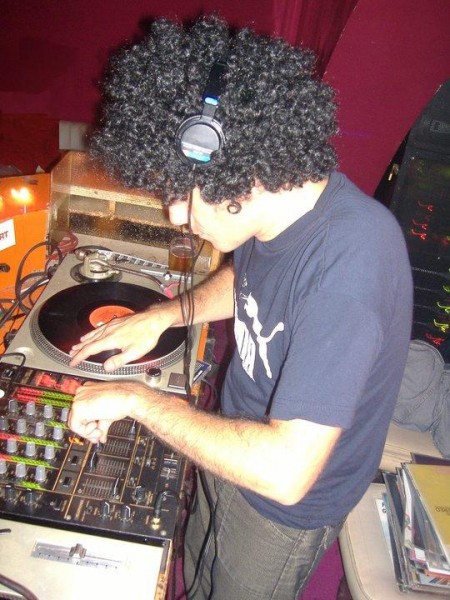 1) Revax & Black Lolita – You
Le compositeur et producteur du groupe Clichy Bandits s'associe à la chanteuse Cindy aka Black Lolita pour une relecture funky du classique de Marvin Gaye. (Sortie nationale en 45t vynil en décembre 2011)
The composer & producer from the Clichy Bandits group is here associated with the signer Cindy aka Black Lolita for a funky version of this Marvin Gaye's classic. (Out in 12″ in december 2011)
2) Dika Sunradio – Planet Boogie
Les Jamiroquai français, extrait de leur cd « show me love » un album authentique, homogène, sans compromission ni démagogie, un esprit vintage fidèle au son de l'époque, à découvrir d'urgence.
The french Jamiroquai. This track is from their cd « Show Me Love », an authentic album, harmonious, without any compromises, a vintage mood faitfull to the original sound, to be discovered!
3) Sista Pat – Funkin for Jamaica
Une reprise à la hauteur de l'original, la chanteuse Sista Pat et le producteur Skalp nous livrent une version féminine qui n'a rien à envier à la première version de Tom Browne. Titre disponible sur la compilation « En Mode Funk » (Wagram). (mixée avec l'autre parrain français Dee Nasty)
A cover that equals the original version, the signer Sista Pat and the producer Skalp deliver a feminine version of the Tom Browne's track. This tune is available on the compilation « En Mode Funk« . (mixed by Bronco and the other french groove godfather Dee Nasty)
4) Charles Aznavour – Mon ami mon Judas
Nous avons tous autour de nous un « ami » flatteur, consensuel et servile qui finit par nous trahir un jour… Sur fond de musique soul, Aznavour le brillant godfather de la chanson française le démasque et le décrit avec brio.
We all have a friend around us who is a flattering « friend », concensual and servile that will end up betreating us… With a soul instrumental, the brilliant godfather of french music, Charles Aznavour, unsmaks this traitor and portraits him with brio.
5) Pierre Vasilliu – Qui c'est celui la
Des lyrics satyriques et subversifs, un fond de bossa nova, une chanson qui ressemble vaguement à mon autoportrait… tous les éléments sont réunis pour que ce titre figure dans mon top 10 absolu.
Satyric and suversive lyrics, a bossa nova rythmic, this is a song that vaguely looks like my autoportrait… it contains all the elements to enter my definitive Top 10.
6) Trio Mocoto – Nao adiante
Bresil-Italie, il ne s'agit pas là d'une finale de coupe du monde mais de la fusion de deux identités musicales qui détonne. Une introduction digne d'un film de suspens italien puis un décollage immédiat dès le premier couplet vers les plages brésiliennes, alors une subite envie de siroter une cachaca dans un hamac vous envahit ! (Production italienne Daniel Patucchi et interprètes brésiliens Trio Mocoto)
Brazil-Italia, this is not a finale of the soccer world cup but a fusion of two musical identities that rocks. An introduction typical of an italian thriller, then a sudden craving for a cachaca you'll be drinkg in a hamac! (Italian production by Daniel Patucchi and brazilian musicians from Trio Mocoto)

7) Obatala – Funk a fried
1977, ce groupe du New Jersey signé sur le légendaire label Floridien TK records fait exploser un funk massif et entrainant que les collectionneurs de vinyls rares s'arrachent à prix d'or.
1977, this band from New Jersey, signed on the legendary floridian label TK records, drops an explosive groovy funk that record diggers will continue to look for 30 years later.

8) Bronco – Return of the forgotten groove
1994, Nous sommes en pleine période « acid jazz » en France, voici ma première apparition discographique en tant que producteur sur le label Yellow Production tenu par Dj Yellow et un certain Bob Sinclar…
1994, this is the « acid jazz » period in France, and this is my first appearance on a record as a producer on the Yellow Production label run by Dj Yellow and Bob Sinclar…

9) Cozmic Ray – Danger
Le seul titre rap de mon top 10, important car c'est ma première production pour un groupe de rap américain, je suis envoyé à New York par le label pour les séances de studio, expérience enrichissante gravée sur un vinyl devenu difficile à trouver. Ce titre fut utilisé par Kourtrajmé pour illustrer un de leurs court métrages.
This is the onyl rap track from my Top 10, it's important to me cause it's my first production for an american rap band, I had been sent to NYC by the label to do studio sessions. It was a rich experience, the vinyl became hard to find. This track was used by Kourtrajmé as a soundtrack for one of their short films.

10) Freddie McGregor – Natural Collie
Hymne à l'humilité et au retour à la nature dont je ne me lasse pas après toutes ces années. La touche de reggae pour finir mon top 10 relax…
This is an hymn to humility and a come back to nature, I'll never be bored of that track even after all these years. This is the final reggae touch toend my relax Top 10…
Il a récemment enregistré deux mixes consacrés à la musique soul brésilienne contemporaine, je l'ai fait écouter à une amie brésilienne qui a kiffé retrouver autant de tracks qu'elle aimait. Les voilà.
He has recently recorded two mixes devoted to the brazilian soul music from nowadays, here they are.
Brazilian Modern Soul By Dj Bronco Part 1 :→ download Part 1
Brazilian Modern Soul By Dj Bronco Part 2 :→ download Part 2