716 Playlists – Foxes in Fiction Playlist

03.03.12 - Guillaume - 716lavie
I have been to the Foxes in Fiction' gig in Paris in december 2011 and that was the first time I heared his work and I really liked it. We talked after his gig and here comes the playlist which comes as a mixtape. Be sure to see him live once. Find all Warren Hildebrand's releases on his bandcamp.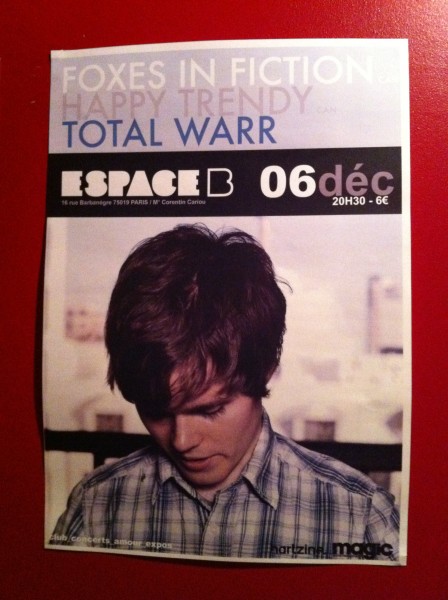 Here comes the mixtape.

1) Tracey Thorn – Plain Sailing
I've been a really big fan of the acoustic / songwriter stuff that Tracey Thorn did with Ben Watt in Everything But the Girl for a really long time, so discovering this solo album of hers that preceded EBTG was an amazing surprise. U go girl.
2) Black Moth Super Rainbow – Dandelion Graves
This is from the debut album by BMSR and the whole thing is beautiful from beginning to end. Lots of up close whispery vocals, nostalgia signifiers and synth tones really reminiscent of Boards of Canada. Big thanks to Dylan of HAPPY TRENDY for playing this album to me in my apartment while he was visiting.
3) Cocteau Twins – Pitch The Baby
This is another band I kind of worked my way backwards too. I first heard Robin Guthrie's solo music after seeing Mysterious Skin and falling in love with the movie, and by extension, the soundtrack as well. It's fun reading about how they produced everything on this song without any synthesizers.
4) Grimes – Devon
I'm in awe of how many hooks and beautiful parts Claire Boucher can put into a single pop song. Everything from the range of her voice to her ability to compose complex pop song amazes me. U go girl.
5) Beacon – No Body
Beacon are a weirdo ambient / R&B made up of two awesome dudes who also happen to be labelmates of mine on Moodgadget Records. I can't get over how crisp and pristine everything sounds on this whole EP! I had the pleasure of playing with them at a label showcase in Brooklyn last August where I got way too drunk because I was feeling 'emotional' and played the worst set ever. They, however, were definitely the stars of the night.
6) Women – Penal Colony
I never met Chris Reimer but learning of his death provoked a really strong physical and emotional reaction in me. I think a lot of people can relate to the awful feeling of knowing that someone who has produced some of your favourite music that you've really connected to has passed on.
7) Perfume Genius – Floating Spit
Perfume Genius's music has probably been my favourite discovery of the past little while. I was completely floored as soon as I listened to Put Your Back N 2 It. Every song feels deeply personal and sincere in a way that's still universal and relatable, this is a quality that is really rare in any music.
8) Azeda Booth – Big Fists
Azeda Booth another lesser-known Alberta project that Chris Reimer played a role in for some time, and it's a crime that they aren't as well-known as Women. The album that this is from has evolved to be one of my favourite and most-listened ever and became the soundtrack to many late-night phone calls with the person I entered into my first relationship with this past year. Deep stuff right?
9) Fleetwood Mac – Sara
It's a little lame but I grew up listening to a LOT of Fleetwood Mac so the sound of Stevie Nicks voice never fails to really stir something in me. When I was in high school I used to smoke weed in my washroom at my Dads house on school nights and sit in front of my hi-fi and listen to Tusk and trip myself out with the really bizarre songs on that record. Cool guy right here.
10) Mirroring – Fell Sound
Obvious choice. I'm a huge sucker for both Tiny Vipers and Groupers work and everything about this collaboration is totally perfect. I want to fall backwards into this song forever.
Vous pouvez effectuer un don pour me permettre de continuer à effectuer mon travail en toute indépendance et à vous fournir des plans correctement sourcés.
A question? A reaction? We'd love to hear your feedback!