716 Playlists – Rude 66 Playlist

25.12.11 - Guillaume - 716lavie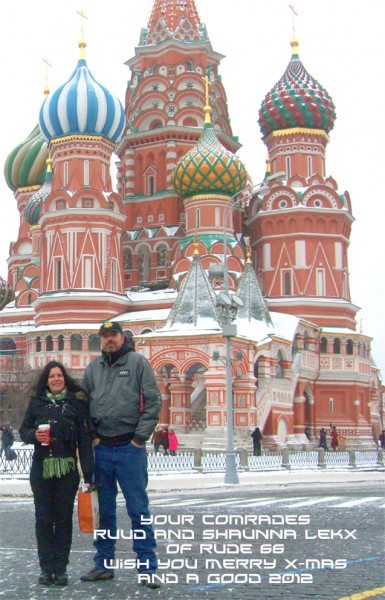 Rude 66 avait fait un mix que j'aime beaucoup pour 716 : le Sparks of Life Mix.
J'avais donc très envie de lui demander aussi une sélection musicale et bien je n'ai pas été déçu et vous ne le serez pas non plus.
Rude 66 had made a deep mix I truly love for 716 : the Sparks of Life Mix. So I really would propose him to do a playlist. I have not been disappointed and I guess you won't be neither.

716 Exclusive Mix – Rude 66 : Sparks Of Life Mix by 716 Music on Mixcloud
Ruud sort le mois prochain le Starfighter EP sur Creme Organization sous le pseudonyme Jagdstaffel 66.
Ruud will realease next month a Starfighter EP on Creme Organization under the alias Jagdstaffel 66.
"J'ai essayé de concocter une sélection de musique live pour laquelle les vidéos ajouteraient véritablement quelquechose à la performance musicale. La majeure partie date des années 70, il arrive que les films de cette époque soient plus intenses et ils ont ce son vintage bien plus incroyable que le son actuel."
"I've tried to select a playlist of mostly live music, where the video adds something to the normal audio performance. Most of the material is from the 70's, somehow live films from this era always seem more intense and have this amazing vintage sound compared to more modern material."
1) John Martyn – I'd Rather Be The Devil (live on Old Grey Whistle Test, BBC TV)
Where the studio version of this track is already great, live Martyn adds a whole new dimension to it. Astonishing performance from one man, an acoustic guitar and some fx pedals. I never, ever want this to stop..
2) Pentangle – No Love Is Sorrow (live on French TV, 1972)
More acoustics of the legendary English folk band. A fantastic live recording of not just a great song and a great band, but I love how they play and sing together so natural. RIP Bert Jansch (1943-2011).
3) Steve Hillage – The Salmon Song: Pool/Solomon's Atlantis/Swimming (Live, 1977)
Former Gong-guitarist Hillage looking distinctly like a modern day Jesus, with that glissando guitar live in all its glory. Ramones? Sex Pistols? Damned? Clash? They all seem to fade away in the reflection of that white suit.
4) Jean-Michel Jarre – Equinoxe 5 (official video, 1978)
I've included this slightly tacky video (especially the many 'turn my head and look into the camera' shots) because it's my own personal life changing moment in time. When I saw this very video as an 11-year old on TV, especially with the sequences of Jarre sitting in the open desert somewhere with all his synths and equipment around him, that was the moment I decided I wanted to be a synthesizer player. It's still one of my life's ambitions to take my whole studio to a field somewhere, set it all up, and record hours and hours of material of myself opening and closing faders..
5) Durutti Column – Jacqueline (Live 1988)
As a big Factory records collector of course I had many Durutti Column records, but I had never seen any live footage. I remember seeing this footage on BBC, and it was even better than on the lp's. Vini Reilly and drummer Bruce Mitchell are doing an amazing version of what is one of my favourite Durutti tracks anyway.
6) Tim Blake – Lighthouse – French TV 1979
Not as live as it looks, but great to see Tim Blake perform some tracks (there are 2 or 3 more videos in this series) for French TV, and explain several things about his music too in pretty fluent French. The whole new Jerusalem lp is genius anyway.
7) Magma – Mekanïk Destruktïw Kommandöh (Live 2000)
I'm normally not a fan of modern versions of old classics performed live, but this is truly astonishing. The original Mekanïk Destruktïw Kommandöh is pretty much a masterpiece from the mid 70's, but here it is performed by a much later version of Magma in 2000. Amazingly they play the whole thing, 46 minutes of it. This is musicianship to the highest degree possible!
8) Japan – Sons of Pioneers (live)
I just included this one so that we never forget the genius of Mick Karn, who died in January 2011. This track has one of the best basslines ever recorded. It sings.
9) Pentangle – Let No Man Steal Your Thyme (1968)
Another Pentangle track, this time from 1968. This video is so incredibly 60's cool, it's almost too much!
10) Hawkwind – Time Captives
A very rare cover version of one of my favourite tracks. Recorded in 2002, when Arthur Brown toured with Hawkwind and they played this great cover version of Arthur's Time Captives..

Vous pouvez effectuer un don pour me permettre de continuer à effectuer mon travail en toute indépendance et à vous fournir des plans correctement sourcés.
A question? A reaction? We'd love to hear your feedback!