716 Playlists – Midi Deux Playlist

11.07.11 - Guillaume
La playlist du blog Midi Deux.
The playlist by french blog Midi Deux.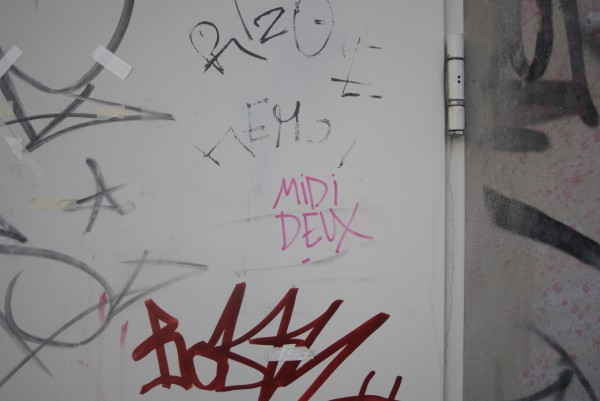 Midi Deux sur la porte du Berghain
1) 4th Measure Men – Given (MK dub)
C'est l'époque où tout ce que faisait Marc Kinchen faisait un tabac, un des meilleurs producteurs house des années 90, aujourd'hui il travaille avec Pitbull, d'ailleurs ecoute ça et ça. Gros bad.
That's from the time when everything coming from Marc Kinchen was a hit, one of the best house music producers from the 90's, he now works with Pitbull, listen to this and this : so sad!
2) Bodycode – Immitation Lover
De gros souvenirs avec les gars de Midi Deux. Bodycode est un génie.
Some big memories with the Midi Deux crew. Bodycode is a genius.

3) Mathew Jonson – Symphony For The Apocalypse
Mathew Jonson aussi, seul ou avec Cobblestone Jazz il est impressionnant, ce track est pire.
Mathew Johnson, alone or with Connlestone Jazz is always impressive, this track is dope.

4) Motor City Drum Ensemble – Raw Cuts 3
Plage, poste, Porto, soleil, classique.
Beach, ghettoblaster, Porto, sun, classics.

5) Laurent Garnier – The Man With The Red Face
Que dire ? … Laurent Garnier
What else to say? … Laurent Garnier

6) Nick Hoppner – A Peck & A Pawn
En fait, il faut bien quelque chose de récent, voilà.
I had to put something new too, so here it is.

7) Blawan – Getting Me Down
Elle est addictive c'est chiant. A la mode.
This track is so addictive it gets me mad, the sound of nowadays.
8) Royce Da 5'9″ – Boom
Il fallait un morceau de hip hop et c'est un des seuls que Théo accepte d'écouter, prod de DJ Premier.
I had to put a hip hop track and that is the only one Theo accepts to listen to, a DJ Premier production.

9) Joy Division – Transmission
Ian Curtis mon héros


Ian Curtis is my hero


10) Radiohead – Idiotheque
Vinyle de l'album Kid A en boucle.
Vinyl of Kid A album playing non stop.